Share the post "3 Summer Destinations You Can Only Reach By Boat"
The perks of a yacht charter are immense. You can go anywhere you want and anytime you fancy, and have some privacy too. And of course you can explore hidden beaches, coves and islands inaccessible to most people, sometimes not even with the local ferry. So we have compiled for you a short list of three Mediterranean paradises that you can only reach by boat.
Galešnjak, Croatia
Once you are on this small, shrubby island, uninhabited the biggest part of the year, you wonder what's the big fuss, since it's not very different from the rest of the copious islets of the Dalmatian archipelago. And yet, there are few places in Croatia, perhaps Europe's hottest yachting destination right now, that are more attractive to sailing lovers – or lovers in general.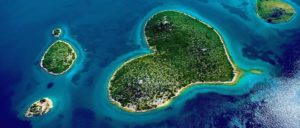 What makes Galešnjak unique is its shape, one of those rare pieces of art that only nature, the greatest artist of all, can create. Galešnjak is one of the few islands on this planet that have the shape of a heart – not a broken one, that is. This is why it is also known as the Island of Love or Lovers' Island. The island's peculiar shape was first spotted by Charles-François Beautemps-Beaupré, none other than Napoleon's cartographer, but it became famous in 2009 when a picture from Google Earth went viral. Since then this small piece of land in the Pašman Canal, right between the islands of Pasman and Turanj, a little town on mainland Croatia, has been the go-to destination for holidaymakers who wish to celebrate their love on an island with a romantic vibe. It's also popular for wedding parties and honeymoon trips.
The island is owned by a local family but you can visit it in the summer if you can afford a yacht charter in Croatia. There is a pier on the north, as well as olive and fig trees and even a few rabbits. To visit, opt for a yacht charter in Biograd na Muru, one of the biggest marinas in Croatia, Sibenik or Split.
Spiaggia Rosa (Budelli), Italy
How many beaches in the Med are pretty in pink? Not many, and perhaps none of them more characteristically pink than Spiaggia Rosa – the Pink Beach as it is known to non-Italian speakers. It's the landmark of the island of Budelli, part of the Archipelago of Maddalena, itself a national park of breathtaking Mediterranean beauty just off the coast of Sardinia.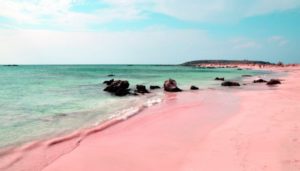 The beach owes its name to Miniacina Miniacea, a shell only found in the Archipelago of Maddalena that gives local sand an exotic, coral-like pink colour. You won't read much about in travel guides though, as the locals don't advertise it much to keep its fragile natural beauty intact. You see, for many years the beach was not accessible to visitors. Even today nobody is allowed to swim nearby the beach, but you can visit it and have a glimpse of its mystique, ideally with the sunset in the background, if you hire a boat in Sardinia.
If you are a fan of Italian cinema, Spiaggia Rosa should have a special place in your heart. Michelangelo Antonioni, one of the greatest directors of the 20th century, picked Budelli's dreamlike atmosphere as a background for his masterpiece Il Deserto Rosso (The Red Desert). In an unforgettable scene, the protagonist, played by Antonioni's muse Monica Vitti, tours the pink beach scene to reminisce of the past and escape the present. Who can blame her?
Myrsini (Chalkidiki), Greece
The peninsula of Chalkidiki (or Halkidiki) in Northern Greece is an up-and-coming destination for holidaymakers looking for an alternative to the Greek islands. Its main attractions are the three thin slices of land that wash into the Aegean sea, called 'legs' by the locals. The first leg on the west of the peninsula is more vibrant, full of clubs and bars ideal for a fun night out, whereas the second one is more family-friendly, and a bit pricey too. As for the third one, it's Mount Athos, considered sacred for Orthodox Christians, accessible only to men who have permission to visit its monasteries.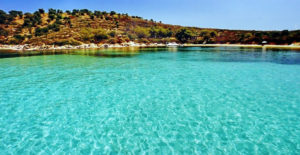 On the eastern side of the middle 'leg' lies the bay of Vourvourou, perfect for anchorage if you opt for a yacht charter in Chalkidiki and explore this little known part of Greece, perhaps before you set on an island hopping trip in the Aegean sea. The bay's picturesque villages and outstanding natural beauty will take your breath away, as well as the sight of small islets untouched by human presence.
The biggest one is Diaporos, facing the village of Vourvourou. On its eastern side is located Myrsini, a dreamy island accessible only by boat. The combination of crystal blue waters, white sand and unexplored coves, as well as underwater rock formations of various sizes and shapes, make Myrsini a hidden gem that sailing and diving enthusiasts will adore. It's not a coincidence that the locals call the beach 'Hawaii' for its exotic vibes. To visit Myrsini you can rent a boat in Neos Marmaras, Vourvourou or anywhere else in Chalkidiki, as well as in nearby Thessaloniki, Greece's second biggest – and most beautiful – city. Many holidaymakers who opt for a yacht charter in Athens to visit the Sporades islands, particularly Skiathos and Skopelos, end their trip on this part of the country.
If you opt to hire a boat in Chalkidiki and explore a bit more the area, it's also worth sailing from Myrsini to the island of Ammouliani, just next to the peninsula's easternmost 'leg'. It's not very crowded in the summer, but you will find there a few taverns and bars in its small villages. As far as beaches go, don't miss Alykes, an isolated, sandy beach with a lovely view to the monasteries of Mount Athos.