Calling all boating enthusiasts from around the world! The month by month list of the worlds' most renowned boat events in 2020 is here. This year is going to be a big year in the sailing community. As there is an increase in global boat ownership, boat shows around the world are soaring in popularity. Boat shows are enhancing their visitor interaction by offering unique and thrilling experiences, in addition to the norm of discovering the latest innovative marine technologies, and of course, admiring yachts of all makes and models. Up and coming international boat shows in Singapore and Dubai are worth visiting in addition to fan favorites like Boot Düsseldorf and the Fort Lauderdale International Boat Show. Click&Boat will have a stand at Boot Düsseldorf, so make sure to stop by!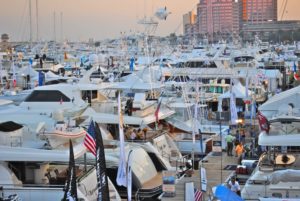 For those who are more interested in the sport, there are all types of significant sailing competitions in line for this year. The first half of 2020 holds a few Transatlantic races. Notably, the Transat AG2R, sailing from France to the Caribbean, and the Transat New York, United States to Vendée, France. July is exciting as national sailing teams from around the world will compete against each other at the 2020 Tokyo Olympic Games. And the end of the year will be marked with the departure of the famous Vendée Globe that only happens every three years.
Boat events are happening all over the world, there is something for everyone's sailing taste.
Boat Events Calendar
January
Toronto International Boat Show (Canada)- January 17th to 26th
Kick-off the year and visit North America's largest indoor boat event. The exhibition includes over 250 free boating seminars and has the world's largest indoor lake where boat lovers can try kayaks, canoes, pedal boats, and even go for a boat ride.
https://www.torontoboatshow.com/
Boot Düsseldorf (Germany)- January 18th to 26th
Düsseldorf is home to the world's largest indoor boat event. With over 1,600 exhibitors that come from over 50 countries, visitors are sure to leave inspired. The boating industry even uses this event as a benchmark.
https://www.boot.com/en/Visitors/Overview/Preview_boot_2020
February
Miami International Boat Show (FL,USA)- February 13th to 17th
The Miami Boat Show welcomes visitors from all over the world. This year's exhibition will be equipped with a sail exclusive area for the newest catamarans and sailboats, on-water training courses, and the Costa Conservation Village, which is helping spread awareness about marine conservation.
https://www.miamiboatshow.com/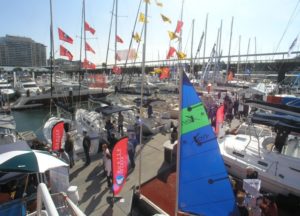 March
Dubai International Boat Show (United Arab Emirates)- March 10th -14th
Visit the largest and most popular boat show in the Middle East that has on display some of the marine industry's premier yachts and latest fishing and diving equipment.
https://www.boatshowdubai.com/
Singapore Yacht Show (Singapore)- March 19th -22nd
Singapore's yacht show has been growing in popularity over the years and has been significantly contributing to Asia's marine industry and luxury lifestyle markets. In addition to the grand exhibits, this show is a celebration for all things yachts. It includes gala dinners, parties, and live demonstrations for a remarkable experience.
https://www.singaporeyachtshow.com/
Rolex TP52 World Championship Cape Town (South Africa)- March 31st – April 4th
This sailing race is a part of the 52 SuperSeries, which is a monohull yacht racing circuit that attracts some of the best sailors from around the globe. It will be the first time the TP25 fleet will visit South Africa.
https://www.52superseries.com/events/2020/eu/rolex-tp52-world-championship-cape-town-2020
April
Transat AG2R La Mondiale, Concarneau to Saint-Barthélemy (France)- April 19th
2020 will be the first year since the first race in 1992, where mix duo teams will be allowed to participate in the 3,890-mile journey across the Atlantic. The fastest completion of the competition is 18 days and 11 hours in 2018.
https://transat.ag2rlamondiale.fr/en
The America's Cup World Series (Sardinia)- April 23rd-26th
Known as one the oldest and most prestigious races in the sailing world, this boating event is a can not miss, situated in sunny Cagliari, Sardinia. There is free entry to the race village, with many experiences to enjoy and opportunities to learn about the AC75 vessels. Watch the competition on the water and consider a boat rental in Sardinia!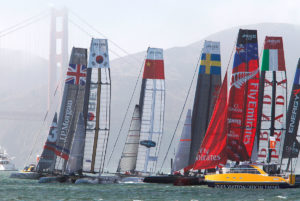 May
The Transat CIC 2020 (Brest, France to Charleston, SC, US)- May 10th
This sailing race between Europe and the United States is comprised of 3,400 miles of water and is challenging due to strong headwinds. Back in the day, the fastest time to complete the race was 40 days, but today the world's best solo sailors can make in 8 days.
https://www.thetransat.com/the-race
Transpacific Yacht Race (Los Angeles, CA, USA to Tahiti)- May 28th
In 1925, this was once the world's longest race; today, it is organized every four years between Los Angeles and Tahiti. The record time was set in 2008, completion in 11 days and 10 hours.
https://www.transpac-tahiti.com
June
Transat New York (NY, USA) to Vendée, Sables d'Olonne (France)- June 16th
Sailors from around the world come to participate in this solo race of 5,471 km (3,100 miles) across the Atlantic Ocean as a 'warmup' for the Vendée Globe in November.
https://www.imoca.org/en/races/imoca-globe-series/transat-ny-vendee
July
Tokyo 2020 Olympic Games Sailing Competition (Japan)- July 24th– August 9th
Sailing made its debut at the 1900 Olympic Games. While there are men, women, and mixed events, sailing is not just a race against each other but also the forces of nature: waves, tides, winds, and climate.
https://tokyo2020.org/en/games/sport/olympic/sailing/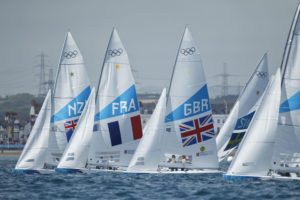 August
Sydney International Boat Show (Australia)- July 30th– August 3rd
This year's boat event has a particular fishing focus that includes fishing masterclasses and tips as well as the return of The Spirit of Australia II, the new and improved version of the holding the world water speed record, Spirit of Australia.
https://www.sydneyboatshow.com.au/
September
Monaco Yacht Show (France)- September 23rd– 26th
One of the world's most prestigious boat events is back again for its 30th edition, with a return of a stunning superyacht showcase.
https://monacoyachtshow.com/en/
ORC/IRC World Championship (Newport, RI, USA)- September 25th – October 3rd
For the first time in 20 years, this regatta will be held in North America, where the top sailing teams from around the world will compete on Rhode Island Sound and Narragansett Bay for the new world titles.
October
Barcolana (Barcelona, Spain)- October 11th
This boat event has vastly grown in popularity since its first race in 1969. In 2018 this 13-mile triangular course was named the "Largest Sailing Race in the World" with more than 2,680 yachts registered. Join thousands of others participants and consider a boat rental in Barcelona!
November
Vendée Globe (Les Sables d'Olonne, France)- November 8th
The race of all races, it is known worldwide to be the only sailing competition that is done non-stop, solo, and without any assistance. Starting November 8th, sailors will try to navigate their way around the world; it was last completed in 74 days.
https://www.vendeeglobe.org/en/presentation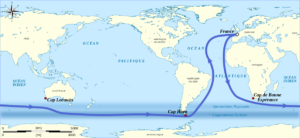 Fort Lauderdale International Boat Show (FL, USA)- October 28th– November 1st
In the "Superyacht Capital of the World," visitors have the chance to admire the sailboats, catamarans, fishing boats, and superyachts on display. Fort Lauderdale Boat Show also includes brokerage yachts, yacht builders and designers, and as a bonus, exotic cars.
https://www.flibs.com/en/home.html
December
Nautic Paris International Boat Show (France)- December 5th-13th
Held at the Paris Expo Porte de Versailles, the Paris Boat Show is the largest indoor show in France and one of the most important boat events in the world with over 206,000 visitors and 1,000 boats and watercrafts to learn about over the nine days. A boat rental in Paris is a great way to discover the city; find the perfect peniche, houseboat or motorboat during your visit!
https://www.salonnautiqueparis.com/en
Rolex Sydney Hobart Yacht Race (Australia to Tasmania)-December 26th -31st
Held on Boxing Day for the past 74 years, this race has become an emblem of Australia's summer sports. No other annual boating race in the world attracts as much press and media coverage.