Share the post "Covid Guarantee Cancellation Insurance"
In response to the current health situation, Click&Boat has adapted to allow you to book your next on board vacation in complete tranquility, wherever you go*. In collaboration with our partner Allianz/Mondial Assistance, we have improved our insurance by adding a special Covid-19 guarantee. With this new guarantee you can sail worry-free!
The Covid guaranteed cancellation insurance: what is it?
By booking a boat on Click&Boat, you have the possibility to subscribe to two types of insurances covering epidemics, including Covid-19.
Option 1 : Cancellation, Assistance and Repatriation Insurance

Option 2: Assistance and Repatriation Insurance
Details of Mondial Assistance's benefits and guarantees are available here.
ENHANCED GUARANTEES** :
In case of illness related to a virus during an epidemic such as Covid-19, of the client, travel companion or of a close relative
Or

In case of quarantine of the client or travel companion due to a suspicion of exposure to a virus in the context of an epidemic such as Covid-19
NUMBER OF INSURED PERSONS: all persons on board (maximum 16 persons) per subscription to one of the two Mondial Assistance insurances.
How to subscribe to Covid guarantee insurance?
The boats on Click&Boat are insured by their owners through an insurance linked to their rental and/or co-navigation activities. We advise you to subscribe to the complementary insurance covering the crew.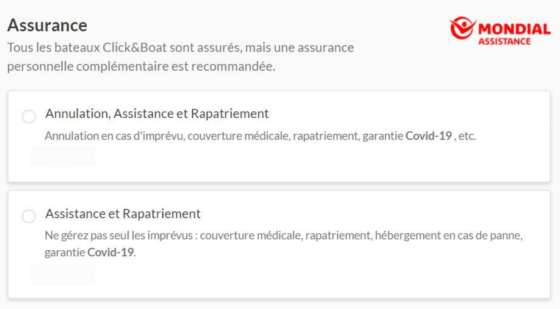 Each renter can enjoy their charter and subscribe online to the insurance with our partner Mondial Assistance. The option 'Mondial Assistance' is recommended on our website, during the validation of your booking. The details of the services and guarantees of Mondial Assistance are available by clicking here.
You have confirmed your booking without insurance?
By contacting Click&Boat customer service, it is possible to subscribe to one of these insurances after booking :
For the Cancellation, Assistance and Repatriation Insurance: up to 10 days after booking
For the Assistance and Repatriation Insurance: up to 2 days after booking
Once you have subscribed to one of the options, you will receive a document summarizing the details of the insurance you have chosen.
---
*Excluding countries under international financial sanctions decided by the European Union and/or the United Nations as well as North Korea
**Global Assistance indicates that the following reasons are not covered: fear of travel, travel ban (e.g., confinement) imposed by the competent authorities / border closures, and travel undertaken against the advice of the competent authorities of the country of residence and the country of destination