Share the post "An Adventure in five Balearic Mooring Spots"
The Balearic Islands make only 1% of the total area of Spain, but what an 1% that is! This is not just a top summer destination, but a mix of colours, landscapes and traditions. This dreamy archipelago will captivate all boating enthusiasts, offering them a different experience every time they dock on a new island. There is something there for everyone, from vibrant Ibiza and trendy Mallorca to vintage Formentera and the breathtaking beauty of Menorca. What other reason do you need to hire a boat in the Balearic islands? If an Iberian adventure is your thing, here is a Click&Boat selection of 5 Balearic mooring spots.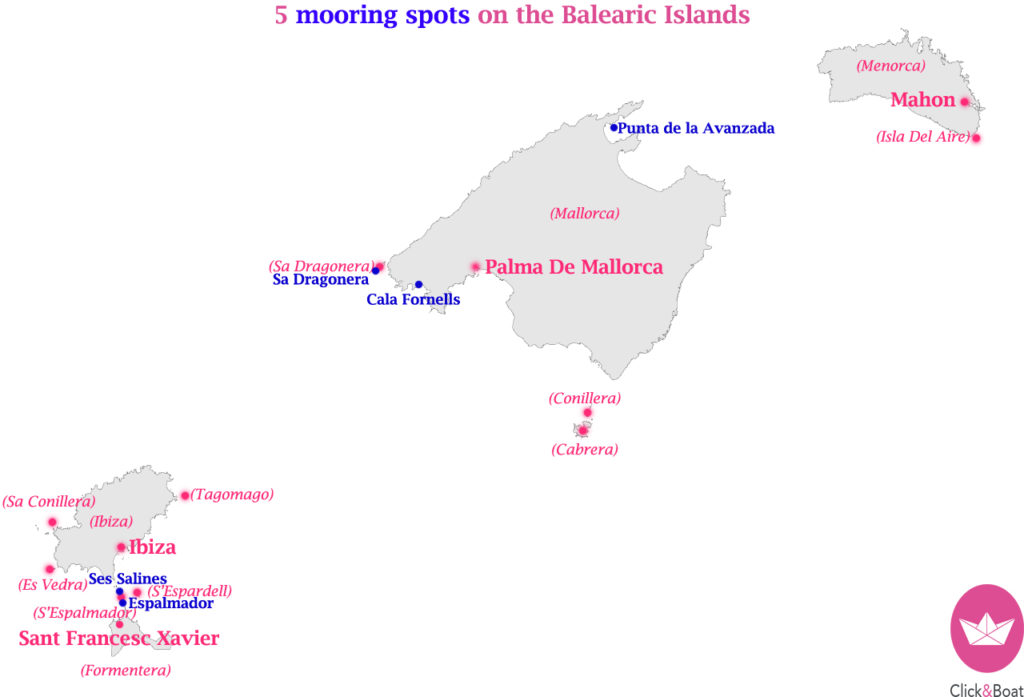 The dreamlike Balearic mooring spot: Cala Fornells – Mallorca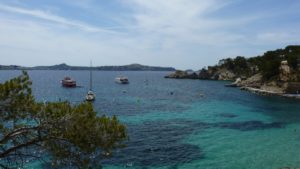 Finding a shelter to spend the night is not easy. Cala Fornells, a creek on the island of Majorca, is a must if you are around, and just three miles from the port of Andratx. Palma de Mallorca, the capital of the Balearic islands, is only 10 miles away. Cala Fornells is calm and peaceful, perfect to spend the night and visit the nearby coves. Copious rock reliefs around make Cala Fornells an ideal observatory to rest your eye on the beauty of the open sea, as the late Prince of Asturias Juan de Bourbon who used to visit Cala Fornells with his royal ketch. In other words, here's a great Instagram story that will be the envy of your friends and feature in your holiday album. German speakers may also want to visit nearby Peguera (in the town of Calvia), known as"Little Germany" due to its popularity among German tourists. Warum nicht?


Location : Southwest of Mallorca.

Access: Explore this magical place with your own boat or hire one from Barcelona, Andratx, Port Mahon, Palma De Mallorca, Fornells, Ciutadella de Menorca.


Distance : 2,5 miles from Port d'Andratx, 10 milles from Palma de Majorque, 112 milles from Barcelona.
A Balearic mooring spot of outmost serenity : Espalmador – S'Espalmador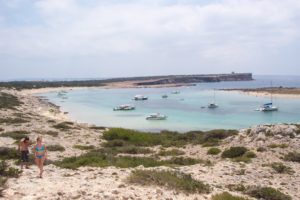 Espalmador rhymes with conquistador, but this island is an oasis of serenity.  It's just 5 nautical miles from the northern tip of Formentera, so when the tide is low you can even brave the waters and swim to the other side. It's a tiny piece of land of just 200 h2, but the beautiful white sand beaches, soft for the feet and easy to the eye, are spacious. And then there is the wild side of Menorca: a bit of mud bathing will make your skin feel as smooth as a baby's.
The main anchor post of the island is the port El Espalmador, located at a natural bay that protects boats from north and east winds. Four other coves would be ideal to dock your boat: Cala Torretas, Cala Morros (or Calo Moro), Cala Bochs (or Cala Roja) and Trocados Beach, also known as Trocadors. The last one offers you turquoise water and a clear view of the island.


Location : the island of S'Espalmador, on the south of Ibiza and just north of Formentera.

Access :  visit with your own boat or hire one in Ibiza, Palma de Majorque, Xàbia, Formentera.


Distance : 5 miles from the centre of Formentera, 8 miles from Ibiza, 59 miles from Xabia.
The extraordinary mooring spot: Punta de la Avanzada – Mallorca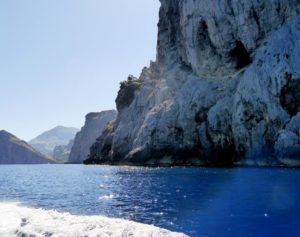 With a destination as popular as the Balearic Islands, chasing what is unusual, unexplored and original can take time. You wanna go off the chart? We have the perfect Balearic mooring spot for you. Try Punta de la Avanzada on the island of Majorca. It is a rocky promontory towered by the Faro de la Avanzada, a lighthouse 18 meters high and only accessible by boat. Don't try Google Maps, you will have a hard time trying to find its exact location (39 ° 53 '56 "N, 3 ° 06′ 45" E). It is however easily accessible, on your right hand from the port of Pollença. If you have the chance, take the time to visit the bay of Pollença and approach Alcudia, beautiful and relatively ignored by guides of the Balearic Islands and Mallorca. There are even caves not far from Punta de la Avanzada, another anchor spot nearby. Many visitors use kayaks to explore the surroundings and escape the crowd.


Location : north of the island of  Mallorca

Access : Visit with your own boat or hire one in Pollença, Alcudia, Palma de Mallorca, Port Mahon, Ibiza, Minorca (Ciutadella de Menorca).


Distance : 1,4 miles from the port of Pollença, 29 miles from Palma de Mallorca, 34 miles from Ciutadella de Menorca.
The natural Balearic mooring spot: Isla Dragonera – Sa Dragonera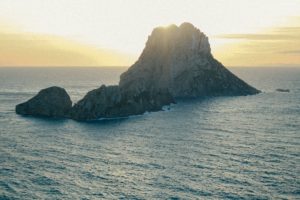 You will find here unexplored islands waiting for you to discover. And for hiking lovers there is the option of an ascent to the summit of Pic Popi (360 meters). You can dock your boat at Sa Dragonera, a tiny Balearic island stretching along  3.2 kilometers and just 500 meters wide. Small in size, but incredibly beautiful. Almost attached to Mallorca (5 miles from Andratx), it has been used as a filming location for Murder Under the Sun, a film based on Agatha Christie's detective story "Hercules Poirot's Holiday." Tourism is a regulated business at Sa Dragonera, which is  designated as a national park. But that shouldn't prevent you from doing a hiking  trip (four marked trails) or bask in the sun on a beautiful beach. The island also offers you a volcanic landscape, different from the rest of the Balearic archipelago. Are you travel mavericks, always on the lookout for something different? You are in the right place!


Location : island of La Dragonera, on the West of Mallorca.

Access : sail with your own boat or hire one from Palma de Mallorca (Mallorca), Ibiza, Andratx, Santa Ponsa.


Distance : 4,6 mles from Andratx, 10 miles from Santa Ponsa, 23 miles from Palma de Mallorca.


The standard anchor spot : Playa de Ses Salines – Ibiza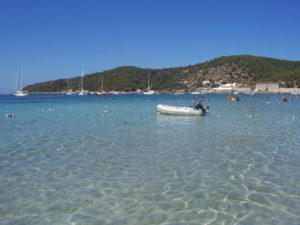 Beautiful, long stretches of sand in a place where la siesta is the rule of the day. In the vicinity of Ses Salines, on the island of Ibiza, there is a typical Balearic mooring spot. Entertainment is not to be taken lightly here, with a range of options from  water sports and competitions to games. You will also find warm  waters under a blazing sun. Try exploring the area with a jet ski or book an organised trip. And don't forget to visit Ses Salines Natural Park, linking Ibiza with Formentera. These two islands of the Balearic archipelago share this park, a hotspot of biodiversity and culture, UNESCO World Heritage Site and  protected area for birds, particularly flamingos. Note that a surveillance boat  informs boaters about the anchorage area, the Life Posidonia conversation project and the spots where you can dock your boat when all buoys are occupied.


Location : south of the island of Ibiza.

Access : Sail with your own boat or hire one in Ibiza, Palma de Mallorca, Port Mahon (Minorca), Alicante.


Distance : 73 miles from Palma de Mallorca, 94 miles from Alicant, 145 miles from Port Mahon.
And…