Share the post "Nothing Better Than a Yacht Charter in Barcelona"
The Catalan capital is marvellous this part of the year, attracting tourists from all over the world. A yacht charter in Barcelona will help you enjoy the best of the city and its long coastline, while avoiding the hordes of tourists flocking Barcelona in the summer.
Costa Brava is a must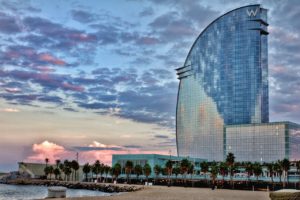 Many sailing lovers choose a catamaran to cruise along the Catalonian coastline from Barcelona all the way to Cadaqués, a small picturesque town close to the French border. The typical starting point for such a trip is uber-modern Barceloneta, a trendy area at the outskirts of the city. Before you set sail you can take a swim in the nearby beaches, although they tend to be very crowded in the summer. Bogatell and Levant are also close, beautiful and less packed in the summer season.
Most sailing lovers who opt for a yacht charter in Barcelona head north to the vast coastline of Costa Brava, a stretch of land famous for its warm climate and beatiful beaches. Within a few days you can visit Montgat, Ocata, Tossa del Mar, Blanes, Begur Calella de Palafrugell and Badalona: all small Catalan towns with organised marinas and sandy beaches of crystal clear waters.  Tossa del Mar in particular, sheltered by a natural bay, is an up-and-coming yachting hotspot with its gracious medieval walls and sublime background scenery of rugged rocks.
Another unmissable spot is
Cap de Creus, a peninsula and national park in the easternmost tip of continental Spain. The fierce Tramuntana wind has created thoughout the centuries a vast expanse of rugged rocks and barren, treeless plateaus that have allegedly inspired some of Dali's most famous surrealist paintings. Nature is the greatest artist of all, and even more so at this corner of the earth, the home country of Picasso and Dali. The Catalonian coastline is interspersed with rugged cliffs, islets and small natural bays where you can dock your boat. There are also several coves where you can stop for a few hours, as well as beaches of extraordinary natural beauty, such as Aigua Blava and Aiguafreda, mainly visited by the locals. You will also come across the occasional castle ruins – many centuries ago Catalans were much-feared knights who ruled much of the Mediterranean, from Athens to Sicily and even parts of modern France.
A City of Many Wonders
In Barcelona, culture and entertainment opportunities abound in this city of artists, poets and lovers. Sagrada Familia is the city's most famous landmark, designed by the famous local architect Antoni Gaudi, but your eye will also feast on the curvy shape of Casa Mila, also known as 'La Pedrera', as well as the marvels of Park Güell, hosting some of Gaudi's most celebrated architectural masterpieces. For a splendid panoramic view of the city, visit the Motnjuic hill, home to the Olympic Stadium where the 1992 Olympic Games were hosted.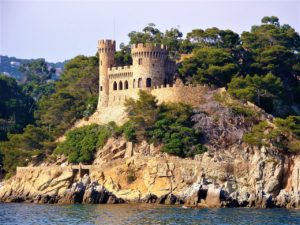 Sailing fans who also love urban excursions shouldn't miss a visit to Barri Gótic, a historic area in downtown Barcelona that is very popular among tourists and famous among other things for its massive cathedral. As for foodie experiences, you can go beyond the inevitable tapas and sangria and try the epitome of Catalan culinary creativity: 'pa amb tomàquet' (slices of bread spread with generous doses of tomato, garlic and local olive oil).
Summer is party time, and even more so if you book a yacht charter in Barcelona. In mid August the Gràcia neighbourhood hosts a mini carnival festival,  Festa Major de Gràcia, celebrating summer in all its glory. Its streets and houses are cloaked with all sorts of decorations in a competition of exuberant colours and shapes. The apogee of the feast is a parade with castellers (human towers) and correfoc (fire runs). Human towers are the locals' favourite pastime, and you might even have an opportunity to join them. That may literally be the peak of your Catalonian adventure!