Share the post "Charter a yacht in Greece for an island-hopping trip"
With a coastline spanning 13,676 km and more than 6,000 islands, most of them smallish and uninhabited, Greece is the perfect destination for an island-hopping adventure. Particularly the three largest groups of islands, the Ionian islands in Western Greece and the Cyclades and the Dodecanese in the Aegean Sea, lend themselves to island-hopping, as distances between different islands tend to be short. In some cases, you can even swim from one island to another!
July is perfect for a boat hire in Greece, particularly in the renowned Cyclades Islands, famous for their idyllic beaches, breathtaking landscapes and picturesque villages. Nothing more Greek than the white and blue dots you can discern in the horizon once your boat is approaching the ports of Mykonos or Santorini.
Everyone knows these famous islands, visited by tourists from all over the world who charter a yacht in Greece for an island-hopping trip. If you wish to avoid them, you need to go the extra mile and hire a boat to have your own slice of Greek summer. We have asked the locals for some advice and, based on their recommendations, we propose to you a new island-hopping route that has not been discovered yet by tour operators and mainstream travel guides.
The Lesser Cyclades, a collection of hidden gems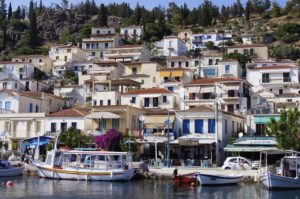 Every island-hopping journey in the Cyclades has to start from a relatively big island where you can hire a boat. In this case you might want to charter a yacht in Paros, one of the most popular islands in the Cyclades. But before you start your trip, take a couple of days to visit Paros itself. In Parikia you can admire the famous Ekatontapiliani (Hundred Gates) church, built nearly 1,700 years ago! Paros is also famous for its vibrant nightlife, as the beach bars and clubs in Naoussa and Parikia are full of young Greeks who celebrate their graduation. With a yacht charter in Paros you can also visit trendy Antiparos nearby, a small island that has recently become popular with Hollywood stars – Tom Hanks and Madonna own residences there among others.
From Paros or Naxos you can sail to the so-called 'Lesser Cyclades': a collection of smaller islands that have just entered the map of popular tourist retreats and are mainly visited by Greek holidaymakers. A boat hire in this part of the Aegean sea will give you a whiff of how the Greek islands looked and felt like 40 years ago, as these islets are relatively unspoiled from mainstream tourism. More than this, July and August are perfect for a sailboat charter in Greece, as the local 'meltemia', ie dry, strong north winds, are at their fiercest that part of the year.
Iraklia, an island of legends
Your first stop could be Iraklia, right nex to to Paros and below Naxos. Υοu will hardly find a more tranquil island to escape the buzz of the Cyclades in the summer. You can dock you boat in the island's small port, Agios Georgios and swim in the beach next to the port or grab a bite at one of the village's traditional taverns. The background is idyllically Greek: old olive, pine and almond trees offer a unique sense of serenity. From Agios Georgios you can walk to the other big village of the island, Chora (or Panagia), a distance of just 4km. Chora is a tad more traditional and picturesque, as tourism hasn't touched yet this small village of fishermen.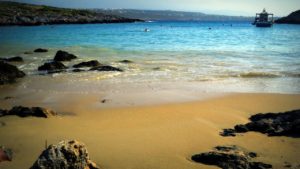 Nature lovers should not miss a visit to the Cave of Agios Ioannis, the seventh biggest cave in Greece. It is practically a lightless maze with various rooms shaped by mother nature, so you should only venture a visit with a local guide. Legend has it that this is the cave where Odysseus encountered and tricked Polyphemous, a fearsome one-eyed giant (cyclop). The island is also part of the EU's Natura 2000 network of nature protection areas, as it is home to several kinds of wild birds. As expected, Iraklia has many beautiful beaches that you can visit by boat or on foot from Agios Georgios. If you hire a boat you can sail from Agios Georgios to North Cave (Vorini Spilia) on the north of the island, a sandy beach of crystal clear waters. Other beaches you can only reach by boat include Karvounolakkos and Alimia, both serene and with turquoise waters. On Alimia you can spot underwater the remnants of an Arado Ar 196 monoplane aircraft that was shot down during WWII.
Schinousa, a place to relax
The next stop is Schinousa, another small dot on the map of the Aegean Sea. You can dock your boat in Mersini, the island's port. In the two main villages, Schinousa and Messaria, there are a few taverns where you can try delicious fish, cooked in the traditional Greek way. If you hire a boat in Greece and you are lucky enough to be on the island in mid August, don't miss the big feast of Mary on 15th August for a Greek dance lesson! As for beaches, the locals recommend Tsingkouri, Aligaria, Almyros and Psili Ammos, as well as remote beaches such as Fidou and Leivadi that you can only reach by boat.