Share the post "10 reasons to hire a boat in Zakynthos"
The royal family has a special relationship with Greece, starting with Prince Philip's Greek origins. Charles has also visited the Greek islands a few times privately and will pay his first official visit with his wife in early May. It's time for the next generation to pick up the torch. Prince Harry and his future wife, Meghan Markle, will allegedly visit Zakynthos on a private yacht a few weeks before their wedding in London on 17th May. The Greek island, also known as Zante, is already a popular destination among British holidaymakers, and royalty will probably boost its reputation as a classy resort. So here are 10 reasons to hire a boat in Zakynthos and, why not, socialise with the royals (current and future ones) too!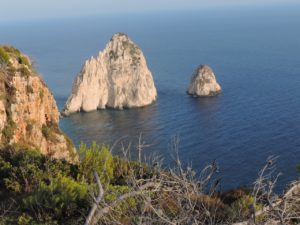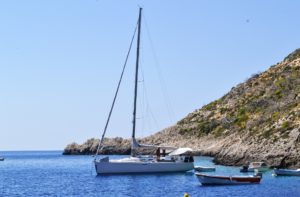 1. It's the best way to explore Zakynthos!
There is a reason why the royal couple will go on a trip to this beautiful island on a yacht. Ok, they probably want some privacy, since paparazzis chase them around the world. But Zakynthos is also full of surprises for those who love a bit of adventure. There are copious coves, beaches and islets that are hard to reach with public transport or the local ferry, so the best option is to hire a boat in Zakynthos.
2. Awesome marinas
The island's marinas are equipped with modern infrastructure that makes anchorage hassle free if you opt to hire a boat in Zakynthos. Τhe two main marinas are Zakynthos  Town and Agios Nikolaos Volimes on the north. You can also dock your boat in the smaller marinas of Agios Sostis, Keri and Alikes.
3. Foooood
Oh the Greek food…Every island has its own specialties, and Zante couldn't be different. Try stuffed rooster with makarounes, a local pasta, jackrabbit and onion stew ('stifado'), and aubergine with garlic and tomato sauce ('skordostoumpi'). For something sweet, try another local dainty, mantoles (caramelised peanuts) and mantolato (nougat).
4. Fancy a bit of Italy too?
The islands of the Ionian sea are a bit different from the rest of Greece, as nearby Italy has influenced the local culture, including food, architecture and even dialect. The locals have a reputation of being just a bit cranky, extrovert and full of joie de vivre. They love music too, so if you decide to hire a boat in Zakynthos don't miss an opportunity to sing an aria with the local boat owner.
5. You will make new friends
The royals will be visiting in May, but that won't be your only chance to bump into a celebrity. Famous singers and actors who have recently visited Zante include Leonardo di Caprio, Michael Douglas, Catherine Zeta Jones and Shakira.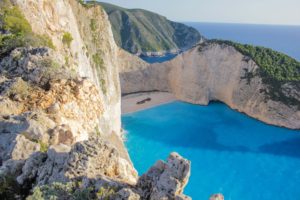 6. Navagio is there
As far as beaches go, Zakynthos is a paradise on earth. Don't miss an opportunity to watch the sunset at the small, picturesque beaches of Limni Keri and Kryoneri. And of course take a selfie at one of the most famous beach of the Med, Navagio, which is the Greek word for 'shipwreck'. The original name of the beach was Agios Georgios, but then a ship carrying smuggled cigarettes landed there in 1980 and since then has become the island's landmark.
7. You can travel around
The perks of a boat rental in Zante are obvious. Apart from exploring the copious coves and small beaches in Zante, you can also visit the rest of the Ionian islands, including Kefalonia just above Zante, Ulysses' Ithaca, Paxoi, Lefkada, Corfu or even Sivota in continental Greece. The Peloponnese is just a few miles from the eastern tip of Zakynthos, so you can dock your boat in Katakolo or Killini and visit Ancient Olympia, the birthplace of the Olympic Games.
8. You will see by the sea the famous Silver House
On your way to Kefalonia, don't miss the Silver House by famous architect Olivier Dwek. It is a gem of contemporary architecture, inspired by Yves Klein's Blue, that graciously hangs from a green hill on the west coastline of Zante.
9. There is a place for party animals too!
British presence on the island is evident in the summer, particularly in vibrant Laganas, famous for its pubs and bars. It's ideal for a fun night out, but you might want to stay away from it if you are past the age of endless partying.
10. You can see turtles too!
The bay of Laganas is the largest natural habitat and nesting ground in the Mediterranean for the loggerhead sea turtle, also known as Caretta Caretta, an endangered species. Local NGOs offer you the option to do a bit of turtle spotting – just make sure that you don't disturb them!