Share the post "A few ideas for a perfect Greek islands honeymoon"
As far as honeymoon trips go, Greece is the perfect destination for an unforgettable week or two with your partner. There is nothing more romantic than a walk by the beach on a tranquil Greek island, far away from the maddening crowds of tourists flocking to the Med in the summer. The Greek islands also offer a breathtaking background for couples who wish to spend sometime alone on a boat – them, a glass of wine and the blazing sun of the Mediterranean. It's not a coincidence that more and more newlyweds opt for a Greek islands honeymoon. There is something about the sense of adventure and independence sailing offers that makes a honeymoon trip in Greece on a boat a once-in-a-lifetime experience. So we have asked our sailing experts and offer you a range of options to hire a boat in Greece for an amazing honeymoon trip.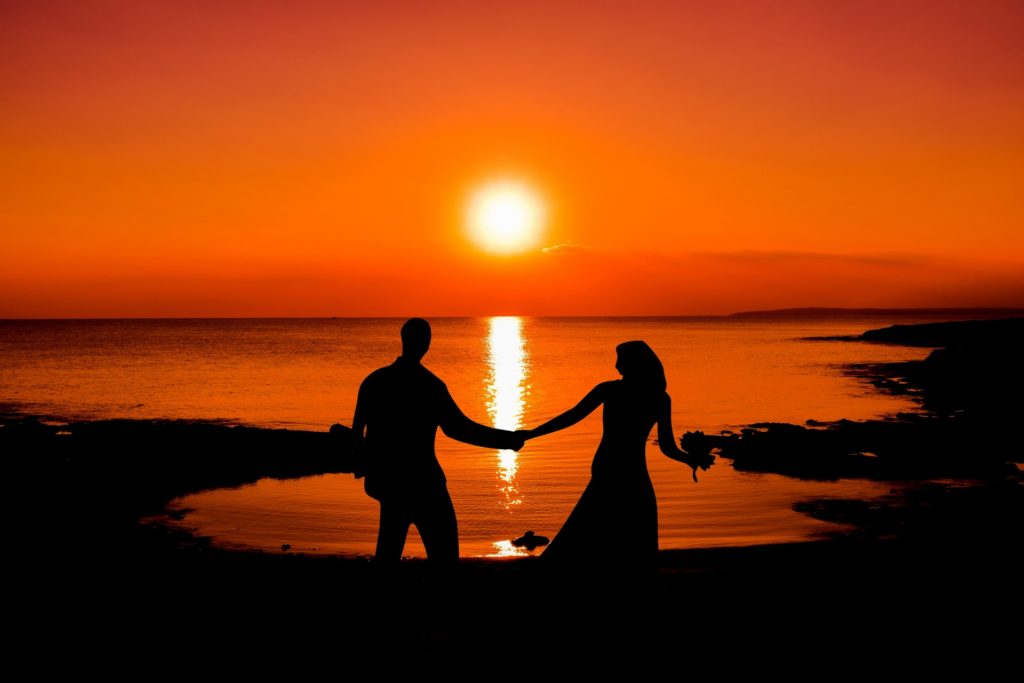 Sounion – Kythnos – Kea
Athens is usually just a springboard for a trip to the Greek islands and probably the go-to option to hire a boat in Greece, but the broader region of Attica is full of romantic places worth visiting, starting with its easternmost tip, the Sounion cape. Many local and foreign couples choose Sounion for their wedding, as it is serene and beautiful in late spring and summer. A unique place where land meets the deep blue of the Aegean Sea.
Speaking of which, there is an interesting myth behind its name. A legendary Athenian king had sent his son Theseus to fight the Minotaur, a monster living in a labyrinth in Crete. Anxious for his son's fate, the king was waiting at Sounion for the Athenian boat to come back. At the sight of black sails on the boat's mast, a sign that Theseus was dead, he lost heart and jumped to his death. The king's name? Aegeus, hence the Aegean sea.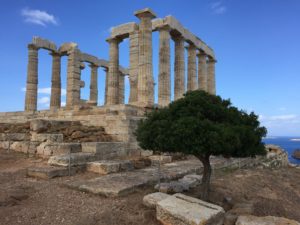 The cape's landmark is the ancient Temple of Poseidon, a mini Parthenon not far away from the shore. A sunset by the temple is unmissable. The reflection of the last few rays of light on the temple's pillars would be the perfect background for a selfie with your wife or husband. You might also be able to attend a concert by a local band, usually when there is a full moon in August.
Sounion is not far from Athens, so you can reach it with a boat hired from any marina in the Greek capital. For a short trip, we suggest the marina at Kalamaki. You can dock your boat at the bay in Sounion, spacious enough to host several boats.
Your next stop should be the small island of Kea (also known as Tzia), just a few miles from Sounion and perfect to start your Greek islands honeymoon. You can dock in Vourkari on the north of the island. The island is tiny, picturesque and by and large ignored by tourists, so an ideal destination for romantic walks by the sea. You can also swim in the crystal clear waters of the bay of Karthea, right next to the ruins of an ancient Greek temple and theatre. And don't forget to pay a visit to the island's landmark, an ancient statue of a recumbent lion close to Ioulis, the capital of the island.
Not far from Kea is the island of Kythnos where you can dock your boat in Merihas, the island's main port, or the bay of Kolona, which is more tranquil and isolated. You can also visit the famous Katafiki cave close to Driopida, a labyrinth of ancient stalactites. From Kythnos you can hop to the rest of the Cycladic islands – Serifos, Sifnos and Syros are not far – or head back to Athens.
Mykonos – Dilos – Paros
Agreed, Mykonos is a bit crowded, flashy and even pretentious in the summer. It might be a paradise on earth for party animals who drink and dance the night away at the island's famous clubs, but is it the right place for a Greek islands honeymoon trip?
Well, there is a hidden side of Mykonos that makes this island perfect to hire a boat in Greece and spend a week or so with your significant other. First of all, you don't even have to spend a lot of time on the island. You see, Mykonos became famous in the '70s for its dreamy beaches, cosmopolitan atmosphere and proximity to other Greek islands – in other words, it's perfect for an island hopping sailing trip.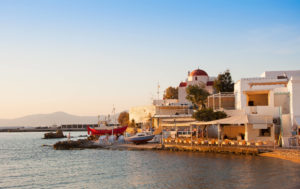 Apart from the marina at the main town of Mykonos (called 'Chora' by the locals), you can also anchor at Ornos, a beautiful, tranquil bay on the south, or Tourlos, the new harbour of the island on the west. Their strategic position will keep you safe from the north summer winds of the Aegean Sea, known as 'meltemia' in Greek. You see, this is "the island of winds", protected by Aiolos, the Greek god of winds. No better spot for a selfie – a kiss with your partner? – than the island's landmark windmills.
And then, there is Mykonos' unknown side that you might want to explore. Everyone knows Super Paradise and Little Venice with its picturesque little houses by the sea (an unmissable sight for lovebirds), but what about Fokos, Kapari and Agios Stefanos? All beautiful, sandy beaches, largely ignored by the hordes of tourists that gather to the island every summer.
For a whiff of ancient beauty, set sail for nearby Delos, the sacred island of ancient Greece. Legend has it that Apollo and Artemis were born on this small island. Today Delos is inhabited only by the remnants of copious temples built on the island throughout ancient times, offering you a unique opportunity for a romantic walk in a vast expanse of pillars and statues. You are not allowed to dock your boat in Delos without a permit from the local authorities, so you have to hire a boat in Mykonos to visit this special island.
You can also visit Big Delos, also known as Rhinia, also uninhabited and beautiful, full of dreamy beaches (Glyfada and Ambelia are the best ones) and unexplored coves. It is also a popular meeting point for yachts cruising the Aegean sea, in case you wish to socialise a bit.
On the south of Delos and Mykonos, there is Paros and its trendy little sister, Antiparos. You can dock your boat at one of the island's two main harbours, Paroikia and Naousa, both on the north. For something more tranquil, try the bay at Piso Livadi, a seaside little village, ideal for Greek seafood and romantic walks by the sea. Paros is bigger than Mykonos, so you might want to spend a couple of days here before you head back to Mykonos or Athens to end your Greek islands honeymoon.
Santorini
Santorini is a classic for a Greek islands honeymoon trip, and inevitably pricey too. But how can you disregard this gem of the Aegean sea, famous for its unique landscape of small white houses, sculpted in the island's copious caves? Or perhaps what is the most beautiful spot in the Med to watch the sunset, at the village of Oia?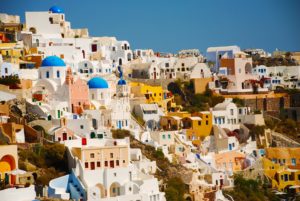 A volcanic eruption around 3,500 years ago gave the island its current crab-like shape. It is this peculiarity of its history that makes Santorini unique among other Cycladic islands, offering you an extraordinary sailing experience and the perfect place to hire a boat in Greece. For example, you can sail from the harbour of Oia and enjoy the thermal wells nearby the small volcanic islands of Old and New Kameni.
For an unforgettable one-day trip, try the circumnavigation of the island. The sight of the white houses of the villages of Hmerovigli, Fira and Fotostefani hanging from the island's rocky cliffs will take your breath away. On your way to Hmerovigli, you can't miss Skaros, a rock hanging from the highest tip of Santorini's famous volcanic Caldera.
Despite its fame as a top summer destination, Santorini still has a few unexplored caves and beaches that you can only reach by boat. Check for example the small, picturesque ports of Armeni and Ammoudi, both offering you crystal clear waters to swim. Or Thirasia, a small island next to Santorini that the locals prefer for a short trip. And, last but not least, take a picture by the Indian Rock nearby the beach of Akrotiri, a vertical rock formation reminiscent of the exotic islands of Southeast Asia.