Share the post "Discovering Chicago With a Boat Rental"
When thinking about boating in the United States, we tend to lean towards hotspots like Miami and the Florida Keys, sunny Southern California, or America's sailing capital, Annapolis. But how often do we actually consider Chicago and Lake Michigan, as a 'go-to' boating destination? With more than 26 miles of (uninterrupted!) lakefront and 29 beaches, Chicago is what some call, "America's Freshwater Riviera." And we at Click&Boat definitely think it's worth experiencing a boat rental in Chicago!
But don't wait too long… the best time to go boating on Lake Michigan is during the warm summer months- from May to September! So that you can comfortably jump in the water, relax, enjoy watersports and soak up the sun. For the warmest water temperatures, make sure to boat during July & August where the water is around +70°F.
Chicago Harbors
Founded in 1833, 10 beautiful marinas make up the well-known Chicago Harbors. With enough space for over 6,000 boats and harbors located across the city, you shouldn't have a problem finding the right starting point for boat rental in Chicago. 31st Street, Belmont, Diversey, and Burnham, just to name a few- have great marina ammenities, and local attactions and restaurants nearby.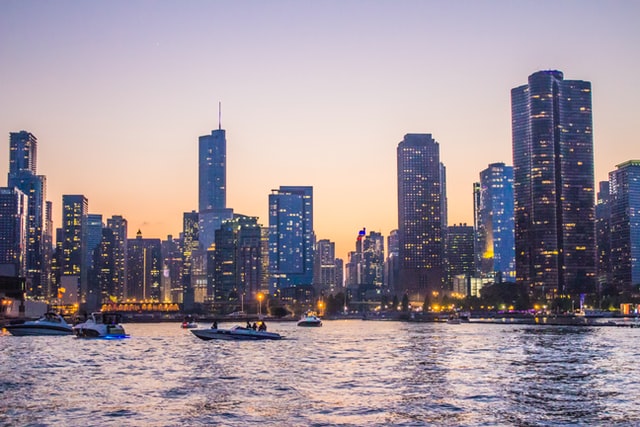 While each harbor has its own distinct feel and character, together, these harbors have been the #1 attraction along Lake Michigan that continue to draw thousands of sailors and boat enthousiasts every year.
Not far from DuSable Marina and downtown Chicago, you can visit the Navy Pier! Shop, dine, enjoy rides, special events and live music all year long.
Chicago's Best Beaches
When the sun is out, it's time to forget about the city's hustle and bustle and instead escape to one of Chicago's premiere beaches. Don't worry about trying to find a nice spot on the sand, hop on board and enjoy your own private paradise on the water…
Here are some of Click&Boat's favorite beaches:
–Oak Street Beach: Close to downtown Chicago and a local favorite, Oak Street offers plenty of things to do- from sunbathing, swimming, to admiring street art.
–Osterman Beach or Hollywood Beach: A beach that surely promises a bit more relaxation compared to the other busy beaches of Chicago and is perfect for paddle boarding.
–North Avenue Beach: Enjoy this popular beach with its trendy beachfront bars, spacious sands, plenty of recreational options, and convenient location to other local attractions.
–Margaret T. Burroughs Beach or 31st Street Beach: Located on the South Side, this a great option for those looking for a family friendly beach.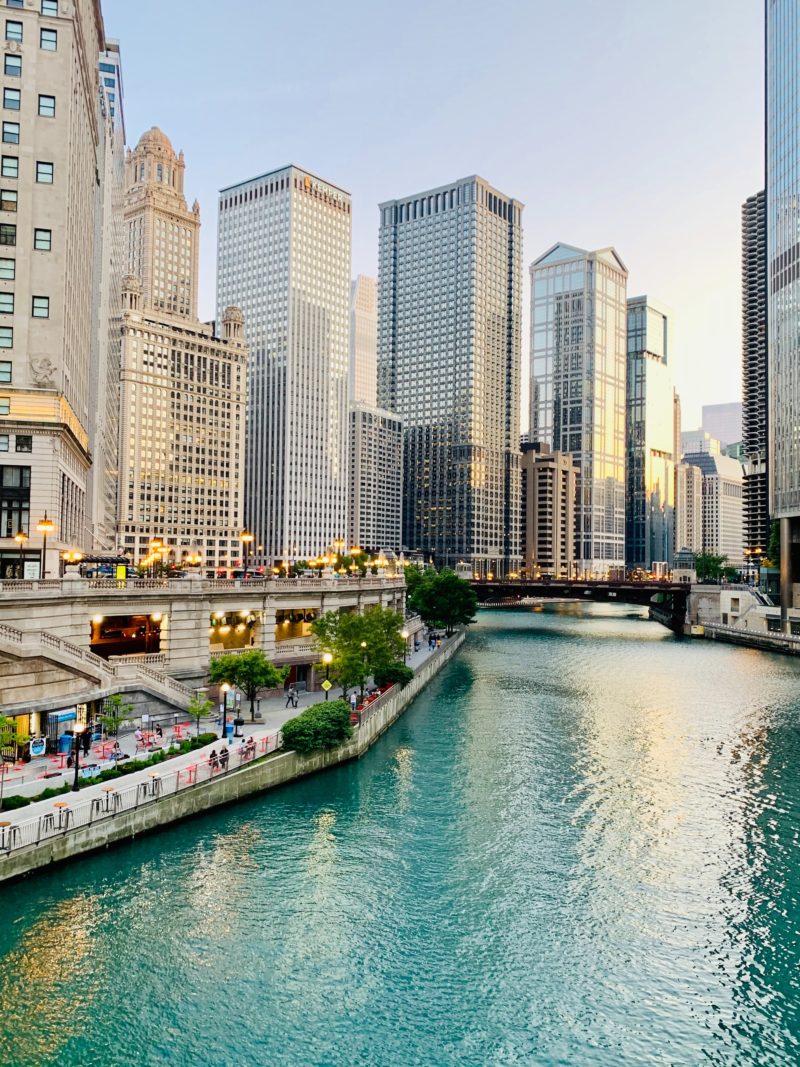 The Chicago River
What better way to discover Chicago, the birthplace of skyscrappers, than by boat? Navigate along the Chicago River that carves through the canyon of skyscrappers.
The city's unique architectural beauty simply can not be missed! See the Chicago from a different point of view: get a feel for the city by admiring those walking or cycling down the famous Chicago Riverwalk, and look up towards the sky and gaze at the art deco buildings.
See some of Chicago's most famous riverfront builings like the Lyric Opera, Merchandise Mart, Marina City, and the Tribune Tower. And don't forget to check-out the McCormick Bridgehouse & Chicago River Museum beneath the DuSable Bridge.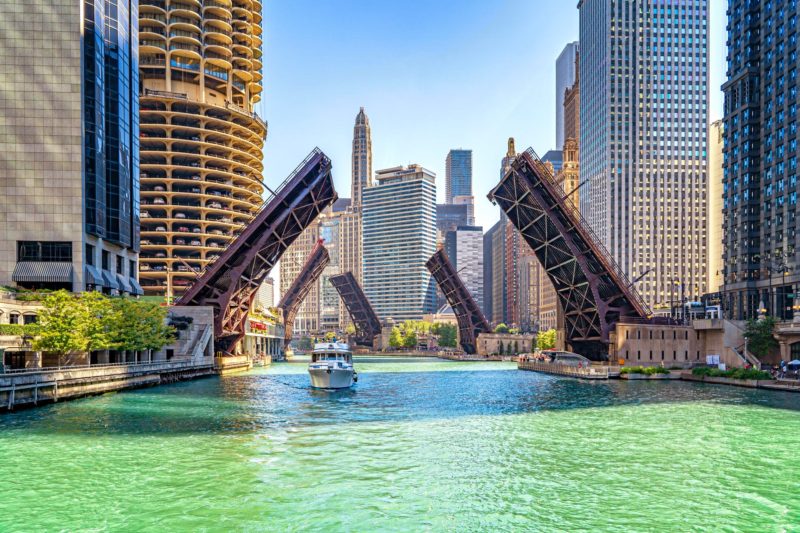 The luck of the Irish! –Perhaps consider a boat rental in Chicago for St. Patrick's Day… Every year the Chicago River is dyed emerald green as a world famous St. Patrick's Day tradition. Then again, it may be a bit chilly in March! The summer time though is perfect for those who want to plan a romantic sunset cruise, have a picnic on board, or want to snap a few photos from a unique view point while cruising the Chicago River.
Lake Michigan
Looking for more than just a cruise down the Chicago River or a beach day along the city's coast? Luckily Lake Michigan is over 22,300 square miles large and is guaranteed to make you feel like you're sailing the big blue ocean. Lake Michigan is the third largest of the Great Lakes, which also sometimes happen to be reffered to as the "Third Coast" of the United States, after the Atlantic and Pacific.
Fun Fact: The Great Lakes are the largest fresh water system in the world…. 95% of all the fresh water in North America!
There's a reason why Chicago's nickname is "The Windy City." Many sailors that are looking to gain some blue water experience before crossing the oceans end up sailing across Lake Michigan and the other Great Lakes for practice. While the waters of a lake and an ocean behave quite differently, the Great Lakes can be challenging and dangerous at times- perfect for skilled sailors eager for a taste of ocean sailing.
If ocean sailing isn't really your speed, Lake Michigan offers plenty of other things to do and see while out on the water. Maybe you are into fishing? Lake Michigan is home to hundreds of species of fish: salmon, trout, yellow perch, smallmoth bass… Perhaps you are looking for day trip or weekend getaway ideas? There are sandy waterfront hangouts all along the lake, so try these destinations for your next boating adventure:
– Indiana Dunes National Lakeshore: Admire the long stretch of sand dunes from the water!
–New Buffalo: Beach town with nightlife and entertainment, as well as miles of peaceful beaches to enjoy during the day.
–Saugatuck: One-of-a-kind town with scenic waterways, dunes, and award-winning beaches.