Share the post "Travel Back in Time With A Yacht Charter in Sicily"
Few sailing destinations combine a breathtaking  landscape, a history of more than 2,000 years, vibrant nightlife, delicious food and a local culture rich in art and tradition. If this sounds like a perfect destination for your next sailing adventure, you should book a yacht charter in Sicily, the Med's largest island.
Discover Palermo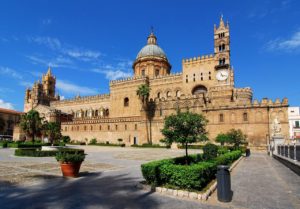 Many sailing enthusiasts who hire a boat in Sicily choose to sail around the island's long coastline of more than 1,000km, a trip that can take you from five to ten days or more.  You can start your trip from Palermo in Western Sicily. Palermo is the island's capital, as well as its cultural and economic hub, home to several museums, medieval churches and palazzos such as  Palazzo Reale, Cattedrale di Palermo and Palazzo della Zisa. From Palermo you can sail to Capo Gallo, a nature reserve of outstanding natural beauty close to Mount Gallo. You can also visit the picturesque fishing villages Mondello and Sferracavallo nearby to try delicious, traditionally cooked fish. Your next stop should be the Gulf of Mondello and its sandy beaches of crystal clear waters. From your boat you can also admire a series of Art Nouveau villas scattered on the coastline.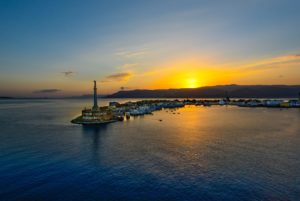 On the northeastern tip of the island, right next to continental Italy, you will find the city of Messina, home to the largest natural harbour in the Med. The statue of Madonnina del Porto will hail you at the entrance of the port. Don't miss the opportunity to visit its famous Cathedral with its Gothic portals and stupendous mosaics, as well as take a walk in the old town around the city's Duomo. On your way to South Sicily you can admire from your boat the famous Etna volcano, the second highest one in Europe, as well as Argimusco, a plateau hosting rock structures similar to those found at Stonehenge.
South Sicily, an ancient gem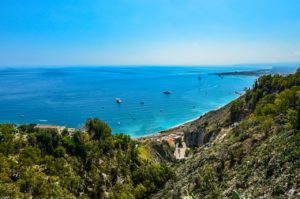 Not far from Messina is Taormina, a somehow posh tourist destination praised by many artists and poets. If you hire a boat in Sicily you will also be able to explore the small island of Isola Bella. From there you can sail to Catania to admire the famous u Liotru in the Fontana dell'Elefante, a statue portraying an elephant carrying an Egyptian obelisk. In a way, Catania epitomises the history of Sicily, ruled in the past by Greeks, Romans, Arabs and Normans among others. Not surprisingly, the locals speak a distinct dialect of Italian that includes many Greek, Arabic and French words. From Catania you can sail to Syracuse, the biggest city of the island in ancient times when it was ruled by Greeks and birthplace of the famous mathematician  Archimedes. Not far from Syracuse is the Necropolis of Pantalica, a huge medieval cemetery with chamber tombs magnificently sculpted on rocky hills.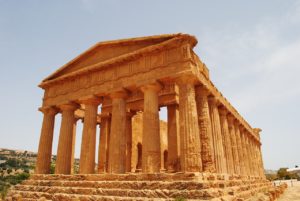 Your next stop should be Agrigento in Southern Sicily, where you can visit the famous Valley of The Temples, an archaeological site which hosts some of the most outstanding examples of ancient Greek architecture, including The Temple of Concordia: a mini Parthenon and arguably the best preserved Greek temple of Doric style on the island. If you charter a yacht in Sicily and you are into archaeology you can also visit the towns of Segesta and Selinunte, both remnants of a glorious past. In this part of Sicily there are also several oil mills arranging lunches with copious samples of Sicilian cuisine – try their delicious oil ice cream! Sicily is famous for its culinary tradition, which is somehow different from the dishes you will find at the typical Italian restaurant abroad. Cucunci, pane cunzato, arancini and cannoli are some of the local specialties you should try. As for local tipples, a sip of malvasia, the island's most famous wine, will blow your mind with its distinct sweet flavour.
Some of Sicily's best restaurants can be found in the city of Marsala on the westernmost tip of the island. Nature lovers will also enjoy a visit to the famous Stagnone Lagoon and its landmark mills. Your next stop should be Trapani where you can dock your boat in one of the city's modern marinas and wander around the cobbled streets of the city's medieval old town. Sicily happens to be the region hosting the biggest number of Unesco world heritage sites within Italy, quite an achievement for a country with such a long history. Just a stone's throw from Trapani are the Egadi Islands, quite popular among sailing enthusiasts for their idyllic beaches and hidden coves.
Next stop? Sardinia or continental Italy. So much to see in this beautiful country!