Share the post "Pick an Easter Yacht Charter in the Mediterranean"
Easter is approaching and you probably haven't booked anything yet. Always at the last minute, right? Well, a yacht charter in the Mediterranean may come handy – and cheap too! – for your Easter holiday. There is something for everyone on our platform, from weekend trips to longer ones, ideal for those seeking their place in the Mediterranean sun. Click&Boat has picked for you five sunny destinations for an unforgettable Easter holiday.
Iles d'Hyères, a paradise on earth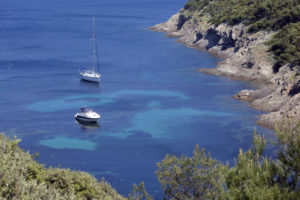 We have chosen Port-Cros for our own sailing trip for a reason. Short trips to the islands of Hyères are increasingly popular among sailing enthusiasts who appreciate the combination of serenity and sailing infrastructure these small islands offer. You will find copious mooring spots to dock your boat in Port-Cros, Porquerolles, or even the nearby islands of Levant and Bagaud.  The French Provence is extraordinarily beautiful in the spring when nature presents itself in all its beauty. For a good dose of it, visit Porquerolles and its famous national park, just 7 miles away from Port du Gapeau.
Marseille, France's ancient city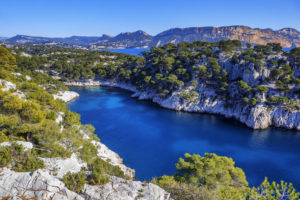 Massif des Calanques is a hidden gem next to a popular destination such as Marseille, ideal for a yacht charter in the Mediterranean this time of the year. You see, there is more to this ancient city, founded by Greeks, than its fame as a port and hub of various cultures and languages. There is natural beauty in all its spring glory, making it an ideal destination to hire a boat in the Mediterranean. For example, the cliffs surrounding En-Vau are very popular among climbing fans. All you need is a boat and a mood for exploration. If you want to go the extra mile and explore the hinterland, you could also hire a car through a p2p platform similar to Click&Boat, such as Mobypark.
Check out our guide of Marseille and the French Riviera
Bonifacio, a Corsican gem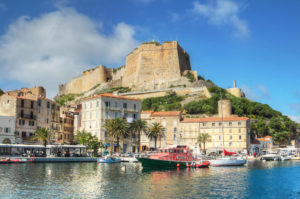 It's difficult to choose a single place in Corsica to visit. There is Cap Corse, the Sanguinaires islands, the Agriates desert beach…Every part of the island is a sailing paradise, ideal to hire a boat in the Mediterranean and have an amazing Easter break. So let's just pick Bonifacio. Why? One word: awesomeness. Everyone who has visited Bonifacio has sweet memories of a trip to the city's traditional citadel and breathtaking cliffs. And you can always visit the nearby islands of Lavezzi, Sardinia (the archipelago of Maddalena should be in your to-do list), Porto-Vecchio or Propriano. Just that will do for an unforgettable Easter holiday!
Check out our Corsica guide
Corfu, the perfect place for an Easter yacht charter in the Mediterranean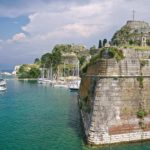 The famous Greek island was once ruled by the British Empire and the inevitable whiff of Britishness is ingrained in its culture. You will find the architecture and gardens in Corfu city familiar and you might even see the locals playing cricket, a unique spectacle in the Mediterranean where the sport is largely unknown. Corfu is Prince Phillip's birthplace after all! It's not a coincidence that many British authors have set their novels in Corfu, as fans of the ITV series The Durrells, based on Lawrence Durrell's autobiographical books, know very well. As for sailing, there is a wide range of options to enjoy crystal clear waters and the blazing sun of Western Greece in the spring. Explore Pontikonisi, Garitsa and even nearby Paxoi and Ithaca, the island of legendary Ulysses. If you have time to spend, you can wait for the Greek Orthodox Easter on Sunday 8 April. Easter is a big deal for the Greeks, and they know how to celebrate it. On Easter Sunday, the locals throw pots from their windows, so keep an eye on the sky to avoid any accidents!
Check out five more mooring spots in Greece
Naples, an Italian treasure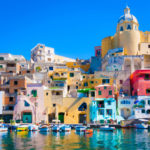 On the foot of mount Vesuvius there is a city famous for its warm people and great food: Naples (not to be confused with its sister city Naples in Florida). You will be far away from the hordes of tourists that flock Italy this time of the year. Easter is quite a big thing for the locals, so don't hesitate to take part in the celebrations. Besides, Napoli is an increasingly popular destination to hire a boat in the Mediterranean as a starting point for a trip to the Italian islands, including Sardinia, the Pontino islands, Amalfi or even Sicily. Many sailors start their trip from the nearby island of Procida, an ideal place for a yacht charter in the Mediterranean. The sight of the port is magnificent from the sea, as local houses come in all colours and shapes – an urban rainbow right next to the sea. Have a nice one!
– Have a nice Easter –