Share the post "French Riviera Beaches and Landmarks: Your Guide"
Picture this: you are cruising serenely down the French Riviera, the wind is softly blowing, and you feel happy, relaxed, and peaceful. Want to make this dream a reality? From Cassis to Menton, and everywhere in between, a trip along France's southern coast promises to be unforgettable. Full of pristine French Riviera beaches and stunning sites, there is always something new to discover.
A whole plethora of exquisite locations are ready to welcome you, so to help you choose, here are some of our favourites!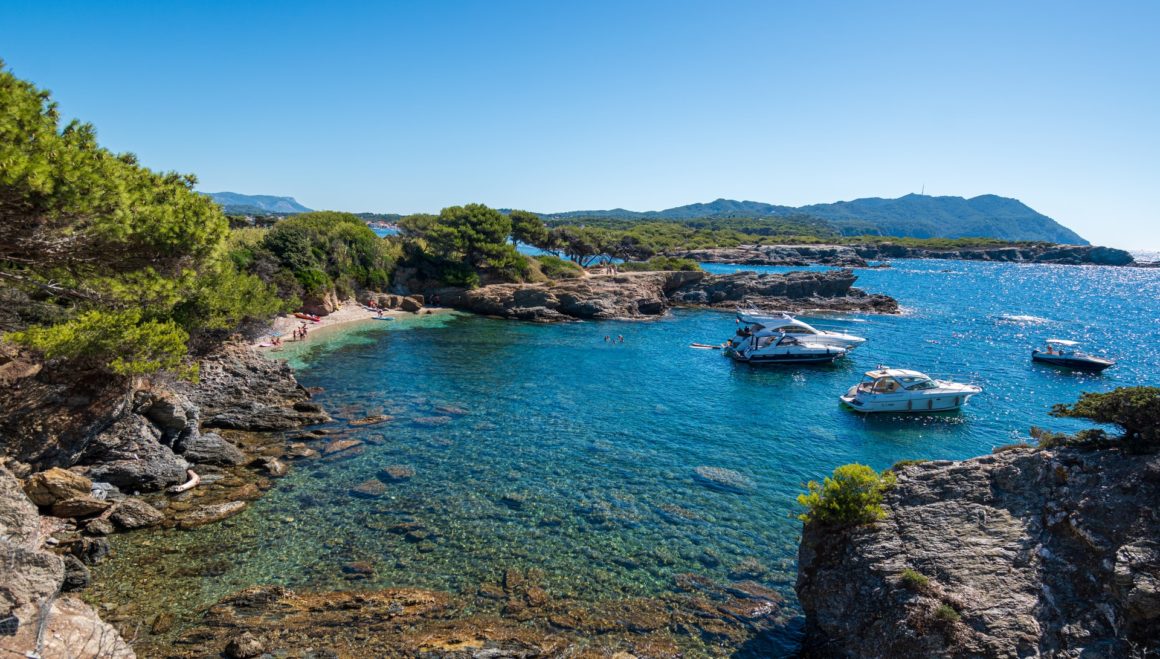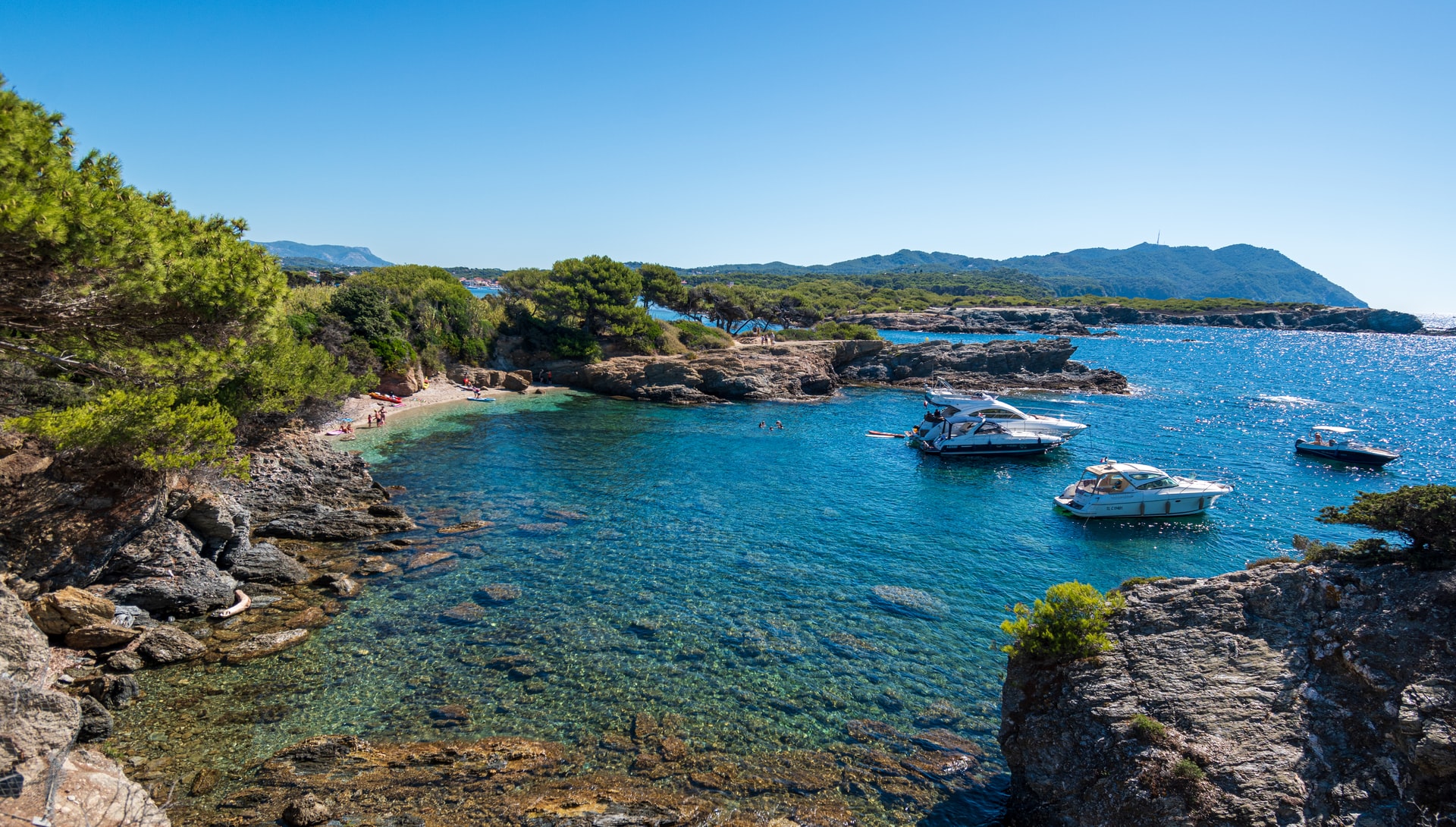 Toulon
Toulon, situated on the western side of the French Riviera, is a perfect stopping point along the French Riviera. Despite being the third-largest French city on the Mediterranean coast, Toulon often goes unnoticed. Dock your boat rental and spend time exploring this hidden gem.
If you are looking to lounge on awe-inspiring French Riviera beaches, Toulon is not short of options to choose from. If you are searching for a sandy beach that is perfect for snorkelling and located near the city centre, Plage de la Mitre is a wonderful option for you. Pay a visit to Plage du Mourillon if you are looking for a fun day for the whole family. Anse de Mejean is also a fantastic choice if you dream of experiencing the ultimate authenticity.
There is also so much for you to do on land! Wander the cobbled streets of Toulon's Old Town and discover the city's rich history. Taste new, local food at the street markets and then relax in a cool café. Make sure to also admire the iconic fountains that scatter the streets of the Old Town. Although they have been restored, following a period of neglect, this system of fountains was originally built in the seventeenth century.
Don't miss the opportunity to admire the city from above and take a cable car to the top of Mont Faron. From the 548-metre-tall summit, you are presented with breath-taking panoramic views. You will be able to see not only the city of Toulon, but also a large area of the Var department, and of course, the glittering Mediterranean Sea. Mont Faron is also a great place for cycling enthusiasts too!
Antibes
In between Cannes and Nice, you will find Antibes, a gorgeous seaside town with countless attractions and a wealth of history and culture. Disembark at Port Vauban – which has been in use since before the Roman Empire, and spend a delightful trip touring beautiful streets.
It would be wrong to visit Antibes and not spend time browsing the renowned Marché Provençal, which is considered one of the best markets in the South of France. A veritable feast for the senses, meander through different aisles before choosing the perfect produce to take home. Treat yourself to different herbs, spices, flowers and so much more.
Whilst Antibes is a wonderful location to enjoy a laid-back getaway, it is simultaneously known for its nightlife. If you want to party next on one of the French Riviera beaches, we recommend Les Pirates Beach Club and Royal Beach Club Antibes. Moving the party slightly further onshore, venture to streets such as Rue Aubernon. Here you will find a whole host of exciting bars and clubs where you can dance the night away. Antibes is also a hub of history and culture – you really can experience it all. Visit the Picasso Museum, located in Grimaldi Castle, or stop by magnificent cathedrals, such as Cathédrale Notre-Dame-de-la-Platea. Then, before setting off on your boat charter, grab a bite to eat at one of the city's local restaurants.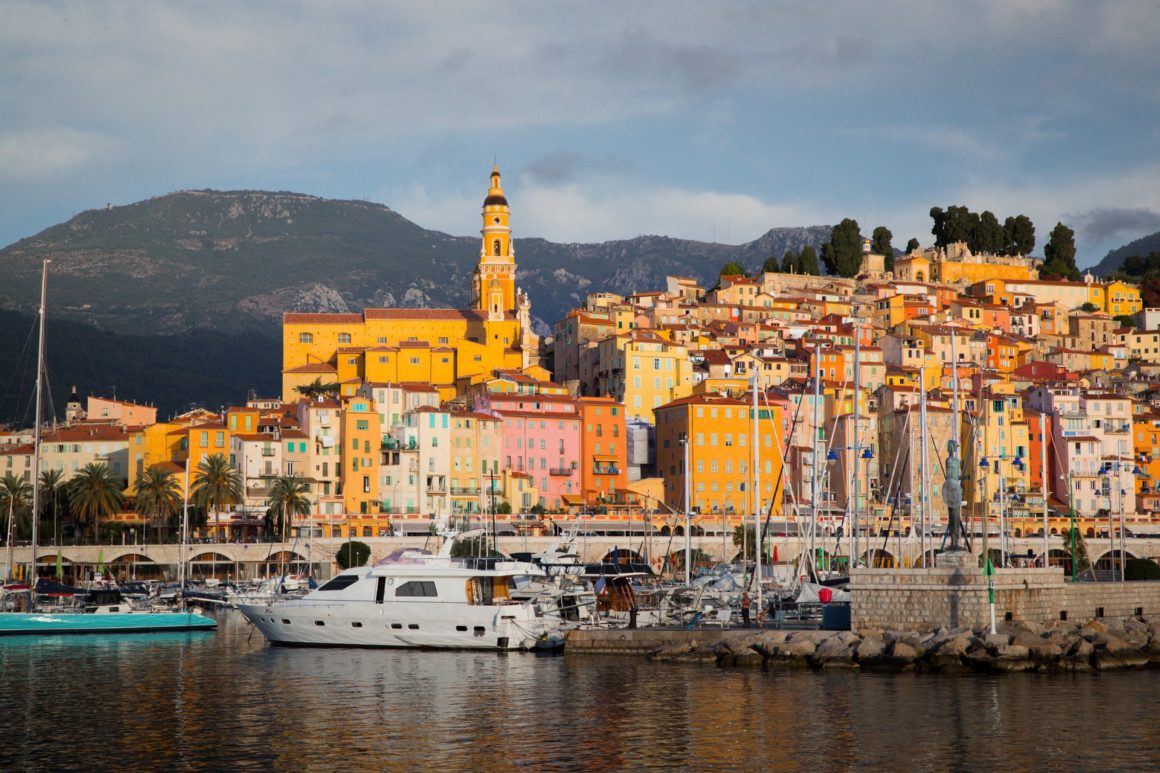 Menton
As you sail east along the French Riviera on your boat rental, you will soon arrive in Menton. A dazzling blend of French architecture and Italian cuisine awaits you. Due to Menton's special micro-climate, the commune has more sunny days per year than any other place in France. This means that you are sure to be greeted with impeccable weather.
One of Menton's most prominent attractions is its old quarter. Stroll through the narrow streets which are lined by pastel-coloured buildings and make your way to Cimetière du Vieux Château. Situated on top of a hill, this cemetery boasts incredible views of the commune. Another key feature of the old quarter is the Basilique St-Michel Archange, whose steeple stands at 53-metres high.
If you are planning your cruise along the French Riviera in February, make sure to stop by Menton during the 'Fête du Citron' (Lemon Festival). This unmissable event features a plethora of citrus-themed parades, tours and shows. What's more, the festival welcomes around 200,000 visitors every year and uses a staggering 80 tonnes of citrus fruit.
Of course, a trip to Menton would not be complete without a trip to a beach! Despite being French Riviera beaches, Menton's proximity to Italy provides its beaches with unique features. For example, visit Plage Des Sablettes and gaze in awe at the Italian mountains in the distance.
What are you waiting for…?
With over 550 miles of paradisiacal coastline, we know that finding a select number of stopping points along the French Riviera is no easy task. Despite this, we hope that this list has given you some inspiration for your French boat rental itinerary! Whether you visit Toulon, Antibes, Menton or other towns and cities along the coast, you are sure to be met with a myriad of elegant cultural landmarks and dreamy natural wonders.