Share the post "The Most Beautiful Islands In The World To Discover On Board"
Nothing stirs up images of relaxing vacations, shade, and cool water like the word island. The best way to think of peace and quiet, a dream vacation or escape from reality, is to imagine an island paradise lost in the middle of the sea. With Click&Boat, it is possible to live this experience in a unique way: aboard a boat! Whether it's renting a motorboat, an adventure aboard a sailboat, or a relaxing catamaran cruise with the family, nothing could be better! Discover below some of the most beautiful islands in the world to visit by boat and get inspired to plan your next trip!
Click&Boat is an online boat rental platform present all over the world! All types of boats are available for charter (from RIBs and sailboats to catamarans and yachts!), at any time. On top of that, a specialized team is always available to help sailing enthusiasts and travelers find the ideal boat and plan the trip of their dreams.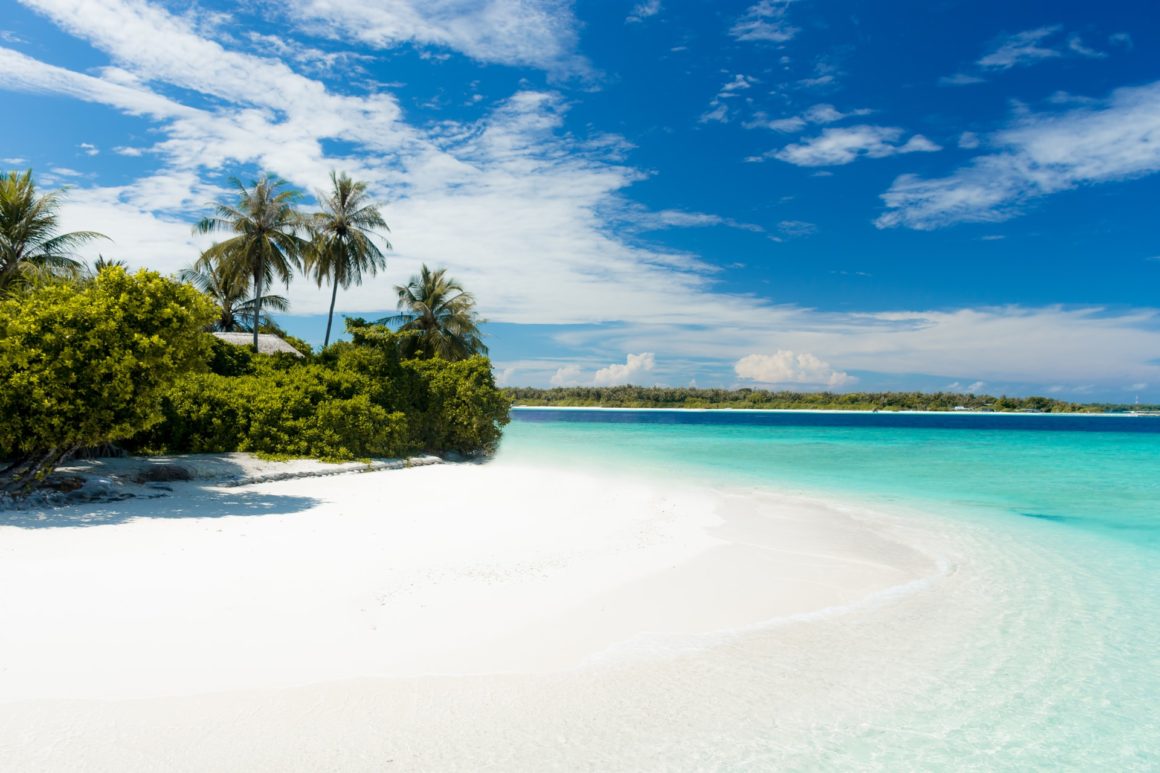 Before booking your boat rental, it is important to check the travel restrictions, due to Covid-19, for your country of origin and destination, to make sure that the transit can be done safely and with regards to the current health conditions. In addition, our team is always available to assist you, not only in planning this dream trip but also to advise you on current travel conditions.
Are you coming to discover the most beautiful islands in the world? Let's set sail! 👇
The 10 most beautiful islands in the world
1. Hvar, Croatia
Hvar is an island that all sea lovers have undoubtedly heard of: the quintessential Croatian sailing destination. Discover in its historical architecture the traces left by Greeks, Romans, and Venetians, be dazzled by its lavender fields and, of course, enjoy its rocky, sandy beaches and incredibly crystal clear waters.
While you're there, be sure to take a trip to the Pakleni Islands, a deserted natural paradise for a relaxing day, impossible not to want to take a dip! All this and more when renting a boat in Hvar!
2. Menorca, Spain
Less popular than its sister Ibiza, Menorca is an ideal destination for those seeking sun, shade, clear waters, and, of course, plenty of peace. This island leaves nothing to be desired in terms of natural beauty: paradisiacal beaches, bays hidden in cliffs, waters in thousands of shades of blue, what could be better?
There are 250 kilometers of coastline to explore and most of the beaches are unspoiled, perfect for a family get-together when renting a boat in Menorca! Cala Turqueta is an absolute must on your visit, as well as Cala Mitjana and Cala Tortuga, which is further north on the island. And if you want to extend your adventures even further, don't hesitate to set sail for the rest of the islands of the archipelago! Shall we discover Mallorca together?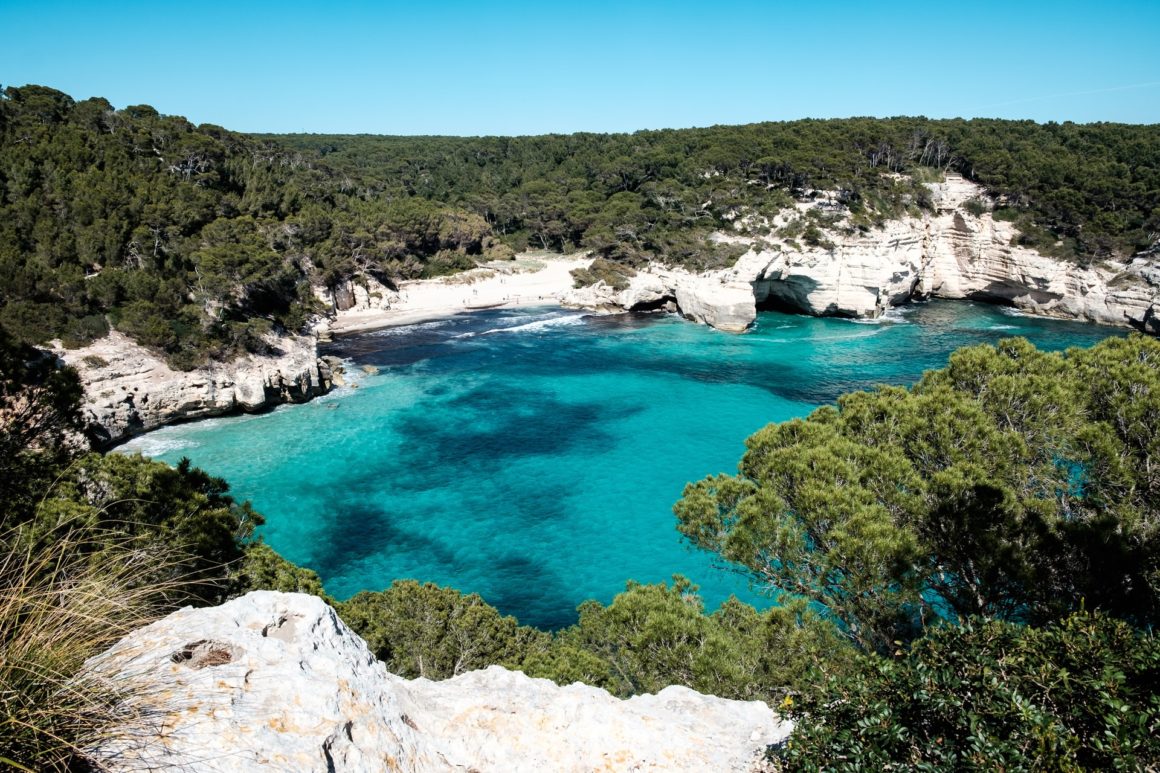 3. Sardina, Italy
Another must-see destination in the Mediterranean Sea, Sardinia is a place that breathes tranquility. This mountainous island offers several wild and deserted beaches, hidden among the cliffs and the beautiful vegetation typical of it. You will find quiet beaches and turquoise blue waters!
Our recommendation is not to leave without visiting Cala Coticcio, one of the most famous and beautiful, Cala Goloritze and Cala Marilou, nestled between rocks and cliffs, only accessible by boat, undoubtedly one of the most beautiful islands in the world!
If you choose to rent a boat in Sardinia, we suggest a catamaran for a quiet family cruise, or perhaps a sailboat, if you are looking for a real adventure on board. Anyway, all types of boats are available on Click&Boat, just choose yours!
4. Milos, Greece
Less known than the favorites Mykonos and Santorini, Milos has absolutely nothing to envy them: crystal clear sea, white houses decorating the landscape in the background, gastronomy with a homey touch, and the opportunity to discover the island in exclusivity.
For a very original trip, nothing better than renting a boat in Milos to discover the secret corners of the island. From the caves of Sykia and Kleftiko to a dip in the paradisiacal beaches of Kalogries and Alogomandra, choose the essential stops for your tour and get on board!
And why stop there, choose to charter a catamaran or a sailboat and enjoy a cruise all over the Greek islands!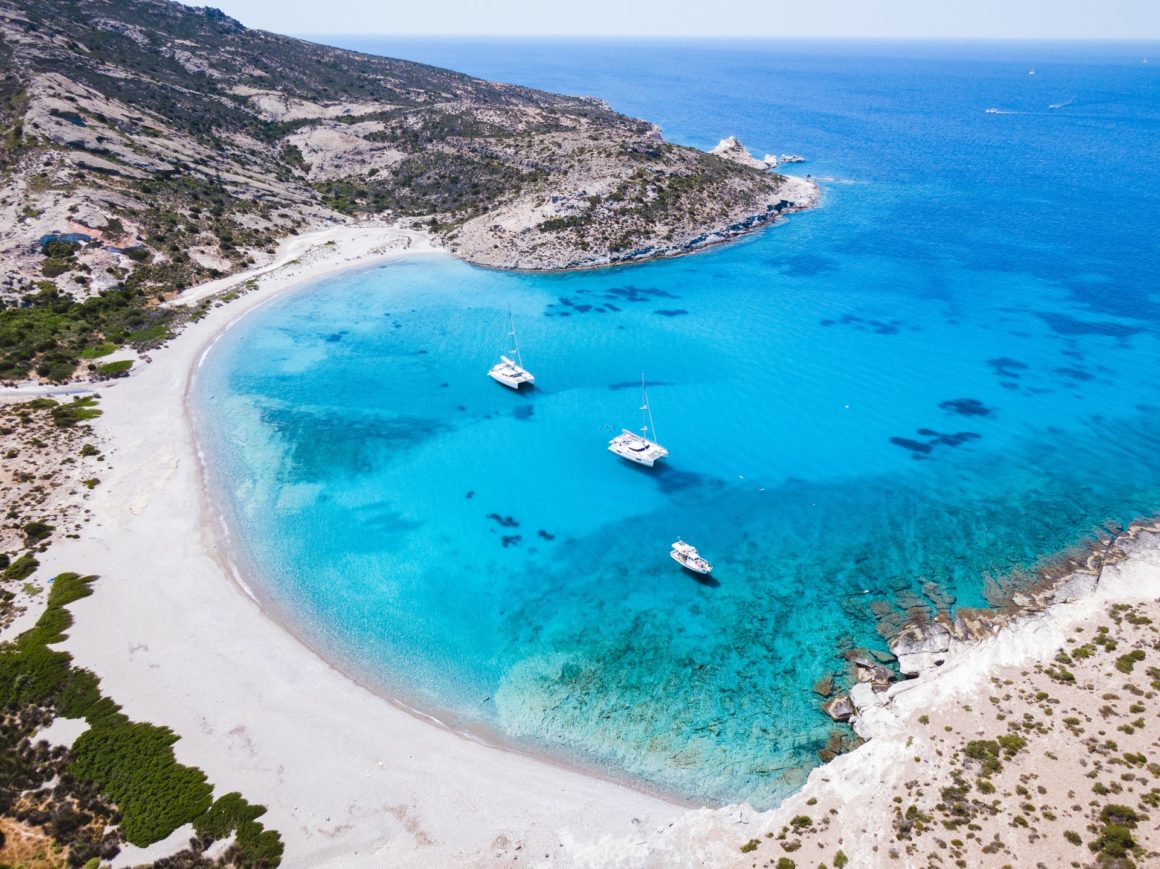 5. Tahiti, French Polynesia
The largest island of French Polynesia, Tahiti is undoubtedly a dream destination for everyone: romantics, adventurers, families, curious, and, of course, sailors! Volcanic islands, white sandy beaches, waters of a thousand shades of blue and coral reefs scattered along its entire length….. It will be hard to even think of what to focus on when you get there!
Nothing better than renting a boat in Tahiti to discover the secrets of French Polynesia in total privacy and autonomy! Discover the beaches of this island and then head out to sea to discover the other islets, such as Bora Bora (considered one of the most beautiful islands in the world and most chosen for a honeymoon trip), and Moorea (a diver's paradise).
6. Nusa Penida, Indonesia
Located in the Archipelago of the Small Islands of the Sonda, this small terrestrial paradise is located in front of the Southeast coast of Bali, and it is also an ideal place to visit by boat. As it is a very well-preserved and rustic natural destination, transportation on the island and access to the best tourist sites can be extremely difficult.
Combining business with pleasure, renting a boat in Bali comes to the rescue! Discover beaches hidden between huge stone walls, such as Atuh Beach, explore the T-Rex coastline, and dive into Crystal Bay, all in one ride!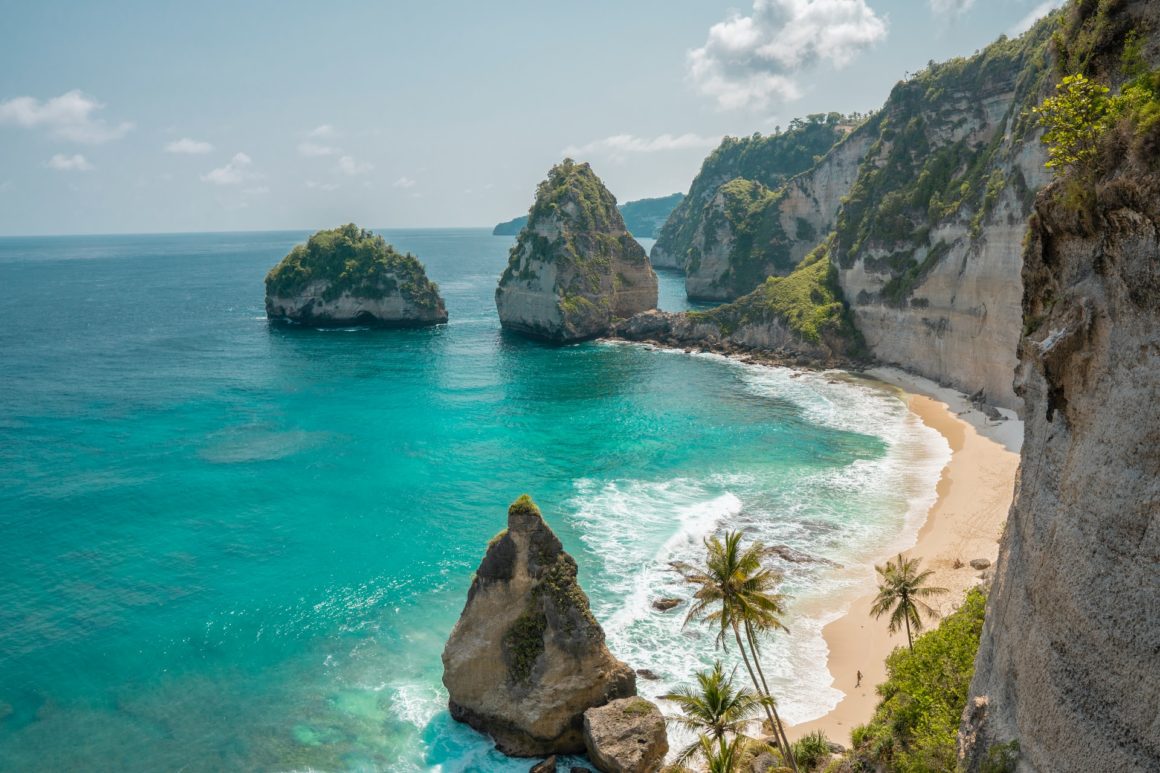 7. São Miguel Island, Azores, Portugal
One of the most unspoiled and different corners of Portugal, the island of São Miguel is also an ideal choice for those seeking refuge in the middle of nature. With endless options for land travel, such as Lagoa do Canário, the numerous viewpoints, and lighthouses, or the many historical monuments: there is a lot to see on this Atlantic islet!
On the other hand, a boat trip around the island guarantees a completely different perspective: volcanic beaches with dark sand and deep blue water: incredible beauty! For lovers of surfing and other water sports, the beach of Santa Barbara awaits you. For those looking for rest and relaxation, Ponta da Ferraria is the ideal spot: hot springs and natural pools of hot water, what could be better?
8. Maldive Islands
One of the most famous paradise destinations of all time, the Maldives could not be left out of the list! White beaches with translucent blue waters, rich biodiversity, water sports, peace, and tranquility: that's just what awaits you on your boat trip in the Maldives!
For those who enjoy scuba diving, Dhigurah Island is an excellent choice, for snorkeling with turtles, Rasdhoo is amazing! For those of you looking for the thrill of surfing or windsurfing, Laamu Atoll is famous for its waves! And of course, for those seeking peace and quiet, a day at the beach is the most common choice, and no wonder: there are 1,190 islands to choose from, so get on board!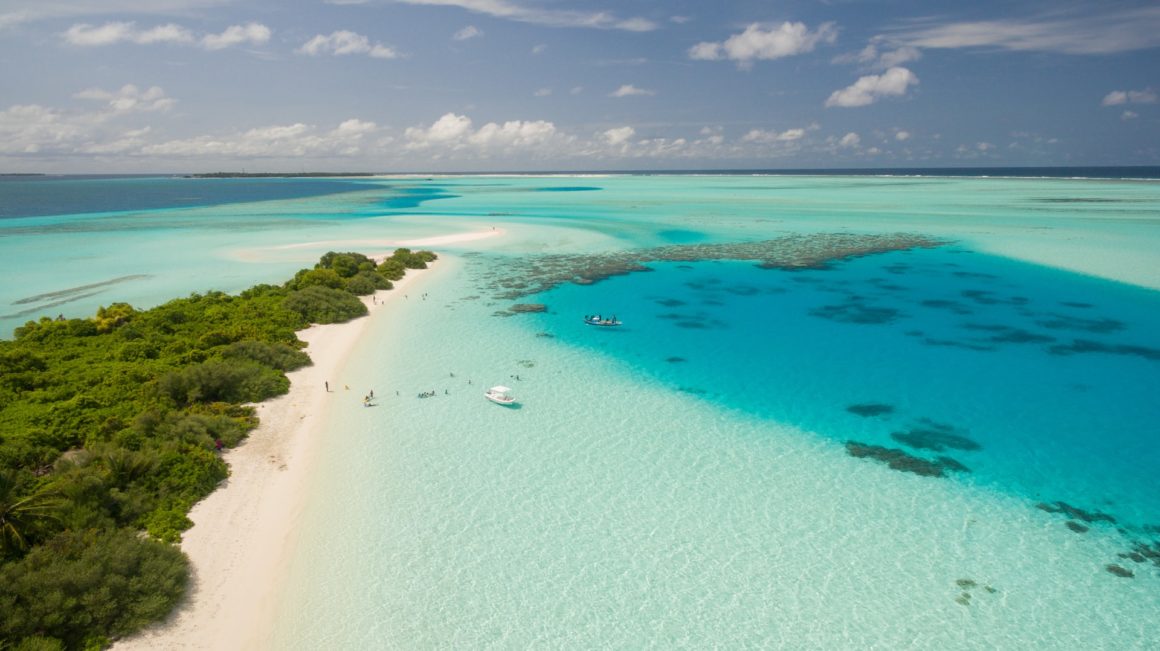 9. Cayo Largo del Sur, Cuba
Only 50 minutes by plane from Havana, this small paradise has 25 kilometers of deserted beaches to embrace sea lovers. In the face of peace and privacy, the beaches of Cayo Largo are among the most paradisiacal on the list, including the famous Playa Paraíso, with very white sand, which contrasts beautifully with the turquoise blue of its waters.
For the adventurous, deep-sea sport fishing is one of the most sought-after activities in the region. Meanwhile, spectators can delight in exploring the biodiversity of this coastline: giant sea turtles at Playa Tortuga, dolphins at Playa Sirena, not to mention the flamingos, iguanas, and even crocodiles scattered around the island of Cayo Largo. Climb aboard your Click&Boat boat rental to experience Cuba in an exclusive, personalized, and unforgettable way!
10. Phi Phi Island, Thailand
A set of paradisiacal islets at your disposal: we couldn't ask for more! Crystal clear waters, incredible beaches, and bays, coral reefs decorating the coastline, and amazing biodiversity, including monkeys and sharks! The famous Maya Bay on Phi Phi Leh is a must. For snorkeling enthusiasts, Wang Long Bay on Phi Phi Don is a must! For a quiet day, Nui Beach is a great choice: a beach of fine white sand, protected by high cliffs and palm trees, crystal clear turquoise water, i.e. paradise!
With a boat rental in Phuket, you can create your own itinerary on Phi Phi, some of the most beautiful islands in the world!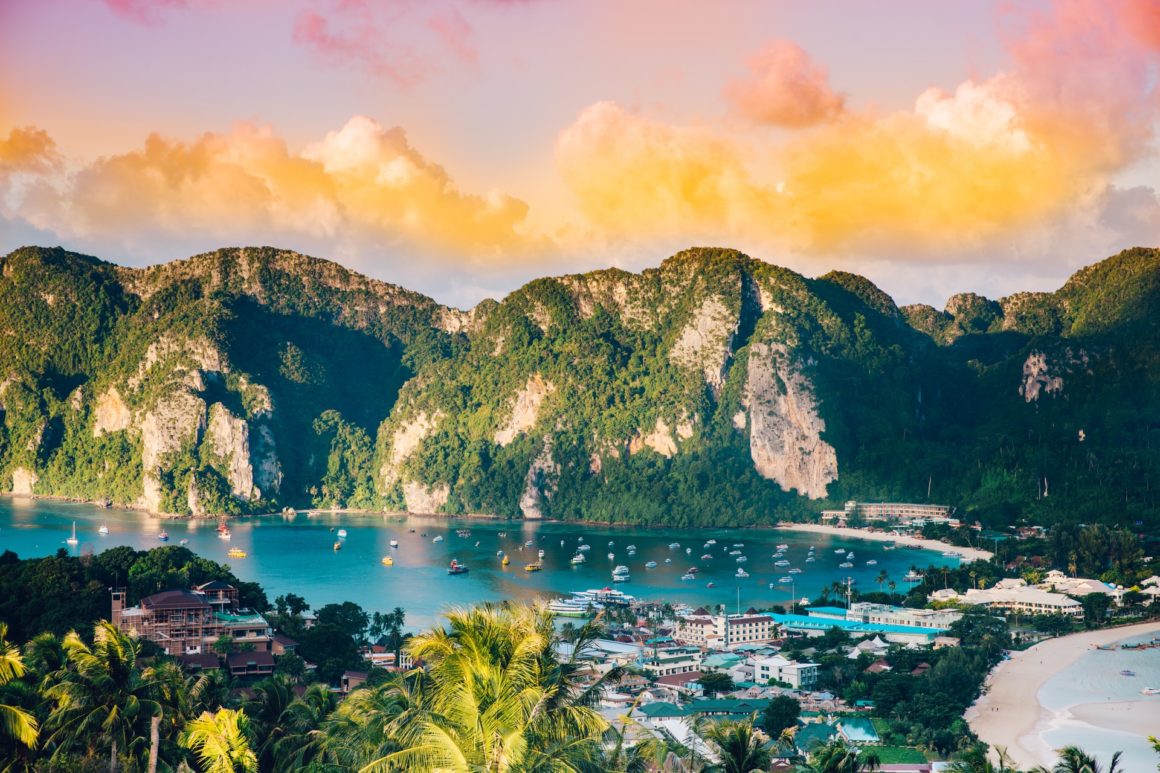 How about now? With an initial list of the world's most beautiful islands to visit by boat, how about you start planning your next dream trip? On board your own boat with Click&Boat, you can add a wide variety of islands and islets to your next trip in an innovative and totally personalized way.
And if you have questions about chartering, the website's "Help" page, as well as our dedicated team, are available to assist you at any stage of the process.
What do you say, are you coming aboard?