Share the post "Top Portugal Beaches To Enjoy This Summer"
Portugal is an incredibly diverse travel destination that will win you over with its fascinating history, magical culture, beautiful cities, and breathtaking nature. With a coastline over 800 kilometers long stretching along the Atlantic Ocean, are you ready to discover top Portugal beaches?
The west side of the country is known, above all, for the two big cities of Lisbon and Porto; while the south is characterized by beautiful paradisiacal beaches and seaside villages in the Algarve region, popular with tourists. The numerous possibilities offered by the coastal area of this country are ideal for renting a boat in Portugal.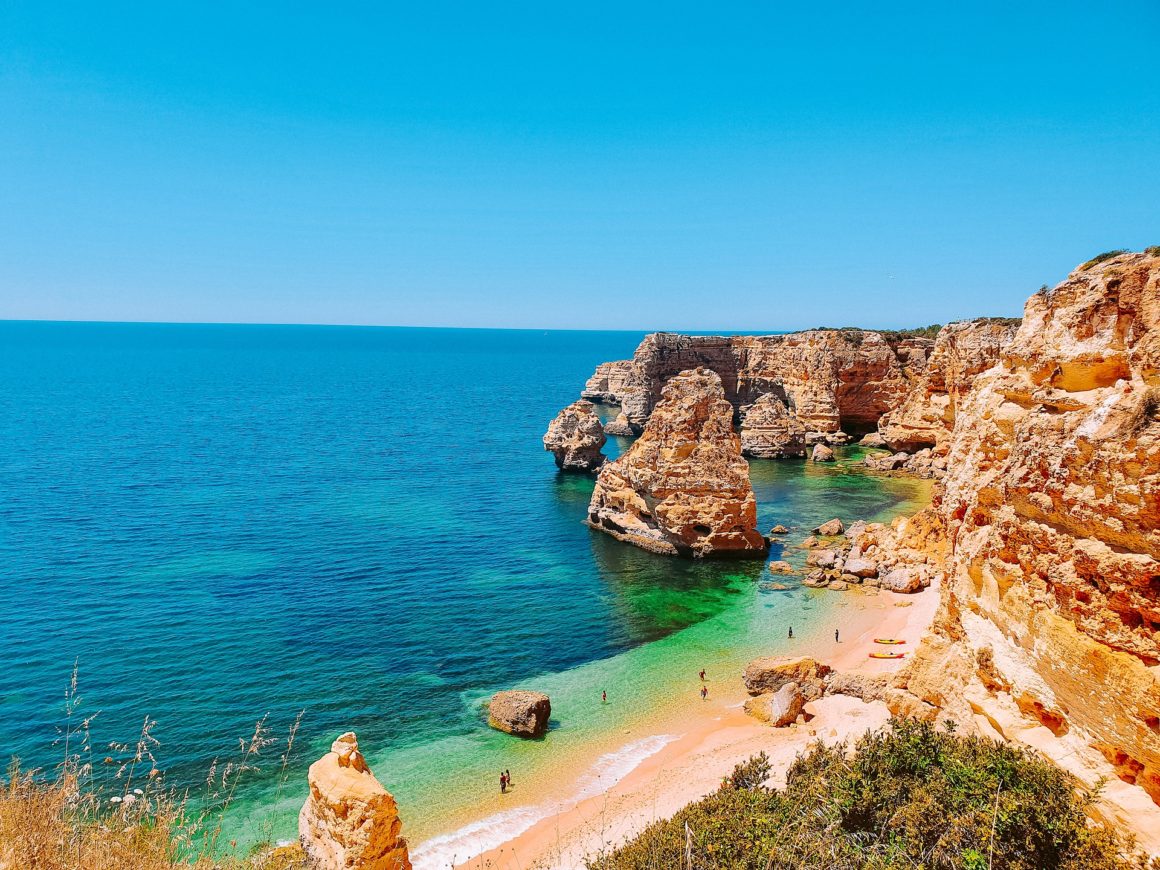 If you set sail along the coast, you will discover an impressive mix of cliffs and bays. On a boat, you can discover spots that would otherwise be difficult or impossible to access. You can even spontaneously decide in which bay and on which beach you want to spend the night and experience a sunset like never before.
Come with us and discover the most beautiful anchorages in Portugal for your next sailing vacation in this beautiful country. Shall we set sail?
Top Portugal Beaches
Faro
Being the capital of the Algarve region, it is almost impossible not to pass through this little paradise during your trip. Very well situated, this city offers good tours, both on land and by water. From its beautiful old town to the picturesque marina, where it is possible to rent a boat in Faro and go out to explore the region. Discover the beautiful and crystalline Praia da Ilha da Culatra, the friendly Praia do Farol, or even explore the biodiversity of Ria Formosa, a natural park that hosts the largest seahorse community in the world!
For true sailing enthusiasts, a visit to the Almirante Ramalho Ortigão Maritime Museum is an excellent option – check out the ethnographic exhibition on maritime and fishing activity in the Algarve, as well as the collection of different models of old ships!
And if you want to go a little further, discover the neighboring municipalities of Olhão and Tavira, where there will be no shortage of beaches to discover!
Here you have to pay special attention to the strong tide, as it is almost impossible to go against the current if the timing is not right. The city itself offers a picturesque old town, as well as a wealth of restaurants, cultural offerings, and shopping opportunities.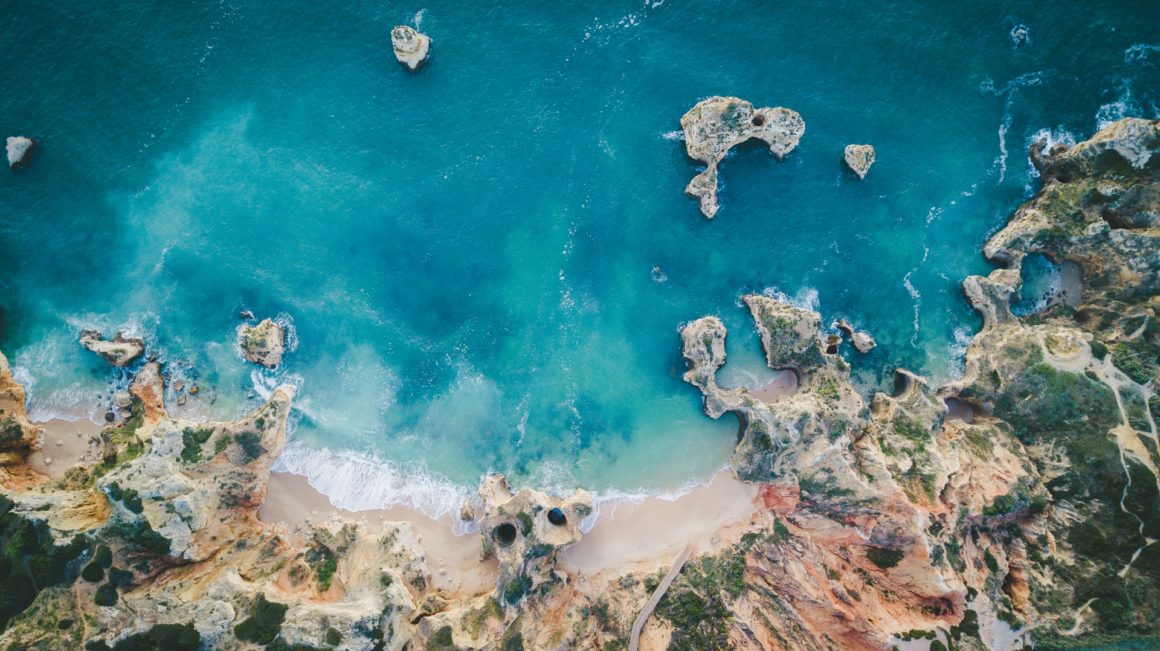 Alvor
Alvor, between Portimao and Lagos, is a pretty port town in the Algarve area. Despite its small size, it offers a large selection of restaurants, bars, and stores. Located directly on a lagoon, the calm waters in front of the town offer an ideal opportunity for anchoring.
Anchoring off the beaches in front of Alvor is perfect for combining beach and town, and making your vacation varied. Still not sure which boat to choose? Take a look at our blog on boat types and get inspired.
Albufeira
Well known for its lively nightlife, Albufeira offers a combination of experiences to its visitors: high-quality bars and restaurants, clubs, beautiful beaches, history, and culture of the most interesting.
This town has preserved its white houses and winding streets from the time of its Moorish occupation, but it is its beaches that hold much of the magic of the place. Discover the beautiful Praia dos Alemães, or the modern Praia do Peneco with a boat rental in Albufeira, and end the day with a drink at Rua da Oura: which one do you choose?
For travelers looking for a little more excitement, the water activities in Albufeira are endless: swimming with dolphins, diving to discover shipwrecks and coral reefs, or even flyboarding and parasailing!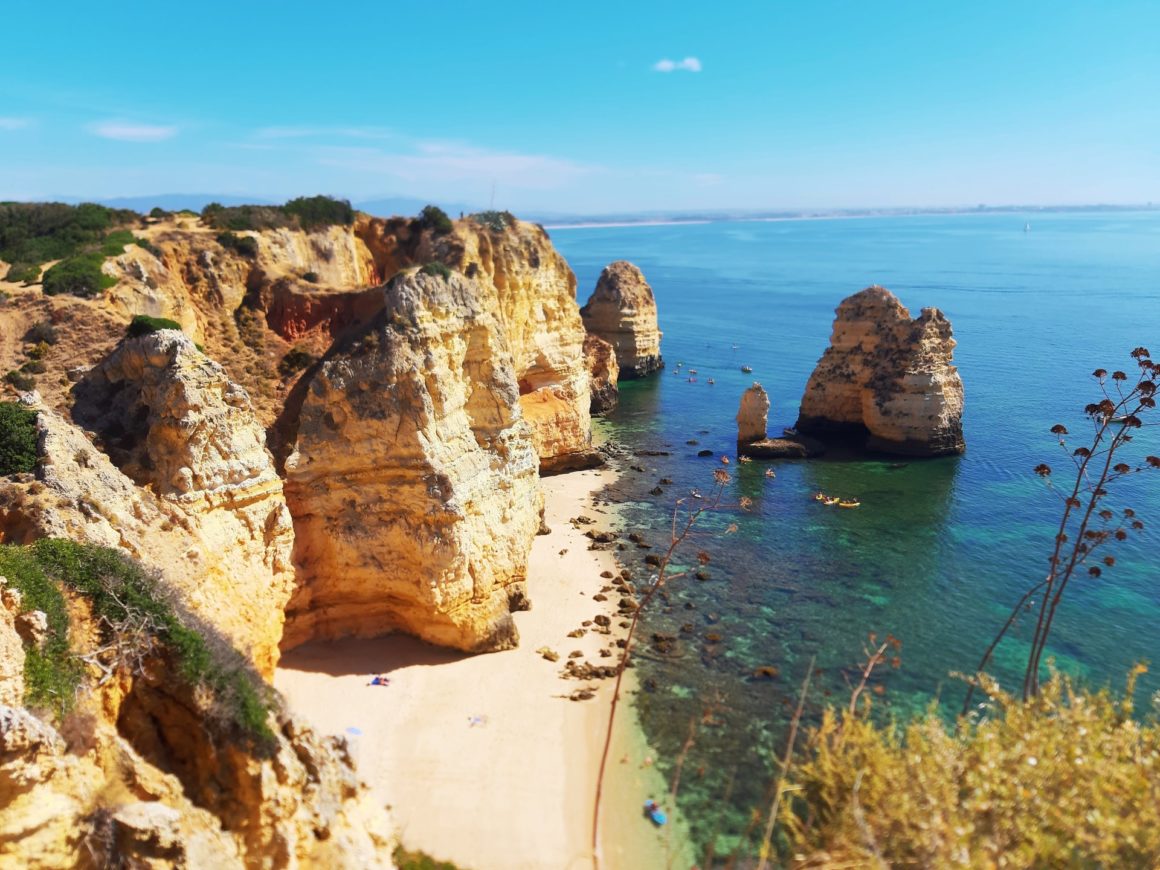 Portimao
A little further from Alvor along the coast, in an estuary, lies Portimão. Perfectly located between the municipalities of Lagoa and Lagos, renting a boat in Portimão allows you to easily get to know not only the city but also the surrounding region of the Algarve. Discover the modern Praia da Rocha, the cozy Prainha, the impressive Praia do Boião or the romantic Praia de João de Arens: the options are endless!
Moreover, by renting a boat with Click&Boat, it is more than possible to set sail and venture out to discover other destinations in the Algarve, all this in the freedom and privacy of your own boat!
You can alternate between moments at sea and life on land in Portimão, enjoy: beach soccer, parachuting, go-karting, golf, and typical dishes with the famous Portimão sardines are just a few examples.
Cascais
Unlike the other anchorages, Cascais Bay is located on the west coast of Portugal, 13 nautical miles from Lisbon. Thanks to its proximity to the capital on the one hand, and its seaside location on the other, this former fishing village has become one of the country's most popular holiday destinations for national and international high society.
A charming mix of upscale boutiques and traditional restaurants make Cascais an ideal destination for exploring the area. This multifaceted city also has one of the best Portugal beaches, making it a true destination on the Portuguese coast.
Ready to explore the most beautiful and best beaches of Portugal aboard your own boat? Whether you are looking to rent a sailboat, motorboat or catamaran, at Click&Boat you can discover a large fleet with a wide range of boats to choose from.
Don't hesitate to contact one of our expert advisors directly, who will be happy to help you with any questions or doubts, and plan the vacation of your dreams, on board! Are you staying on land?