Share the post "All you need to know about sailing in Croatia"
With its long coastline, stretching over 2,000km, and its more than 1,000 islands and islets, Croatia is a boater's paradise. Enter a rich history spanning at least 3,000 years, with iconic landmarks such as Diocletian's Palace in Split reminding you of the country's glorious past, and you know why sailing in Croatia is so popular these days.
The Dalmatian coast is very popular among German, Austrian and Eastern European families, mostly hiring motorboats there in the summer. The same goes for Brits, Americans and Ozzies, although these tend to be younger, around 25-35 years old, and usually hire a motorboat to hold a party or celebrate a special occasion, such as a bachelor party in Hvar.
So where, when and how should you sail in Croatia? Read our guide to find out.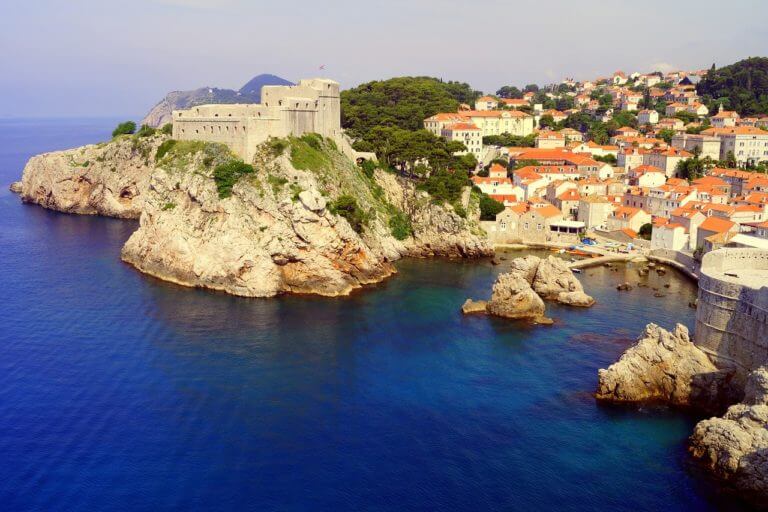 Do you need a licence to sail in Croatia?
If you are sailing in Croatia with a boat that is not registered in Croatia (and therefore not flying the Croatian flag), you need to have a licence to sail in Croatia. In case the vessel is not Croatian but you have an EU boating licence from your own country, you can skipper the boat. In general, if you have the ICC (International Certificate of Competence) when  sailing in Croatia you are on the safe side. Finally, if you charter a local boat in Croatia (ie flying the Croatia flag) and the skipper does not hold a Croatian boating qualification, you need a special licence issued by the Ministry.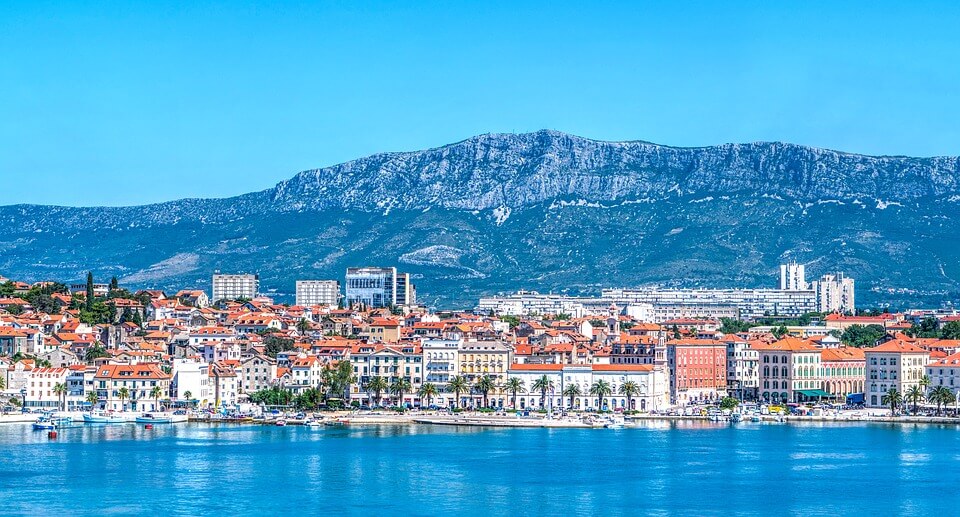 I am sailing in Croatia, do I need a skipper?
If you are planning to charter a yacht in Croatia for a short tip, say from Cres to Pula, you may not need a skipper, particularly if you charter a small sailboat or a RIB and you hold a boating qualification. However, even if you are a seasoned boater, it is always better to have an experienced skipper on board. Waters can be choppy in some parts of the Croatian coast, such as Rabac and Pag. Bear in mind that the Bura (strong north wind) and Jugo (aka Sirocco, a southeast wind) winds can be quite strong in South Croatia in the summer.
Check out our map to identify possible sailing itineraries in Croatia.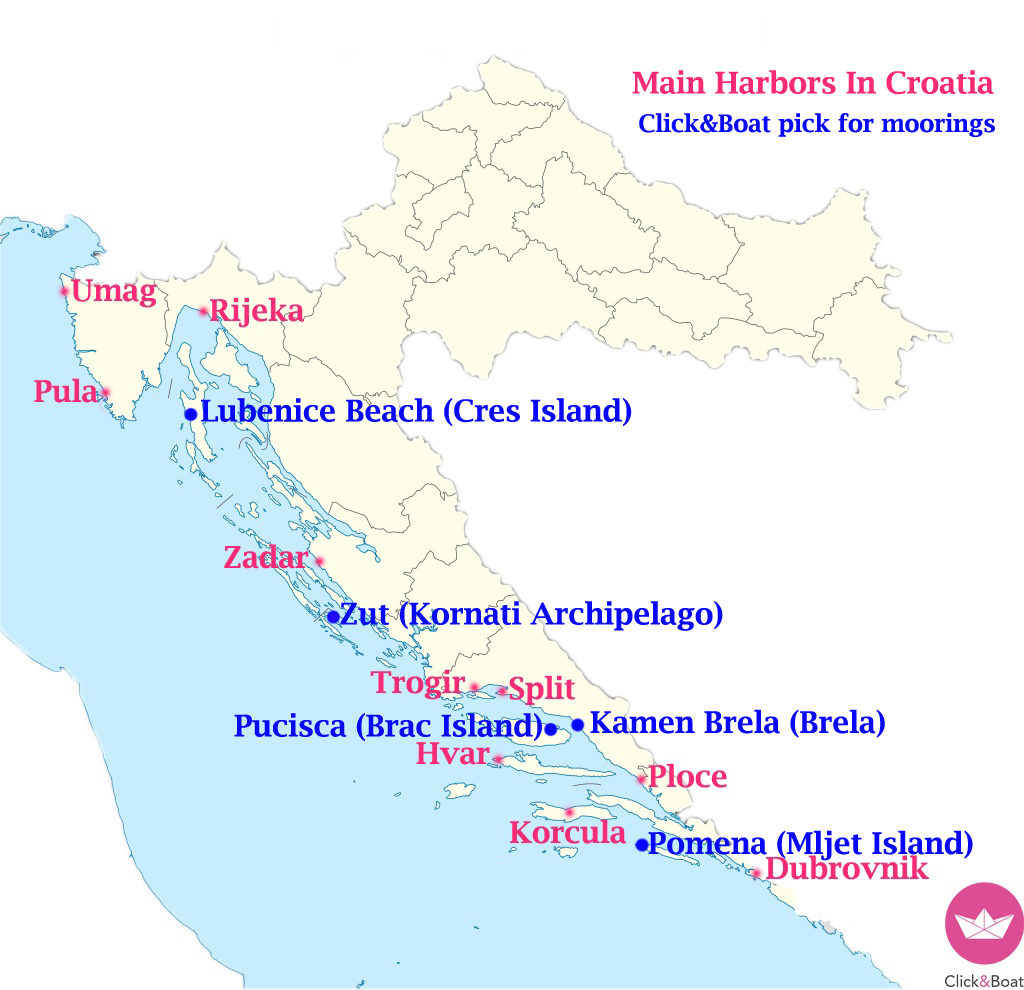 When should I sail in Croatia?
As in most Mediterranean boating destinations, the high season in Croatia is from early July to late August. Overall the boating season starts around late April and ends in late September or mid October. In terms of value for money, the best time of the year to book a boat there is September – the weather is still good but booking prices can be considerably lower than those in the high season.
In most cases renters book motorboats and sailboats in Croatia for a week or so (usually booking around 2 months in advance). Many renters hire smaller motorboats for island-hopping trips (2-3 days)  or just for a day. For short-term rentals, booking 3 weeks in advance is more than enough. Two of the most popular types of motorboats hired via Click&Boat in Croatia are Merry Fisher and Jeanneau Cap Camarat.
Where to sail in Croatia
Many parts of coastal Croatia are worth visiting, but we would recommend the following:
Split to Dubrovnik (or vice versa) is a classic, if it's your first time in the country and you wish to visit South Croatia. It's a one week boat trip, allowing you to see several islands and seaside resorts, such as Hvar (famous for its vibrant nightlife), Brač, Trogir, Stari Grad, Makarska, Korčula, Vis and the Pakleni Islands. Vis is a real gem that was not accessible to tourists until the late-90s due to the presence of a naval base. From Vis you can sail to the small island of Biševo, where you can admire the stunning Blue Cave.
The region of Istria on the north of the country is an up-and-coming boating destination. Most popular destinations for a sailing trip in Istria include Rovinj, Pula, the Brijuni islands and Porec. Many renters also sail to the Kvarner region (Rab, Krk, Cres, Opatija), Rijeka or nearby boating destinations in Italy, eg Venice or Trieste. Historically, Istria is located in the crossroads of Italy and the Balkans, resulting in an idiosyncratic cultural mix that makes the region a unique place to explore on a motorboat.
Zadar, Biograd Na Moru and Sibenik in central Dalmatia are equally beautiful and ideal for a weekend trip (distance between them: 46 nautical miles). In Zadar you will admire the picturesque Old Town, as well as the Roman and Venetian ruins. If you have a bit more time you can also sail to the Kornati National Park, famous for its rich marine life.