Share the post "All you need to know about sailing in Greece"
Sailing in Greece is an opportunity to savour everything this ancient country can offer to a keen traveller: endless sunshine, the sea and the country's unique natural beauty in the summer, a mix of rugged rocky landscapes and sandy beaches.
The best way to explore Greece, particularly its islands and long coast, is to hire a boat and hop from one island to another. With its uninhabited islands, remote beaches and coves, some of which are only approachable by boat, the Aegean Sea is a sailor's dream.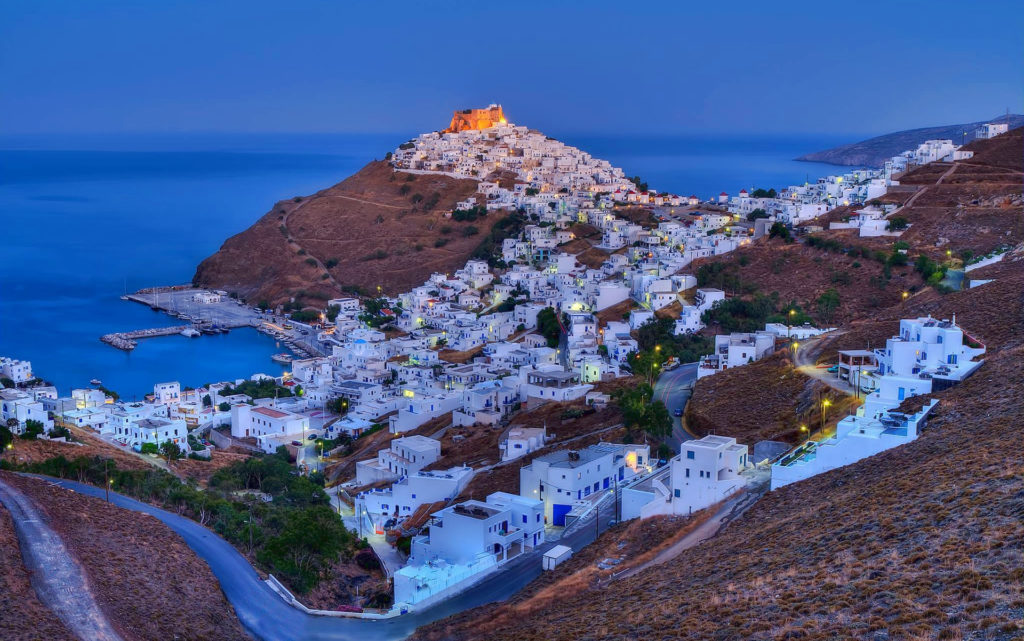 Do you need a skipper when sailing in Greece?
If you are a qualified skipper you can opt for what is called 'bareboat yacht charter', ie a yacht charter in Greece without a skipper. For motorboats with horse power up to 30hp you don't need a licence. Of course even if you are a seasoned sailor you might want to have a seasoned skipper on board who knows everything about shallow waters and reefs close to the harbours of Greek islands, as well as how to steer a sailboat when battling the notorious 'meltem' winds – dry, north winds of a force up to 7 Beaufort that can be quite strong in the Aegean Sea in the summer.
If you still think you don't need a skipper, you need to have a relevant qualification, such as the RYA Day Skipper International Certificate of Competence (ICC) for UK boaters or an equivalent licence from a sailing school in the European Union that is valid in Greece. (See our boat licence guide for more details.)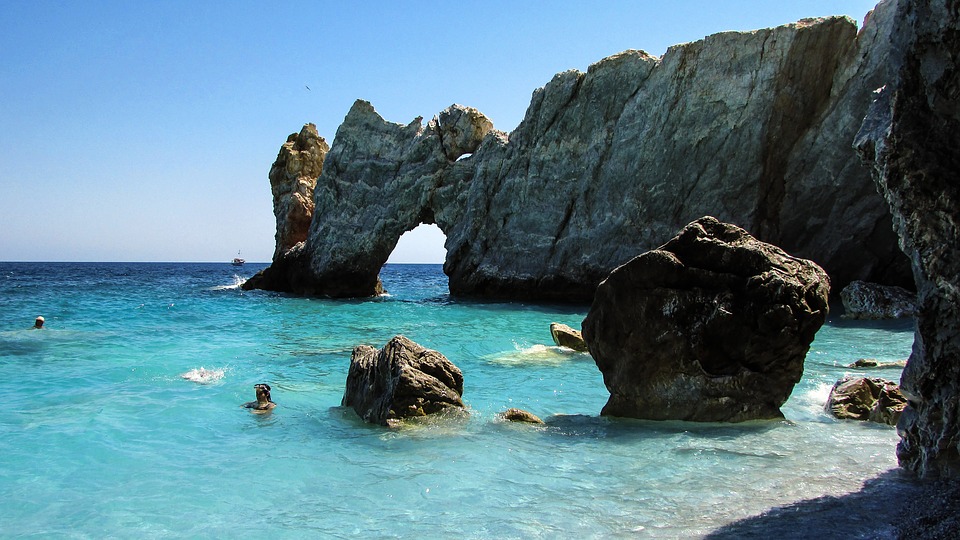 If it's the first time you are sailing in Greece, we recommend starting with the islands of the Saronic Gulf or the Sporades islands close to the port of Volos. The former, including Hydra, Spetses, Aegina and Poros are close to continental Greece, not far from Athens and the winds there are rarely strong.
On platforms such as Click&Boat you can find a wide range of options of sailboats, motorboats, catamarans and RIBs to hire with or without a skipper. If you can afford it, you can even hire a luxury yacht for at least £1,000 (around €1,100) a day.
How much you will pay to hire a boat in Greece
Sailboats tend to be cheaper, so for a sailboat of around 40ft with one or two cabins you can pay anything between £1,285 (€1,500) and £2,570 (€3,000), depending on the season. RIBs and small motorboats are also cheap with costs ranging between £430 (€500) and £860 (€1000) euros a week, but for bigger motorboats with at least one cabin to spend the night you may cough up anything above £1,285 (€1,500). As for catamarans, they are spacious, fast and convenient when sailing in Greece, but they can be pricier as they are the next big thing in the boating world and an increasing number of amateur sailors hire them in Greece. Fuel can cost around £130 (€150), but in some cases it's included in the price of a yacht charter in Greece.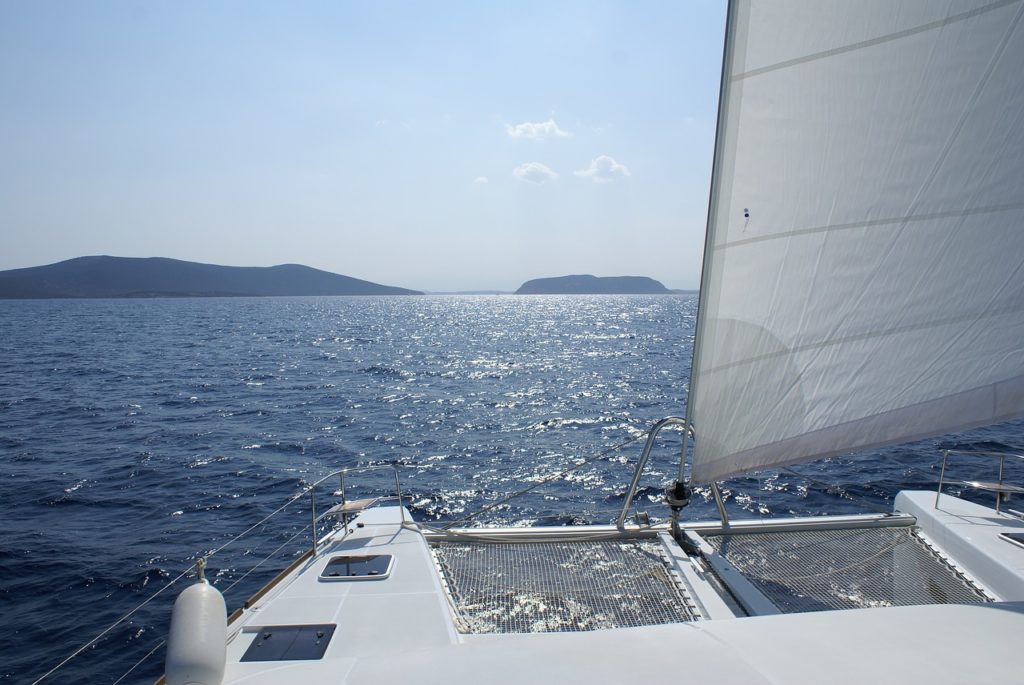 However, if you hire a boat in Greece via a boat rental platform you can save up to 40% of what you would normally pay to a yacht charter company. If you opt for 'co-sailing', ie sailing in Greece with other holidaymakers, you can split the costs and enjoy a boating holiday that may be considerably cheaper than staying at a hotel in Mykonos or Santorini.
Where to dock when you charter a yacht in Greece
One of the greatest advantages of renting a boat in Greece is that you can plan your trip and set sail anytime you want, avoiding the local ferry – usually crowded in the summer – and the long queues at the harbour.
If you are hopping from one island to another, you have to take into account that most Greek islands and particularly the small ones have only few harbours and marinas to dock. The upside is that costs are considerably lower than in other yachting destinations, as many Greek harbours are administrated by the government or local authorities and charge less than 10 euros a day. Sailing clubs are also an option in the big cities, such as Athens and Thessaloniki, as well as on a few big islands including Corfu and Rhodes. Bear in mind that places can be limited in high season, so you may want to use a apps such as Snag a Slip or SlipFinder to book a slip at the harbour.
See the map below for a small sample of some of the main mooring spots in Greece.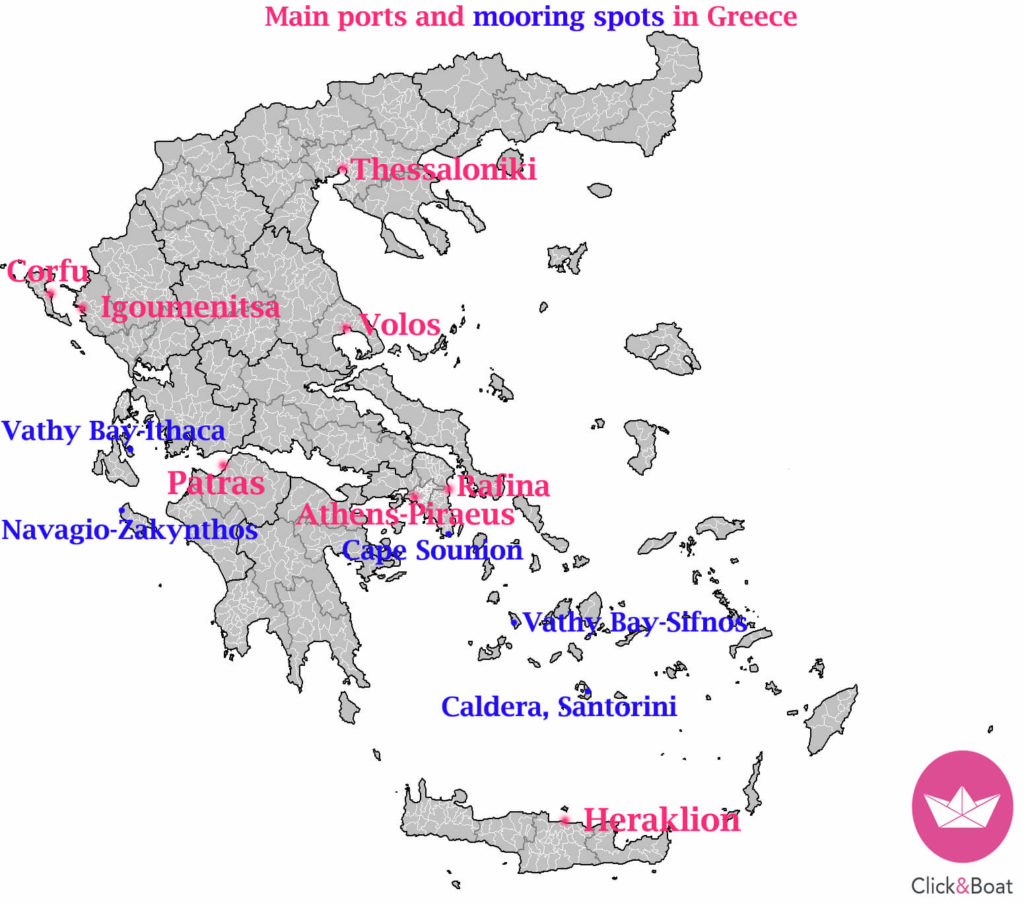 What's the best part of the year to sail in Greece
The sailing season starts in mid-April and ends around late September or in some cases October when temperatures are still as high as 20 degrees. However, you can find value for money deals when hiring a boat in Greece in May, early June or September, before the high season in July and August.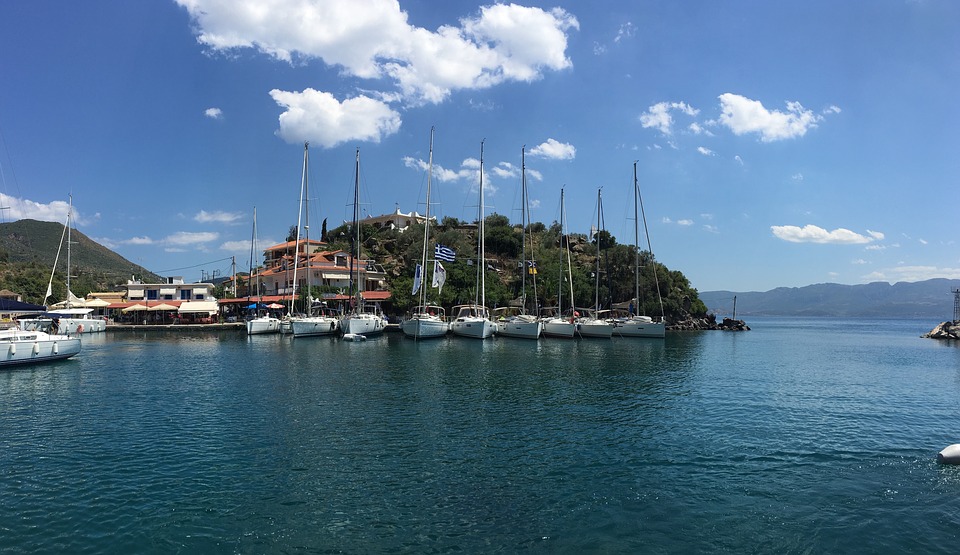 Where to sail in Greece
The Sporades islands on the northern part of the Aegean include Skiathos (or recent Mamma Mia fame), Skopelos, Alonissos and farther south Skyros
On the northeast of the country, close to the Turkish coast, you will find Lesvos, Chios and Lemnos, all big islands of unique raw beauty
Just a few miles from Athens and close to the Peloponnese are located the Saronic Gulf islands: Aegina, Hydra, Poros and Spetses, all small and beautiful. Hydra and Spetses have a cosmopolitan touch that may attract those chartering a luxury yacht in Greece, but Aegina and Poros are worth exploring too.
In the Aegean Sea, the Cyclades islands include hundreds of small islets and bigger islands such as Mykonos, Santorini and Paros, but we recommend that you get off the beaten track for a few days and explore less well-known islands such as Kea, Kythnos, Serifos, Kimolos and Ios.
Farther south, Crete is in a league of its own. As Greece's biggest island, Crete is full of wonderful beaches to explore and proud of its local cuisine and music.
Sailing in the Ionian islands, you will feel like you are in nearby Italy. Corfu, Kefalonia, Zakynthos and Lefkas are the biggest islands here, but we also recommend a trip to Sivota on continental Greece or a one-day trip to Ithaca, the island of Ulysses.
Last but not least, the Dodecanese islands include well-known tourist destinations such as Kos and Rhodes, but also hidden gems such as Tilos, Leros and Nisiros.