Share the post "10 Reasons for a Yacht Charter in Greece"
Few countries are more popular for a yacht charter in the summer than Greece, a place famous for its history, mild climate and friendly people. Everyone loves Greece for a different reason, and even more so those who have a knack for sailing, so we have created a list of the things we love the most about yacht charter in Greece.
1. Awesome food
As far as food goes, Greece is a culinary paradise. Everyone knows souvlaki, mousaka and ouzo, but what about bugatsa, a popular pastry in Thessaloniki and nearby Chalkidiki? Or mastiha (mastic), a resin that only grows in a certain part of Chios and is used as a flavour-adding herb in all sorts of stuff, from local liquors to desserts and even perfumes?
2. A celebrity hotspot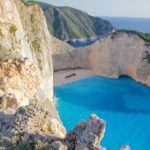 Celebrities love Greece for its combination of sailing opportunities, privacy and breathtaking landscapes. Take British royalty for example, never missing an opportunity to visit the Greek islands. This is the mother country of Prince Phillip after all. The British press has reported that Prince Harry and his future wife Meghan Markle will spend some time together on a yacht in Zakynthos before they tie the knot, while Prince Charles visited Athens just a few days ago. And if you want to rub shoulders with Hollywood celebrities, a yacht charter in Mykonos or Santorini is highly recommended.
3. More than 6,000 islands to explore!
Greece has one of the longest coastlines in the world (13,676km), as well as more than 6,000 islands, most of them uninhabited. That means that you can always discover your own little paradise while cruising in the Aegean Sea and hoist your own flag on a small islet for a few hours. Isn't that cool?
4. Almost like a film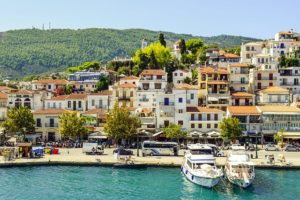 Some of Hollywood's most successful films were filmed in Greece. Take for example Mamma Mia, a musical starring Meryl Streep and Pierce Brosnan that was inspired by the eponymous ABBA song. It was filmed in Skiathos, although the island is named Kalokairi (the Greek word for summer) in the film for artistic purposes. If you opt for a yacht charter in Skiathos, don't forget to pay a visit to Koukounaries, a dreamy beach of breathtaking beauty. And of course spend some time on Skopelos, Alonissos and Skyros, the rest of the Sporades islands in the Northwest Aegean Sea.
5. An island hopping paradise
Greece is the ideal place for an island hopping adventure. Most tourists choose the Cyclades islands for that sort of thing, but you can go the extra mile and visit the Dodecanese islands of the Eastern Aegean Sea. A good start would be a yacht charter in Rhodes, from where you can sail to a series of small, picturesque and relatively tranquil islands: Tilos, Nisiros, Symi, Leros and the list goes on. The Turkish coast is not far away either.
6. There is always something new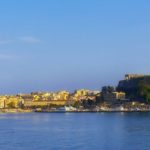 Western Greece is an unexplored paradise for sailing lovers. If you opt for a boat hire in Corfu you can head to Sivota on continental Greece, or the port of Missolonghi where the famous British poet Lord Byron passed away while participating in the Greek struggle for Independence. And of course visit the rest of the Ionian islands, including Ithaca, the home island of Ulysses, smallish but picturesque Paxoi and breathtaking Cephalonia.
7. Athens is cool again
Athens is the world's oldest cultural hub, and despite hard times still abuzz with cultural events, from concerts and art exhibitions to festivals. As for sailing, the nearby islands of Kea and Kythnos are ideal for a weekend break, serene and peaceful as they are, even in the summer.
8. Sailing is the national sport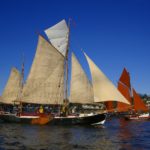 Greece hosts some of the world's most exciting regattas and sailing races. A case in point is the Spetses Classic Regatta, a race for classic yachts held in the island of Spetses every June. Other famous sailing races include the Blue Cap Regatta and the Aegean Regatta, quite popular among local and foreign sailing enthusiasts.
9. It's cheap!
Greece is probably the cheapest sailing destination in Southern Europe. And if you opt to book a yacht charter in Greece through a boat rental platform you might be able to save up to 50% of the fee you would pay otherwise. Not bad, right?
10. SUNSHINE!
Did we mention the impeccably hot weather? And the famous Greek light, praised by poets, artists and singers over centuries? That alone should be a reason for a yacht charter in Greece!