Share the post "Well-kept secrets: The world's best remote beaches"
Can you keep a secret? If yes, we have compiled for you a list of some of the best secluded beaches in the world: idyllic places, far away from everyone and everything, where serenity reigns supreme. Some are only accessible by boat – an ideal opportunity to register on Click&Boat. Just don't tell anyone!
Check out some of the best secluded beaches
The world is full of beaches waiting to be discovered by those eager to go – or sail in this case – the extra mile. In Europe, the Greek islands and the long Italian coastline are home to some of the most beautiful remote beaches in the world. On the other side of the pond, California and the Caribbean Sea are full of gems.
Archamboli (Evia, Greece)
As far as secluded beaches go, Archamboli beach is a rare find, standing out for its crystal clear waters and dramatic cliffs. Located on the southeastern tip of the Greek island of Evia (or Euboea), it can be reached with a boat rental in Athens or Lavrion. The picturesque bay and the sheer tranquility of the place will compensate you for the long journey.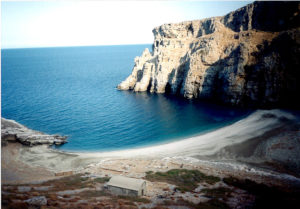 Chiaia di Luna (Ponza, Italy)
Ponza, an islet in the eponymous archipelago between Rome and Naples, is a barely noticeable dot on the map, but its tranquility and rocky landscapes will steal your heart. Its greatest attraction? The stunning Chiaia di Luna beach on the southwest of the island. It's not accessible by land anymore due to crumbling rocks, but you can reach it by boat. A sandy crescent (hence the name 'Luna', meaning 'moon' in Italian) nestled between steep cliffs, it makes an ideal setting for a romantic boat ride in a part of Italy that is often overlooked.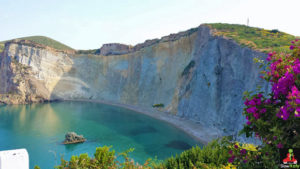 Dry Tortugas National Park (Florida)
Located 70 miles off the coast of Key West, Dry Tortugas archipelago is only accessible via boat or seaplane. It is home to the deserted Fort Jefferson, completed in 1875, and was once used as a means to protect the United States' gateway to the Gulf of Mexico. The seven keys are home to secluded beaches that have blue waters, coral reefs for scuba diving exploration and marine life, and birds for admiration.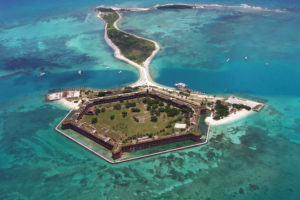 Cuylet Harbon Beach (Channel Islands National Park,California)
California is home to some of the best secluded beaches in North America. Rent a boat in Oxnard or Marina del Rey and sail to San Miguel Island, the furthest island in the Channel Islands National Park. The island's beaches are also home to various types of birds, elephant seals, and sea lions. The island was once used as a bombing site by the US military. However, it is now open to the public, especially for those who seek adventure. Start at Cuyler Harbor Beach, but be aware of Great White Sharks and high winds. With a park ranger, be sure to stay on the trails, and you can explore the rest of the island in areas like the Caliche Forest.

Tobago Cays (Grenadines)
The secluded beaches of the Tobago Cays allow few visitors the rare chance to be fully immersed in nature. A boat rental in St. Vincent and the Grenadines, will allow you to visit this marine park, which is made up of five islands: Petit Bateau, Petit Rameau, Petit Tobas, Baradal, and Jamesby. With picturesque lagoons, crystal-clear waters, an abundance of marine life, not only is it a yachtsman's paradise but also a scuba diver's fantasy.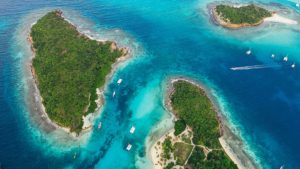 Do you crave to visit one of these beaches?
Drop us a line at alex@clickandboat.com, we can take you there!