Share the post "How to host the boat party of a lifetime"
Sure, house parties are fun and a party at a lavish venue on land is sure to impress, but there are few things more exciting and extraordinary than a boat party. There's something special about gathering with a group of your peers and sailing the seas to celebrate an occasion. Whether it's a small gathering with your closest friends or a team-building event with colleagues, nothing beats music, sun and good company while out on the open water. Party planning takes a lot of preparation, and this is especially true of boat parties; a party on a boat requires more attention to detail to keep everyone safe while cruising down the coastline. Here's our ultimate guide to hosting an unforgettable boat party that will rock the waves!
What type of boat should you rent for a boat party?
The type of boat you rent for a boat party largely depends on how many people will be on board and your budget. Normally, people would host a party on a yacht or a catamaran as they are luxurious and spacious. Not sure which one to choose? No problem, here are the pros and cons of chartering either a yacht or catamaran for a boat party. 
Yachts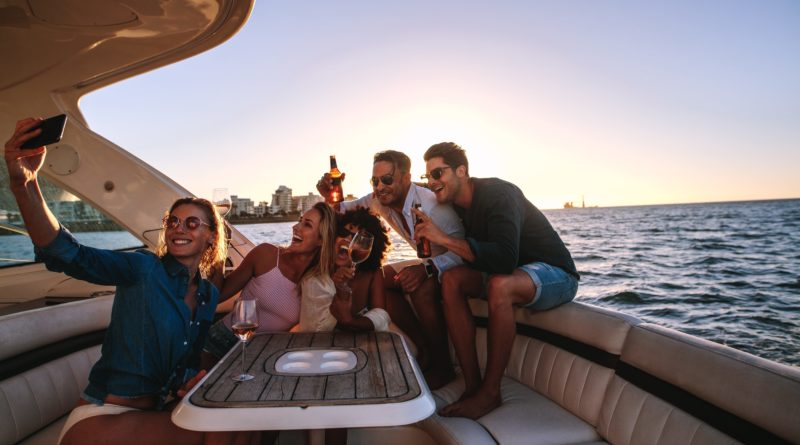 When you hear the word "yacht" you might think of something that is high-end or exclusive in nature. If you're looking to host a smaller, more luxurious gathering, a yacht is a great choice. The skipper and crew provide an intimate setting for your closest inner circle, and the yacht will have all of the amenities on board you need for a safe and fun ride. A yacht rental is a more expensive option however, it is great for a grand and opulent getaway.
Catamarans
With an abundance of space and comfort, catamarans are ideal for hosting bigger groups of people as they have a double-hulled structure, and are typically wider than other boats. Their structure makes them more suitable for traversing through shallow waters. Moreover, catamarans are more stable than other vessels, which is great for people who suffer from seasickness as they won't sway too much on the water. Another great thing about catamarans is that they tend to be a more economic choice when compared to yachts, so you can party on a budget.
Other things to consider
Regardless of which type of boat you choose, we always recommend choosing an option with a skipper and crew on board to ensure the safety and comfort of all guests. Hosting a boat party is a lot of work and even if you have a boating licence, it's best to have a skipper on board so that you can tend to your guests' needs without having to worry about navigating a boat! 
It's also important to keep in mind that when you're renting a boat for a party, you must first get permission from the boat owner. Many boat owners are fine with people hosting parties on their boats so long as there is open communication. Some owners even offer special amenities like water sports equipment for snorkelling or paddle surfing! 
What time of year should you host a boat party?
People tend to prefer sailing in warmer weather, so the summer months are a popular time to throw a party on a boat. However, this is the high season which means that it will be more expensive to rent a boat, and destinations will be overrun with tourists. To avoid high boat rental prices and the crowds, consider hosting a boat party in late spring or early autumn when the weather is still warm but not scorching hot!
What do you need for a boat party?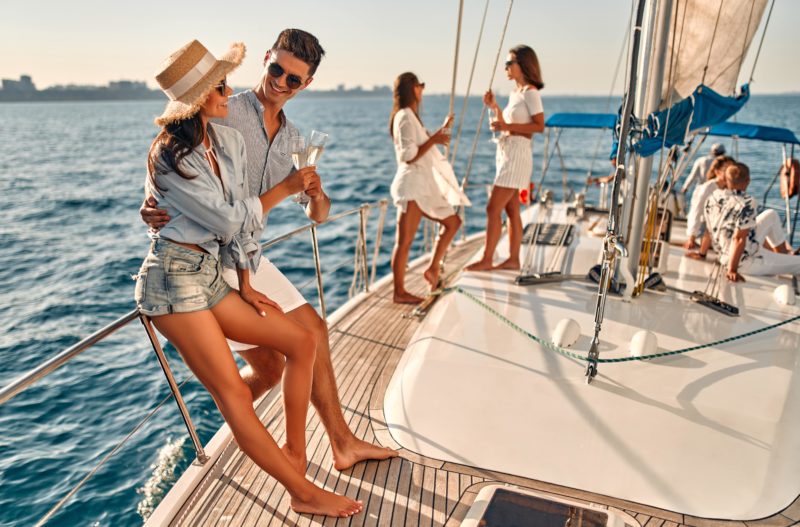 Safety is of utmost priority, especially when out at sea! While most boats have first aid kits, fire extinguishers and life jackets on board, you should always double-check you've got everything you need in case of an emergency. Here's a pre-departure checklist for smooth sailing at your boat party:
Extra life jackets and first aid essentials.

Personal medications.

Enough fuel for your journey.

Plenty of sunscreen and water!

Extra clothes in case yours get wet. Also, dress in layers and bring some sort of waterproof jacket just in case it rains.

Swimsuits, towels and sunglasses.

Extra coolers for beverages.

Party essentials like food, drinks and music. Don't forget the music!
Be careful that whatever you bring on the boat doesn't end up in the water. Don't bring plastic bags because as soon as the wind picks up, they're likely to fly off the boat. Other things to avoid bringing are glass containers and cigarettes, as they could both create hazards; you don't want any shards of glass to hurt someone or fall into the sea, and you certainly don't want to run the risk of starting a fire on board by smoking! Also, keep in mind that it might be hot, so it's better to choose snacks that won't melt in the sun. Finally, refrain from wearing perfume as it's likely to attract bees, mosquitoes or other unwanted guests!
What is the best destination for a boat party?
There are three main ingredients for a fabulous boat party destination: sun, good weather and warm, sparkling water. Of course, there are plenty of places all over the world that fit the bill, but here are some trendy boat party destinations that are famous for their festive atmosphere. 
The Balearic Islands, Spain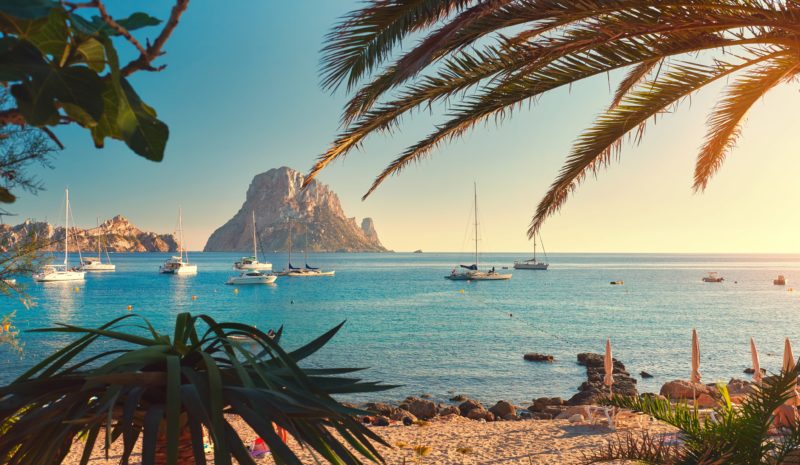 This island archipelago located in the Mediterranean is home to some of the most notorious party destinations on the planet. From the buzzing nightlife in Ibiza to the tiny town of Magaluf in Mallorca, the Balearic Islands are a treasure trove of beautiful seaside towns and resorts to set sail and party into the sunset.
Blue Lagoon, Malta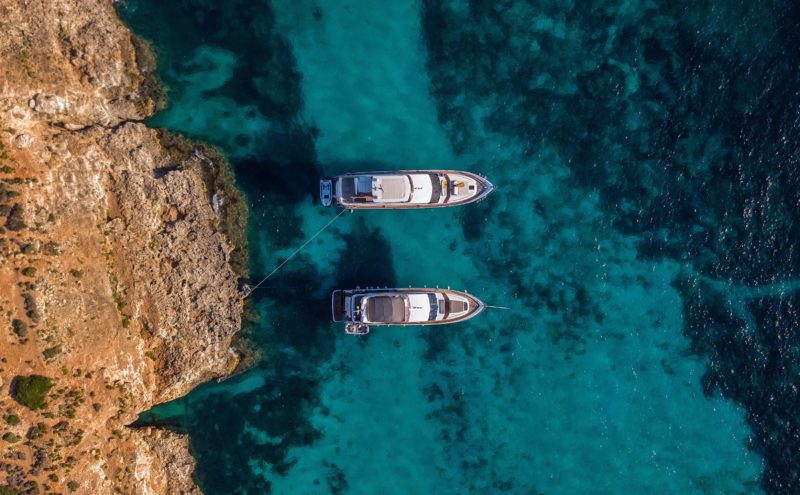 Situated on Comino, Malta's tiniest inhabited island, is what is often referred to as the prettiest spot in the country, Blue Lagoon! This picturesque paradise is well-known for its stunning crystalline water which is perfect for a swim. Sail and celebrate the good times on a boat party in Blue Lagoon, and experience the very best of Malta.
Côte d'Azur, France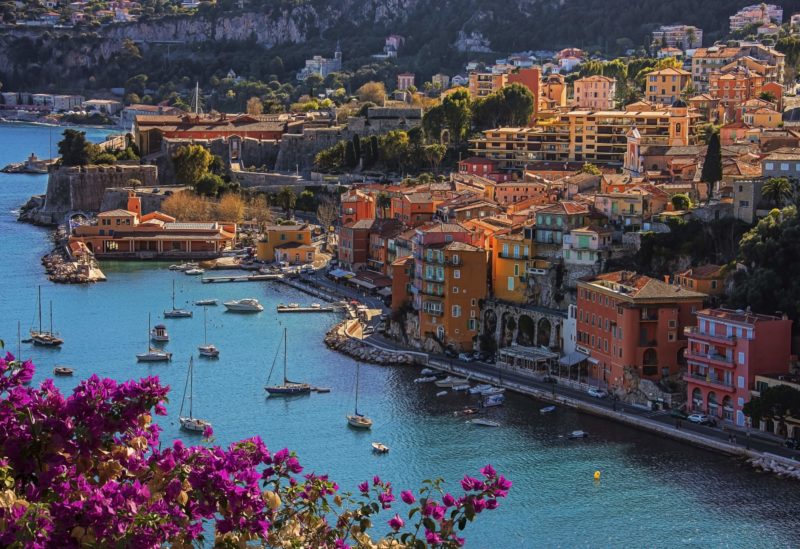 For a more upscale boat party sail to the French Riviera, a destination famous for attracting the wealthy elite, including celebrities. Because of its reputation for hosting some of the most extravagant parties and social gatherings in the world, Côte d'Azur provides the perfect setting for a glamorous boat party. Sail along the coast and visit iconic spots in Cannes, Nice and Monaco for a one-of-a-kind boat party.