Share the post "Click&Boat meets Guirec Soudée: the captivating tale of a free-spirited adventurer"
French sailor, Guirec Soudée, is one of a kind. From sailing around the world to rowing across the mighty Atlantic Ocean, this 30-year-old globetrotter from Brittany is always in search of new adventures. We had the chance to interview him about his extraordinary life, made up of self-sacrifice, courage and a strong seafaring spirit before he embarks on his next adventure this November. Guirec will be setting off on the Route du Rhum 2022, in preparation for the strenuous Vendée Globe 2024, known to be the world's toughest sailing race. Follow along with our interview with Guirec and get to know this interesting and dedicated sailor!
Guirec, your life has been an inspiration for so many. What has been the main driving force behind your impressive journey?
It all began in the place where I grew up; in the only house on an island in Brittany. My father used to tell me stories about the ocean, about sailing with Eugène Rigidel (a Breton skipper), and this made me want to venture out and set sail. I wondered what to do after my baccalaureate exam, and I managed to do what I liked most. So, at the age of 18, I found myself sleeping on the street in Australia, with only 200 euros in my pocket and no contacts. I had this desire, this self-confidence in me which meant that deep down, I knew I was going to make it.
Initially, I wanted to cycle around Australia, but I didn't quite realise that it was 14 times the size of France (laughs). I had to scale down the plan, and then I worked on a fishing boat, which was quite hard. Then, I had the funds to buy a sailboat with a cabin to sleep in. The boat was made of steel and was in very bad shape. There were always 1,000 reasons to postpone my departure or never leave.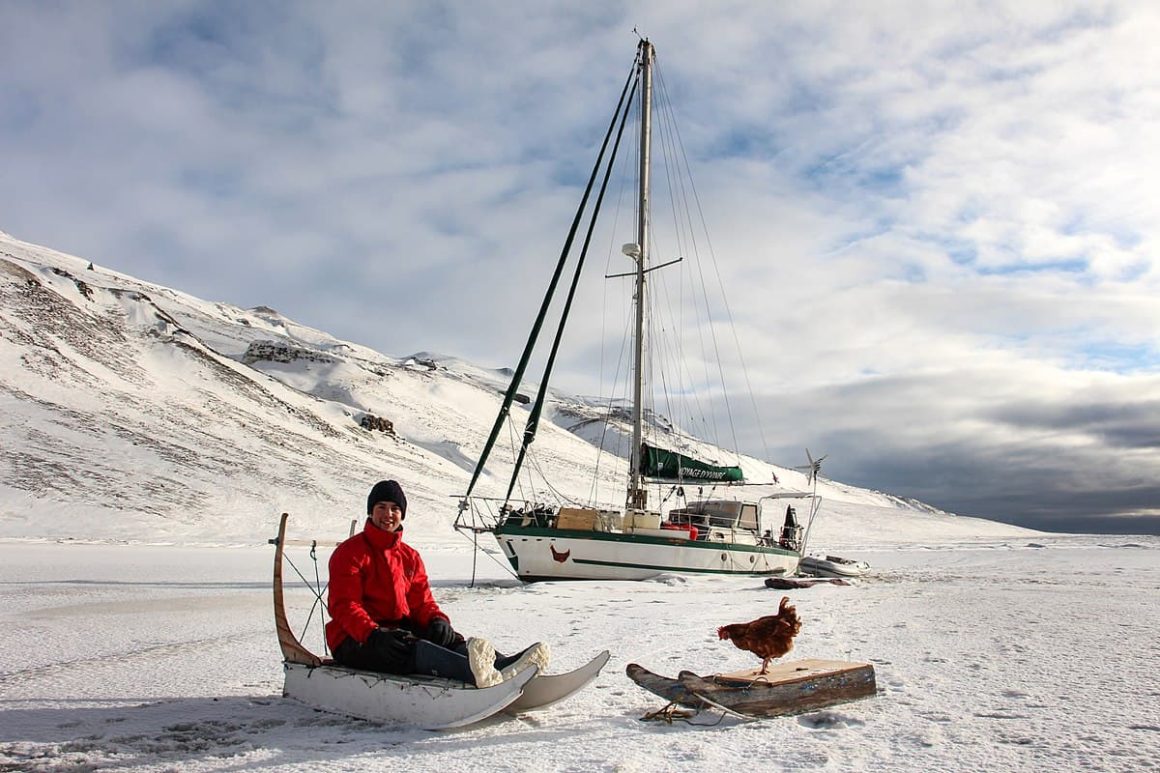 So you had never sailed a liveaboard before embarking on Yvinec (the name given by Guirec to his boat in memory of his native island in Brittany). One can imagine that the memories of these first emotions experienced on board are imperishable…
I left Brittany and it was my first-night sailing solo. I had an undersized pilot and I didn't trust the hull. I broke two or three things in the Bay of Biscay and had to take shelter in Concarneau, where I encountered the boat While Under The Pole. While waiting for the weather window, I sailed with them for a while, with Roland Jourdain on board. I was able to observe so many little things and store up for a few hours. 
I wanted to ask a lot of questions, but I said to myself: "no he's going to think that I'm a joke" (laughs). I observed a lot; today it makes me laugh, I keep on saying: "it's crazy how far we've come" when I talk to them about it.
We sometimes hear that sailors are the last adventurers of modern times. You are a prime example of the idea of pushing one's limits again and again, do you think that this is exaggerated, justified or more complex than that?
Last adventurers, I don't know. It's true that you have a certain amount of freedom on a sailboat, it's a crazy thing to think that you can leave France, cross an ocean, arrive on a new continent, sail around the world and come back. The greatest freedom you can have is to do that. There are many kinds of adventures: deserts, mountains, the two poles… The best way to travel for me, though, is by boat.
When you have accomplished so much, is it possible to also relax at anchor and leave the helm?
I don't necessarily need any adrenaline. I stayed in the Caribbean for quite sometime after my trip from Brittany. But after a while, the call of the open sea comes back very quickly. That's something I have, it's a constant thing.
I returned in December 2018 from my World Tour with Monique. I wrote books and there was a film. After a few months, I had this vital desire to leave again. I left again to sail around Greenland. I was supposed to cross the English Channel by paddle boat, but it didn't happen because of COVID.
So I bought a rowing boat but didn't get my fix after the first rowing trip. I said to myself: "you're in good shape, we're going to make the return journey, we have to do it now". I said to myself "maybe I'll be stuck at home because of the lockdown". It was complicated, but I'm glad I did it. Today, I'm a bit fed up with rowing (laughs) but it was a crazy experience.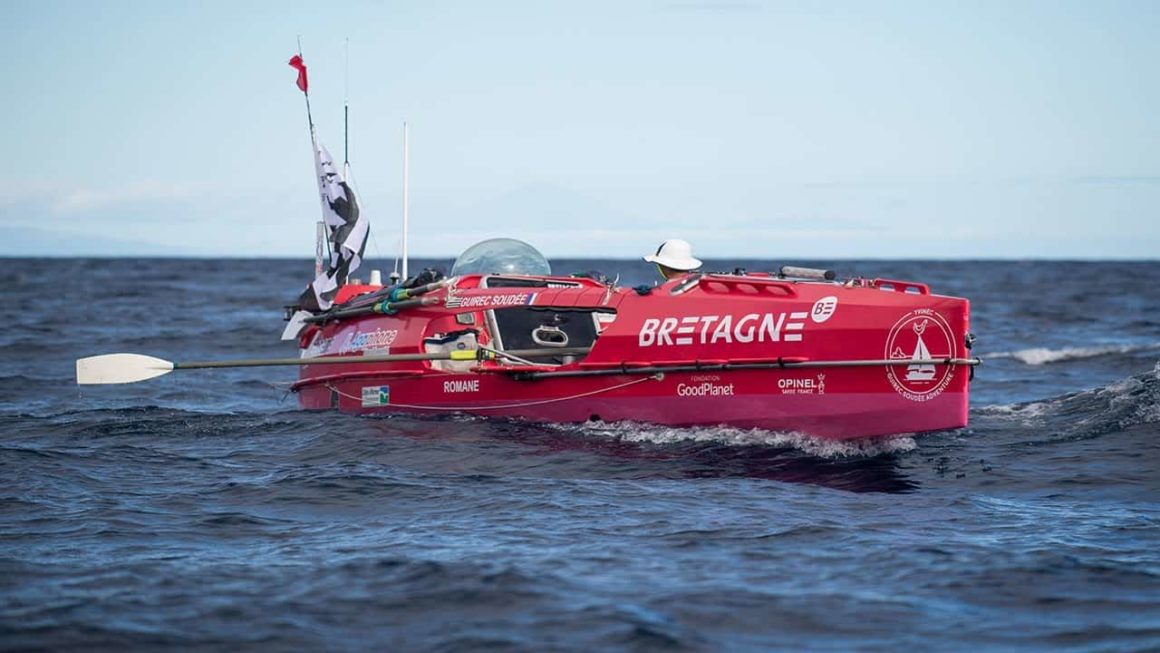 A new adventure began at the end of December 2021: that of fatherhood. How do you reconcile family life with the open sea spirit?
I spent 180 days at sea in 2021 – which inevitably created some difficulties for me and my family. A project like the Vendée Globe is very closely supervised. You have a lot of safety equipment, and you are well-connected. But I guess we can never be 100% safe. It's going to last 90 days, and it's once every four years. We have the objective of doing the Route du Rhum, which will last two weeks. I'm afraid that's too short for me (laughs). My wife grew up in the Caribbean, she lived on a sailboat, dived, surfed, kited… We both share a common dream of boarding an aluminium expedition boat as a family, to go wherever we want, without being stopped, and not restricting ourselves from anything.
Your journeys have inspired so many people across the nautical world. Would you say that passing on the values of adventure is essential to you?
This transmission, which is very dear to my heart, is done through books, films, conferences, preview showings and presentations in schools. I am very happy with what I have done but I have not done anything more than anyone else. I'm no one to say what people should do. After that, it's always great to inspire people. I feel very fortunate to receive messages; acknowledgements; testimonies from people who, thanks to my team and I (especially Monique – my famous hen), have decided to go on new adventures. It's very rewarding and encouraging. Behind it, you feel that you have a lot of people supporting you. There were a lot of messages sent. It's very nice to see this caring community!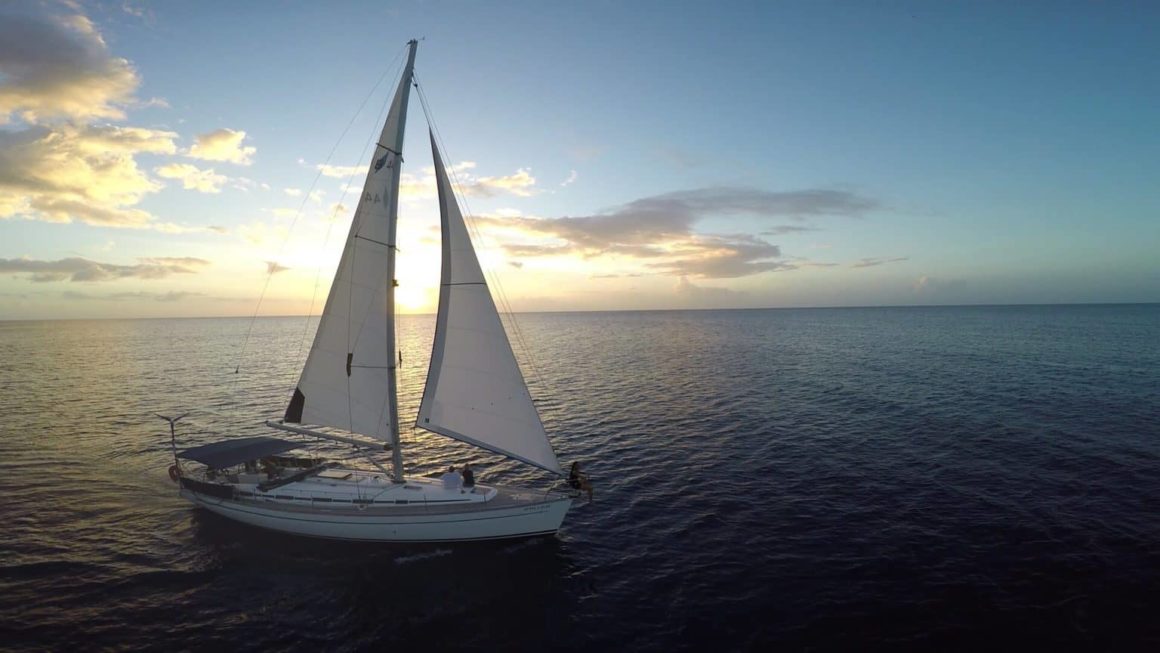 From the comfort of our sofa, we only have a very tender vision of what it's like to experience a transatlantic rowing race or to spend the winter months in Greenland solo for 130 days. How do you maintain this determination to succeed in each adventure?
It's an opportunity to disconnect, to take a step back from your life. In your day-to-day life, you are always so busy that you are constantly running. I've managed to live these moments at 200%, despite some of the hiccups encountered on the way.
I've done almost 1,000 km just sailing around in circles. When I think back, I realise how much I've been through. I'm so glad I'm here, I said to myself: "I held on". I had no choice, I was committed. Obviously, if you know in advance, you might not be tempted to go. But you have to believe it, you have to fight, and you have to tell yourself that it's only temporary, the next 40 years of your life aren't going to be like this. You don't have a choice, you go, and you'll get through it. 
Brittany is always with you, judging by the fervour you have when you are at sea and back in your native region. Do you ever take items from your island with you on your expeditions? 
Like a good Breton, I always have a Gwenn-ha-du (the name given to the flag of Brittany) or two lying around somewhere. I always have a postcard from home. At the end of my expedition, I'm going to go home, it's the place where I feel my best in the world. What I like is good food – I'm very fond of Gavottes (crispy lace crepes from Brittany) and Paimpolaise (a brand which makes a variety of seafood spreads, usually eaten during aperitifs). It reminds me of where I'm from, and that's cool!
What is your view of the current yachting industry and the strong trend towards its democratisation?
The democratisation of boating is really great. The planet is roughly 70%-80% covered with water. It's good to sail a bit. The number of people who have boats and only go out for a few days is quite sad. It's great that if I want to rent a boat in the Caribbean, I can!
A big thank you to Guirec Soudée for taking the time to speak with us! To find out more about him and his upcoming adventures in the ocean, you can check out his website or his Instagram account.