Share the post "Croatia in 5 Mooring Spots : A Trip to Remember"
Picture this: Croatia, a land graced with over 1,000 islands and endless marvels. It's not a fantasy, it's reality. Along its coast, a plethora of docking options beckon your boat. At Click&Boat, our love for sailing led us to handpick the five best anchorages in Croatia just for you!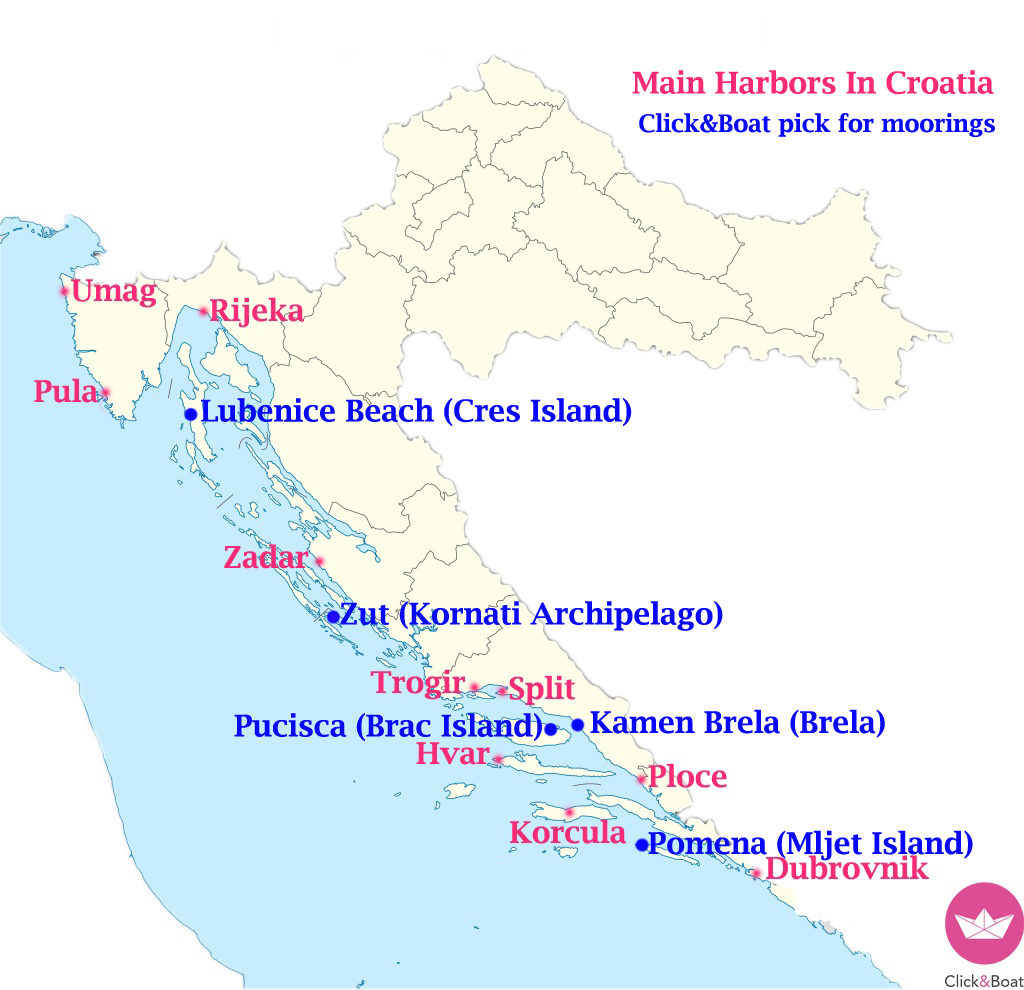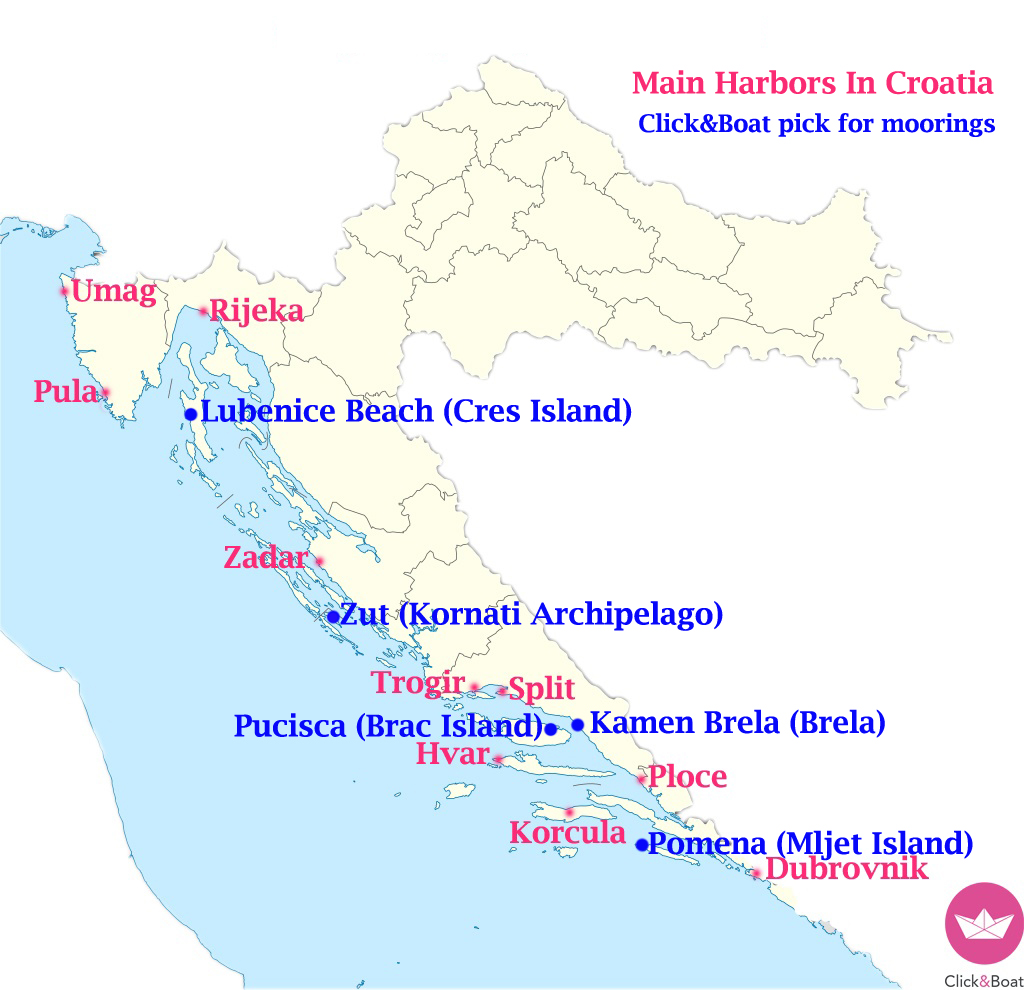 The Croatian island that will take your breath away : Pucisca – Brac Island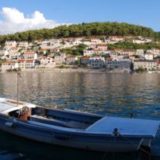 Just an hour's boat ride from Split will bring you to the beautiful island of Brac. Here, the world-famous Zlatni Ratbeach beckons, especially to those passionate about windsurfing. Another gem on this island is the horseshoe-shaped beach of Supetar. It's a breathtaking sight and buzzes with activity during the summer.
On the same island, the seaside resort of Bol stands out This island is particularly popular among Germans and turns into a haven during the holiday season. Brac is also home to Pucisca which is known globally for its limestone. This very limestone adorns prominent buildings, including Washington's White House and also the parliaments of Vienna and Budapest. Remarkable, isn't it? For those sailing the Adriatic sea, consider dropping anchor at Pucisca as you journey from Split to Hvar, often dubbed the Croatian Saint-Tropez.
Brac Island Sailing Information:
Location :Split-Dalmatie, South Croatia.
Access : sail with your own boat or hire one in Croatia, Split, Trogir, Korcula, Bol, Hvar, Ploce or Sibenik.
Distance : 17 miles from Split, 25 miles from Korcula, 34 miles from Ploce.
The essential mooring spot in Croatia: Kamen Brela – Brela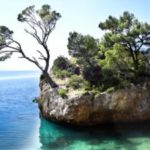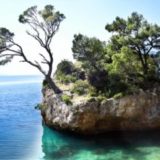 With over 1,000 islands and countless anchoring spots, selecting the best was no easy task! Now, let's unveil our second top pick: the enchanting Makarska Riviera, a destination that captivates with its unique charm. Located in an ideal position between Split and Dubrovnik and not far from the island of Brac, it has everything you need and more.
You see, in Croatia, hospitality is a way of life. To find out why, just visit Brela, a traditional Dalmatian village at the foot of the Biokovo Natural Park. Its leafy rock, Kamen Brela, is a Croatian landmark and it's the perfect backdrop for your holiday photos! Brela boasts 6 kilometers of beaches, with one even named the most beautiful in Europe. The area is adorned with lush greenery, offers fine dining, and also crystal-clear waters. To put it simply, it's one of the best anchorages in Croatia.
Location : Split-Dalmatie, South Croatia.
Access : visit with your own boat or hire one from Korcula, Trogir, Split, Ploce, Hvar, Sibenik or Bol (Brac).
Distance : 23 miles frok Split, 16 miles from Supetar (Brac), 31 miles from Trogir
One of our favourite moorings in Croatia: Lubenice Beach (Sv.Ivan) – Cres Island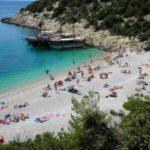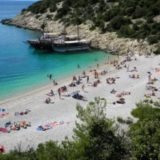 We want to share this with you, because we have seen it with our own eyes. We have also asked the best experts on Croatia, and some locals too and they have recommended Lubenice beach. This is located on the island of Cres and is the largest island in Croatia. Pula, Krk, Rijeka are three marinas that are good access points to here.
This legendary archipelago is also mentioned in the Greek myth of the Golden Fleece, which was brought to King Pelias by Jason. But let's put aside ancient history for a second and focus on the present! One beach you really shouldn't miss is Sv. Ivan. It's difficult to access it by land because the path is steep, but this only makes it more attractive as a sailing destination. It offers you a unique opportunity for a change of scenery. Just relax and enjoy the calmness around you at this idyllic, dreamlike place that is also ideal for anchoring.
Location : Primorje-Gorski Kotar, Northwest Croatia.
Access : Use your own boat or hire one from Pula, Umag, Krk, Rijeka, Rovinj, Bakar, Zadar.
Distance : 21 miles from Pula, 27 miles from Rijeka, 60 miles from Zadar.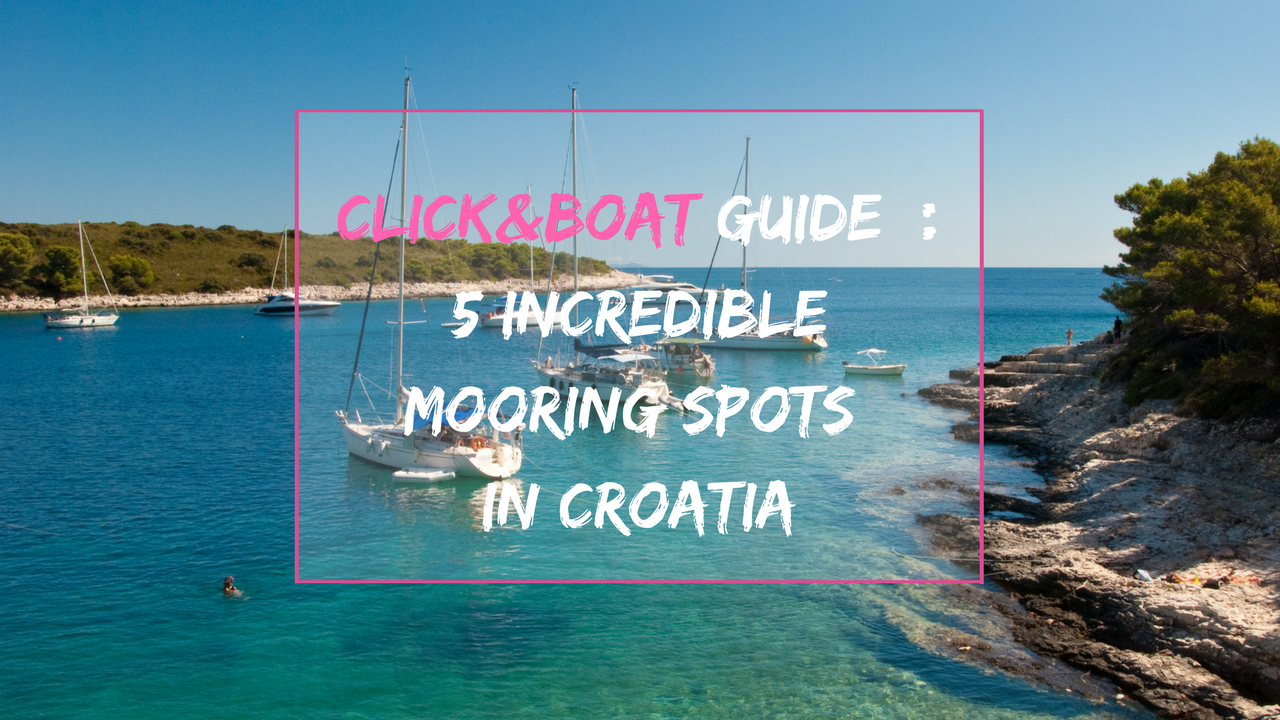 The mooring in Croatia that travels you back in time: Pomena – Mljet Island

Saplunara on Mljet Island is just 16 nautical miles from Dubrovnik. Think of Dubrovnik as King's Landing from "Game Of Thrones." Dubrovnik has become a place of pilgrimage for GOT fans. But let's not get too excited.
You can anchor just out of Pomena, an old fishing village that retains its authentic character despite its popularity among tourists. In Pomena, sailboats are kings, anchored as in a huge marina. Check out the salt lakes of the national park of Mljet. It's the best part of the island for a quick visit and some fun too.
Want to live like a local too? In one of the local taverns you can chat with other bypassing seamen on the whims of the wind and the other elements. A subject idea? The beauty of St Mary's Island, home to a 12th century Benedictine monastery.
Location : Dubrovnik-Neretva, South Croatia.
Access : Use your own boat or hire one from Dubrovnik, Korcula, Hvar, Ploce
Distance : 34 miles from Dubrovnik, 22 miles from Korcula, 54 miles from Vis.
The mooring spot that will pique your curiosity: Zut – Archipelago Kornati
We told you about Kornati in the first part of this series, dedicated to this country and its mesmerising beauty. It's the ideal spot for sailing aficionados. Just go back to the archipelago and head for Zut. The city is uninhabited, but its marina, open from March to October, is just exceptional! On the island, you will feel like Robinson Crusoe, only you will know why you are there. And with good company too, as sailboats also take refuge here when the weather takes a turn for the worse.
Locals from Murter also come to Zut to enjoy the sunshine and on-site facilities for harvest. Make sure to try the local olives, figs and grapes! And don't forget that no other Mediterranean archipelago is as dense as Kornati. With 147 islands and islets on the menu, the experience aboard a boat is mind-blowing! A trip to Zut, south of Zadar, is also a good choice for a selfie that will inspire your friends to visit too!
Location : Šibenik-Knin, Central Croatia
Access : Use your own boat or hire one from Sibenik, Zadar, Split, Biograd na Moru.
Distance : 7 miles from Biograd na Moru, 15 miles from Zadar, 27 miles from Sibenik.
So what are you waiting for? Book your dream trip to Croatia today with Click&Boat!