At Click&Boat,we wanted to bring you something really special – a detailed itinerary for a Croatia travel adventure on board your motorboat, catamaran or sailboat rental. Sail with us through the Adriatic Sea as we make several stops. Some on the mainland and some on the famous Croatian islands, to experience the very best of Croatian cuisine, architecture, terrain and culture.
We will lay out a route from one end of the country to the other so that you don't have to. All you need to do is go to Click&Boat, choose a boat rental in Croatia for your holiday, pick your dates, and book.
You may begin our journey in Zadar, but you don't have to. If you'd like to do this route back to front, skip specific stops, or perhaps just do a couple of locations, it is definitely do-able! The coastline of Croatia is a sailing hotspot and so, easy enough to navigate with a little experience. None of the stops are too far from each other and so even if you skip a stop you shouldn't spend more than a few hours traveling.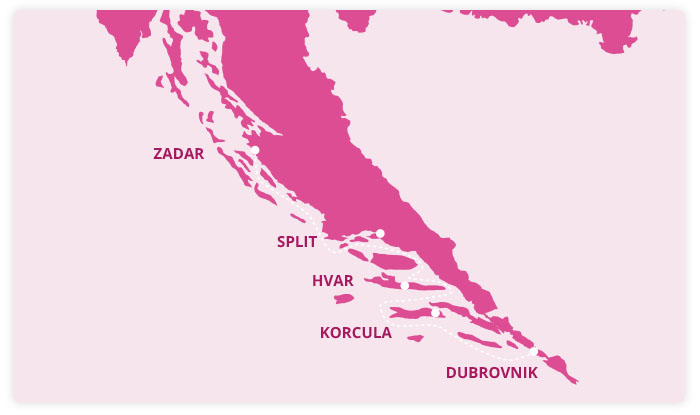 1. Zadar
Our first stop in the Croatian region of Dalmatia is Zadar. Zadar is a seaside town in the northernmost part of the Dalmatia region which until the end of the 18th century was a fortified town with a large harbour and four magnificent gates. Our other four destinations are all east of here which makes Zadar the logical starting point for a sailing holiday full of Croatia travel desinations.
2.
Split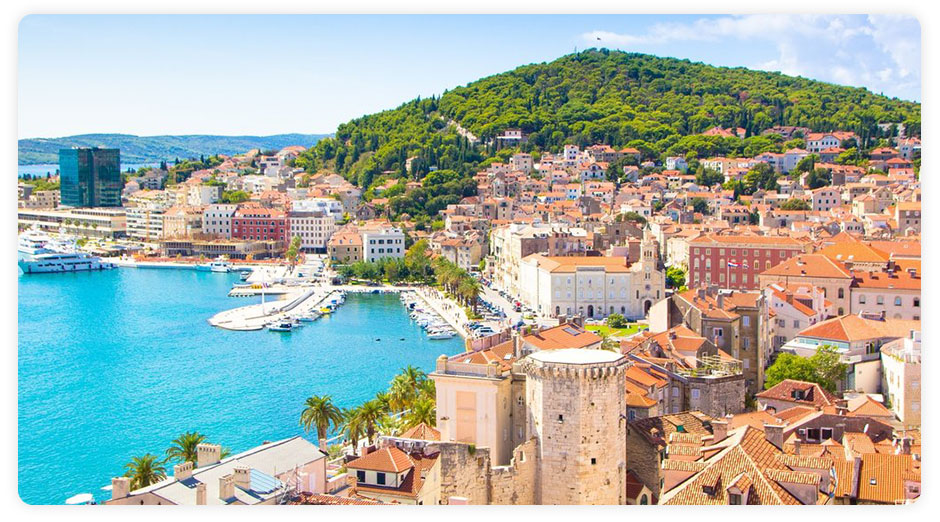 Heading east down the Dalmation coast to the region's capital and the second largest city in Croatia to Split. Split is a great stopover for sailing around the nearby idyllic islands. In fact, when sailing long distance, stopovers are crucial and they are very rarely as magnificent as Split. You will find many great spots to stop off at along the coast of Split, with several beautiful beaches, including the central beach of Bačvice.
3. Hvar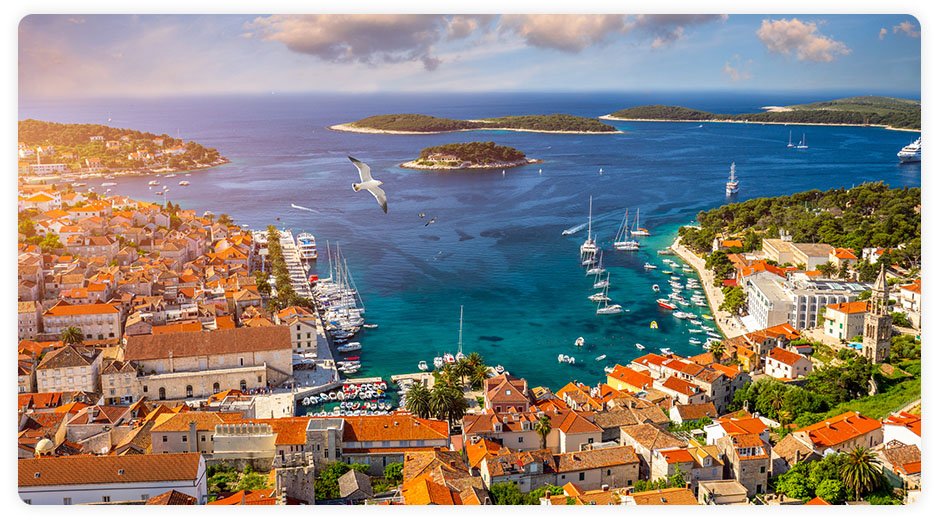 The journey from Split to Hvar can be easily done in less than 2 hours in a motorboat which makes Hvar town a comfortable next spot without having to spend too much time travelling. If you want to spend most of your holiday in Split or to not venture too far then Hvar can just as easily be a destination for a daily or one-night trip. Crystal blue sea, beautiful coves and beaches, vineyards, olive groves, and endless fields of lavender combined with historical and cultural sights make the island of Hvar the most beautiful island in the world.
4. Korčula
Sailing time from Hvar to Korčula is a little bit less than from Split to Hvar and should take you just over an hour. Korčula is the second island on our Croatia travel and is known for its dense forest and beautiful old towns. In fact, Korčula town is often referred to as 'little Dubrovnik' (a clue on our next destination) because of its medieval squares, churches, palaces and other buildings.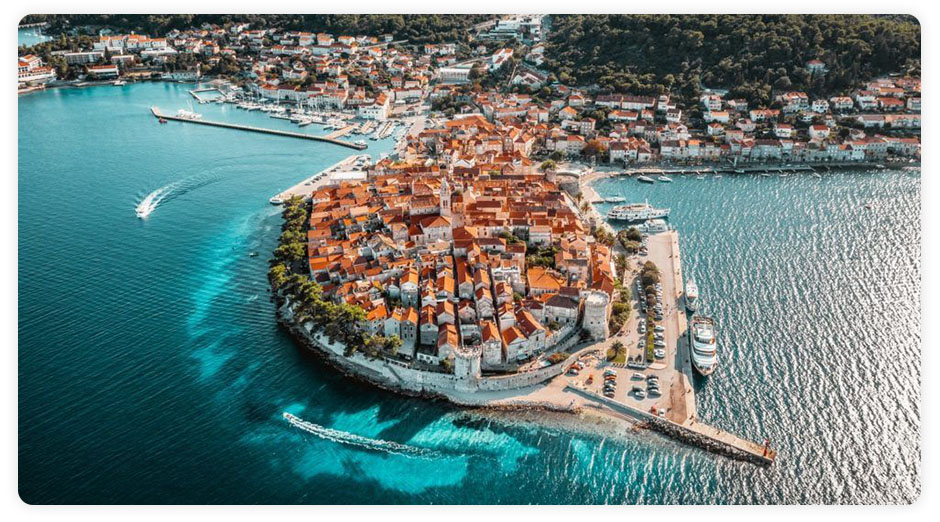 5. Dubrovnik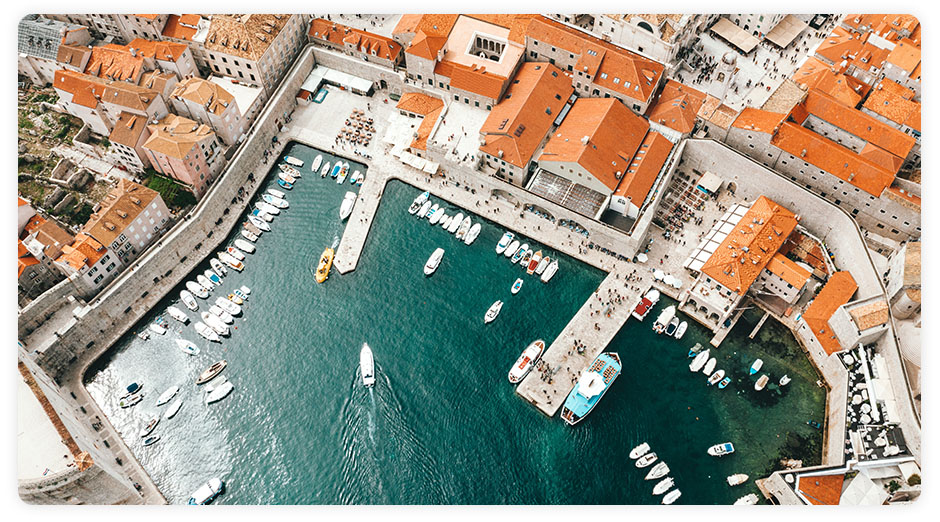 Dubrovnik is our last destination but perhaps the most famous. This city is one of the most popular tourist destinations of the Mediterranean Sea. Historically, the city was famous for its maritime trade, but now, it is a city visited for its baroque buildings, endless summers, marbled floors, ancient walls, and beautiful waters. Some people have described this magical city as "The pearl of the Adriatic".
Book a boat rental in Croatia now!
These are 5 of our favorite Croatia travel destinations BUT they are not the only dream worthy spots in this beautiful country. Croatia is so versatile that it is no wonder so many people visit it each year, from Plitvice Lakes National Park, Krka National Park and even the beautiful cities of Zagreb, the options are endless…
But as we say, the best way to get a feel and fully enjoy visiting Croatia is on board a boat. So start your island hopping or coastal cruising adventure today!
P.S. Don't wait to book during high season (July and August), our offers in destinations like Dubrovnik and Split get booked fast!