Share the post "Places to visit in San Diego on board"
The waterfront city of San Diego has plenty of places to visit on and off the water. And luckily for you, Click&Boat has put together a list of our favorite spots in the area that you can enjoy by boat. So, what do you say? Come set sail along the Southern Californian coast with us!
Best Places to Visit in San Diego
#1- Cruise around Mission Bay 
With your boat rental in San Diego, enjoy Mission Bay, a haven for boat and jet ski lovers! Located just a few minutes from downtown San Diego, here you can practice water sports for every taste- paddle boarding, water skiing, wakeboarding and more. For those interested in chilling at the beach, Pacific Beach, Ocean Beach and Mission Beach are the go-to spots, especially amongst the younger crowds. 
#2- Moor overnight at Coronado Island
Located just a short distance away from San Diego, boaters love coming to Coronado Island for an escape from the big city. Built in 1888, this friendly beach community offers pristine golden beaches like Coronado Beach and Silver Strand State Beach as well as an eclectic display of historic buildings and a variety of architecture. 
Dock your boat and check out the Sacred Heart Church, Hotel del Coronado, or take a stroll along Orange Avenue– full of eateries, boutiques and entertainment for the whole family!
#3- Explore Shelter Island 
Shelter Island is known as San Diego's 'most nautical neighborhood,' and is located not far from Ocean Beach. Many boats are docked here, and maybe even your future boat rental! Boating is vital to this little community, you can expect to find anything from sailboats to motorboats fit for water sports in the San Diego Bay.
Here you can enjoy Shelter Island's quiet boardwalk, beach bonfires, and visit the Friendship Bell, when you are off the water.
#4- Discover La Jolla Cove and Shores
La Jolla Cove is a can't miss destination on the Southern California coast. It is the perfect day trip from San Diego, if you are looking to enjoy stunning beaches, snorkeling, delicious food, and overall a good time, this is your place to be. Spending time at the beach will be a must. It is nestled between dramatic cliffs on both sides. The cove itself is protected and part of a marine reserve, so it is quite a popular diving and snorkeling spot.
If you spend time in town, we highly recommend you check out the numerous art galleries, and impressive murals. As well as admire the view at Ellen Browning Scripps Park, maybe you'll spot some sea lions and seals! Or take a walk along the Historic Coast Walk Trail for some more amazing sights.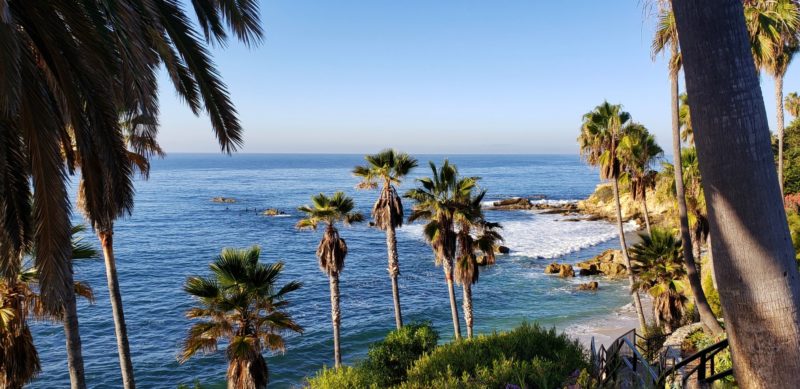 #5- Fishing in the Pacific Ocean
For those who are passionate anglers, or merely beginners, San Diego's rich marine life will offer you plenty of one of a kind fishing experiences. In these waters, set out to catch Mahi Mahi, Makos, Yellow Fin and more! Some of the best fishing spots are out by Coronado Island, but you can also book a fishing charter with a local skipper with other spots in mind. 
And for those who are not into fishing, there are still plenty of big fishes to admire in these waters… You can book a boating adventure to go whale watching!
#6- Plan a long weekend at Santa Catalina Island 
While Santa Catalina isn't technically a place to visit in San Diego, it is still worth mentioning! Whether you plan to rent a boat in Newport Beach, Long Beach, or San Diego- you can easily reach the beautiful island of Santa Catalina in a matter of hours. 
We recommend you visit for a weekend or more, so that you can relax and enjoy all the island has to offer. Explore the two main towns of Avalon and Two Harbors that have plenty of dining and shopping options. Here, you can moor your boat in the bay and take advantage of Mediterranean-esque beaches, amazing snorkeling sights and plenty of space to enjoy water sports, if you would like. 
#7- Visit the San Diego Bay
Set sail under the iconic Coronado Bridge and discover all the San Diego Bay has to offer. Admire the USS Midway Museum, an old United States aircraft carrier from the water, check out the Convention Center or perhaps stop by the Seaport Village, for some waterfront dining and shopping options.
#8- Reconnect with nature at Sunset Cliffs
Sunsets Cliffs Natural Park is located between Ocean Beach and Point Loma. Cruise to this spot to watch the sunset or perhaps spend the day exploring the many cliffs, beaches and caves on this three mile stretch. 
If you cruise down towards the tip of Point Loma, you can visit the Cabrillo National Monument and the nearby lighthouse. On sunny days you may even see Mexico from here!
#9- Off the water…
There's no doubt that the best way to enjoy San Diego is out on the water! But for those interested in doing some more exploring in and around the city, you can't go wrong with visiting Balboa Park for a day of family fun, exploring the nearby state parks or walking around the Gaslamp Quarter. This area is known for its lively nightlife, as well as for Petco Park, an outdoor stadium that hosts concerts and sports games. 
What are your favorite places to visit in San Diego? Let us know in the comments below!