Share the post "Going to Croatia? You can't miss these 7 destinations"
Croatia. An ancient and beautiful land, that has natural wonders everywhere you look. It is one of those places where everyone can find their own slice of paradise. It is a land with a rugged and varied coast, known to be among the most spectacular in the world. And a country that guards its precious natural and cultural treasures. With so much to offer, it is only normal that onlookers are so curious. If you are one of them, then now is probably the right time to start thinking about your next vacation in Croatia!
On land, Croatia promises great things: national parks, historic towns, friendly locals, and delicious foods. But from the gentle rocking of the blue Adriatic Sea, Croatia is even more amazing. 1,200 islands, stunning beaches, hidden bays, and intriguing cliffs- and that is just the start.
From a sailboat rental departing in Split, to snorkeling around the Kornati Islands, to a catamaran charter in Dubrovnik– being out on the water makes for an ideal trip with friends and family who are looking to relax and spend time together in such a stunning setting. The possibilities are endless here, with so much to choose from, knowing where to start might seems like a challenge. Therefore, to help you plan your next sailing trip, at Click&Boat we have selected 7 of the most beautiful places in Croatia, which you simply cannot miss.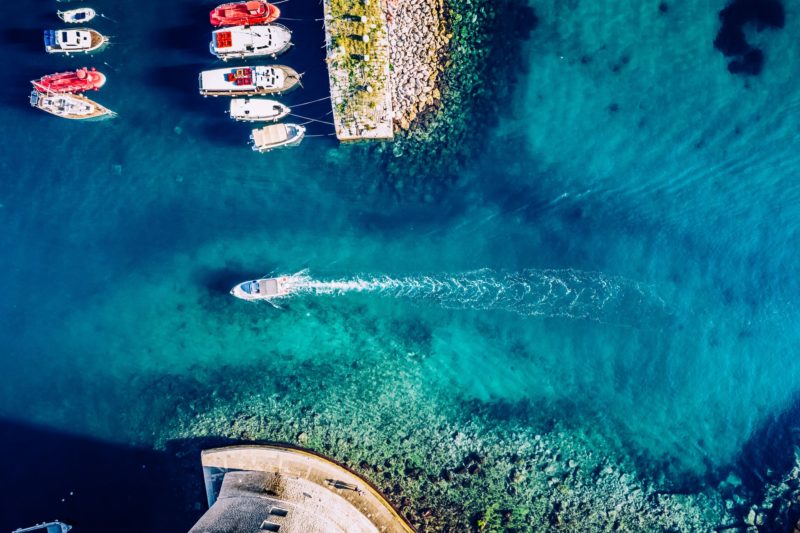 Where to go? Here are Croatia's top 7 destinations
1. Mijet Island
Mljet is one of the most fascinating islands in southern Dalmatia, as it is completely covered by a lush forest.
The island itself is only 37 kilometers long, framed by a stretch of crystal-clear water, which of course makes it an ideal place to rent a boat in Croatia. Enjoy countless hours of peaceful relaxation on the island's beaches (located on the Southeastern part of the island), overlooking the dense green of the surrounding nature.
In the Northwestern part of the island, you can't miss the Mljet National Park. Here, discover to salt lakes that can be easily visited by bicycle or canoe. Will the Island of Mljet be included in your holiday plans in Croatia? We sure hope so!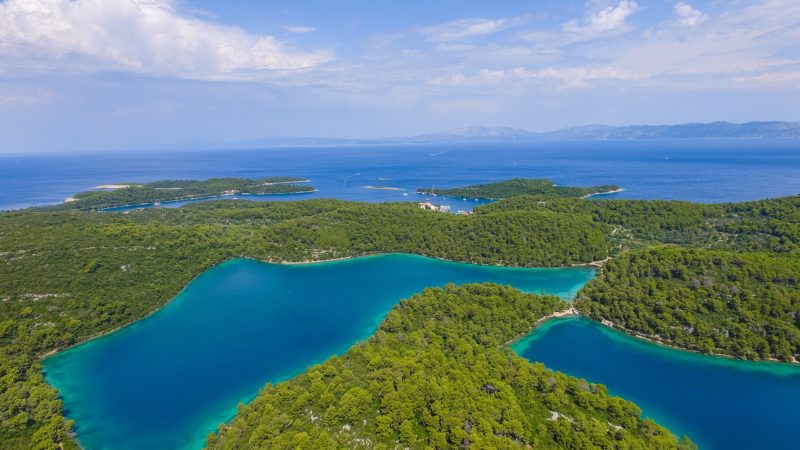 2. Dubrovnik
There is no way you can miss the so-called "Pearl of the Adriatic!" The charming city of Dubrovnik is among one of the best destinations in Croatia.
Declared a World Heritage Site by UNESCO, Dubrovnik is amazing from every angle! From the ancient walls to the majestic fortress rising from the sea, to the historic city streets, and the intense blue of the waters, home to the city's port.
In all its natural beauty, the city seems to tell the story of the past, revealing fascinating stories that the Adriatic Sea holds, everywhere you look. Pay Dubrovnik a visit and you will be completely enchanted.
If you decide to start a sailing trip here, you can rent a boat in Dubrovnik through Click&Boat with the help of an expert advisor who can help you choose the most suitable boat for the trip. Are you ready to set sail?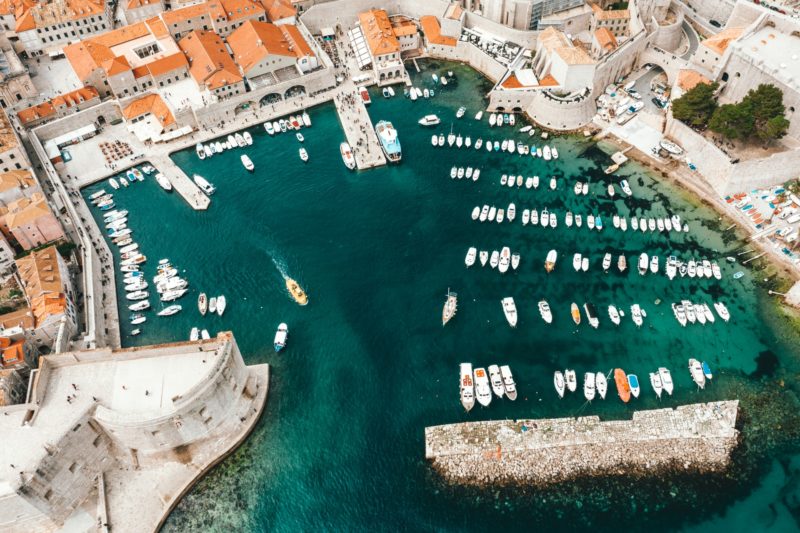 3. Korcula Island
The sixth largest island in the Adriatic Sea, the island of Korcula (or Curzola) is part of the Central Dalmatian Archipelago. Its coastline, approximately 182 km long, is known to be well-developed and organized, providing safe (and beautiful!) places for traveling sailors to stop at whether it be overnight or for a couple of days.
You can't go wrong with a mild climate year round and clear seas! The contrast of the red roofs and the bright, white facades of the villages' houses, amongst the island's green nature make for a fascinating background, view from the water. On land, the vineyards, olive groves, and old villages, are even more magical upclose!
Korcula is home to some of the most beautiful beaches in Croatia! Make sure to drop an anchor at some of these popular beaches: Bilin Zal Beach, Tatinja Beach, Istruga Beach, Pupnatska Luka, and Vela Przina-Lumbarda.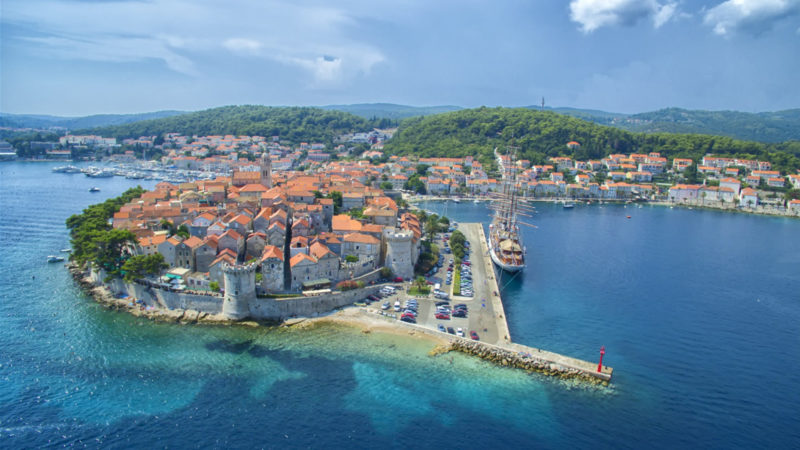 4. Split
Located in the center of Dalmatia, the city of Split is the largest city on the Adriatic coast of Croatia. It is described as "an open-air museum" because of its great historical and cultural heritage. The city offers two important sites that have become part of UNESCO's World Heritage: the Diocletian's Palace, dating from 305 AD, and the medieval division, or historical part of the city.
Besides being a city of great historical value, Split is also known among tourists for its excellent gastronomic specialities, for its cheerful daily atmosphere, and its important art galleries. If you want to rent a boat in Croatia, consider starting in Split, Click&Boat has numerous offers here- from sailboats to catamarans and motorboats!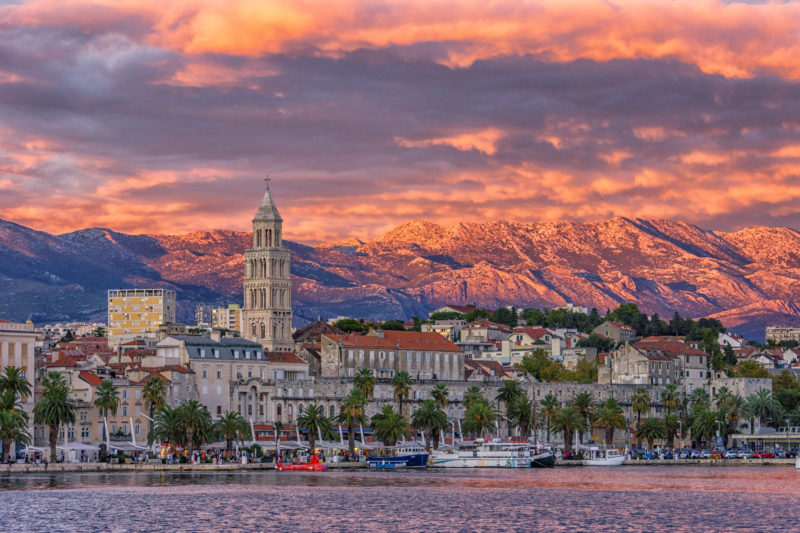 5. Hvar Island
Among the most beautiful and important islands of Dalmatia is the island of Hvar. Rich in vegetation and abundant in sandy beaches, it is the perfect destination for those who are looking for a holiday at sea.
It is impossible not to mention the architectural charm of the island's ancient villages, which give it a retro and decidedly romantic atmosphere. Distinguished by a mild climate all year round, Hvar is your'go-to' place if you want to escape from the chaotic city and sit back and relax. Discovering hidden bays and enjoy the dramatic, colorful sunsets at dusk.
Rent a boat in Croatia, and you will have the opportunity to drop an anchor anywhere you please. Among the most fascinating bays of Hvar island, we suggest: Pokonji Dol, the Pakleni Islands that stretch in front of the city, the entrance of Jelsa, and the sandy beach of Perna.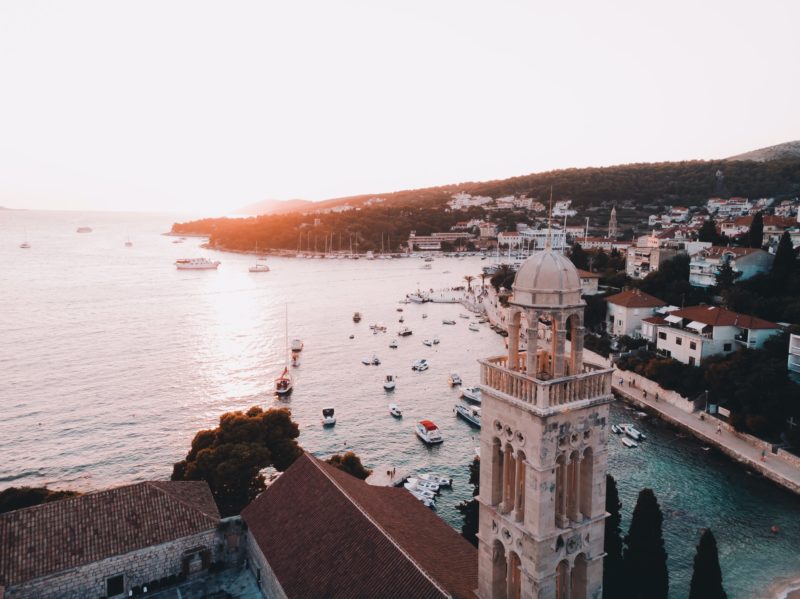 6. Island of Pag
With its area of 285 km², the Island of Pag is the fifth largest island in the Adriatic Sea: 27 km of sandy beaches, which every summer become home to Croatian festivals, it is also rich in vegetation and characterized by impressive landscapes. If you want to spend your next holiday in Croatia and don't want to compromise between relaxation and fun, Pag is the island you are looking for!
Pag is easily accessible from Zadar, and is in close proximity to the most famous islands in the Kvarner Gulf- which makes it an excellent starting point for day or even weekend boat rentals.
The advantage of Pag? If you are a night owl, the bright and captivating soul of the island will keep you awake into the early morning. But, on the other hand during the day, the sheer beauty of its villages and beautiful beaches will invite you to relax and enjoy sweet idleness. Choose to walk around, bask in the sun, or if you are motivated, practice some water sports.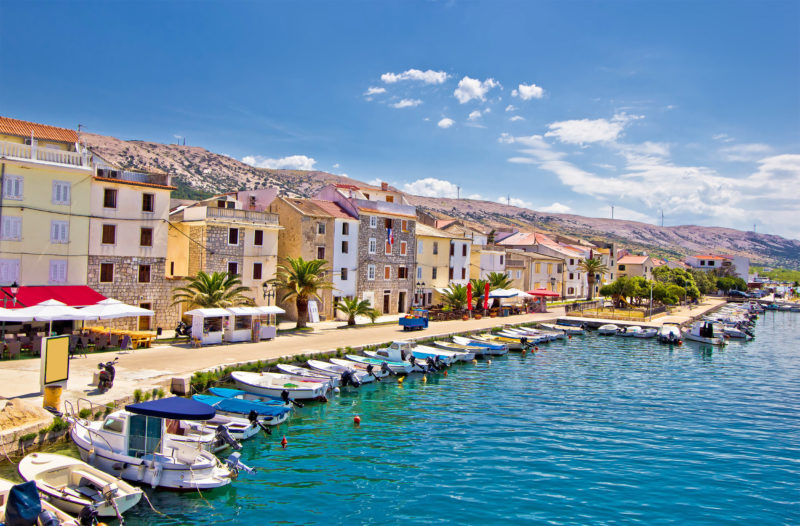 7. The Plitvice Lakes
The Plitvice Lakes National Park is located halfway between Zadar and Zagreb, the capital of Croatia. It is a beautiful forest reserve covering about 295 km², and since 1970 it has been considered a UNESCO World Heritage Site.
Two rivers, 16 interconnected lakes, countless waterfalls- of which the 4 lower ones contain a 78-meter waterfall, the Veliki Slap and a limestone canyon: a scenery of extraordinary beauty that gives Croatia notoriety of having one of the most impressive landscapes in the world!
The immensity of the park allows visitors to experience it by boat, bicycle, and by foot- through countless trails that will help you get in touch with the unspoiled nature and take in such a mesmerizing landscape.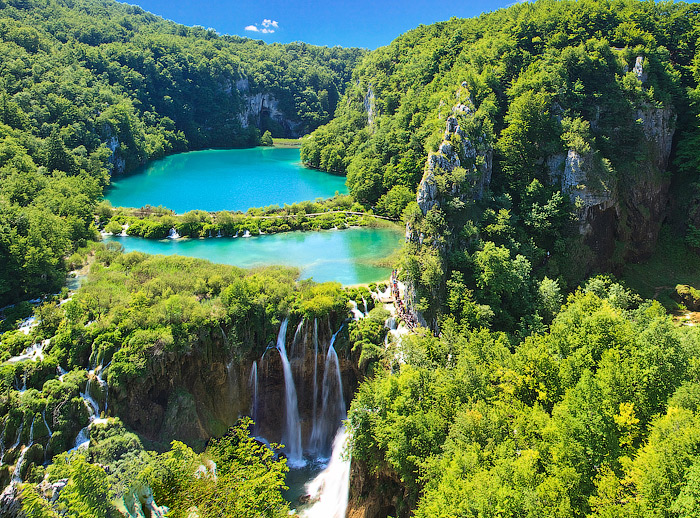 Do you know where you are headed to in Croatia? No matter where in this little country- an unforgettable trip awaits you: full of charming places, natural wonders, and many memories to make.
Still not convinced? Here are 7 reasons to sail in croatia!