In relation to International Women's Day, at Click&Boat, we wanted to take the opportunity to highlight women in sailing with fantastic achievements. These women sailors did not let small things like a broken neck, age, the Dutch court, and the male dominance of regattas stop them from getting out on the water! We also want to take the time to discuss gender in the boating world in general. Historically, there is a lot to celebrate, but also a lot of work to be done. Here's a little inspiration along the way…
Inspiration by Women in Sailing 
Tracy Edwards and the first all-female crew 
Tracy Edwards was a sailor during the 1980s who dreamed of participating in international regattas. At the age of 16 she got her first job on board a boat during the 1985-1986 Whitbread Round the World regatta as a cook. She was the only woman on board. After the competition and despite her previous participation, she was unable to become part of any crew- she had had enough and decided to take matters into her own hands. 
In 1989, Tracy participated in the Whitbread Round the World Regatta, but  this time with a crew of 12 women. Together with the team she put together, she restored a ten-year-old racing yacht of 58 feet and named her "Maiden," after taking out extra loans to finance it. Maiden ended up finishing the race, second in its class and won two of six individual stages during the competition. Tracy went on to write two books about her life, and in 2019 an inspiring documentary about the feat was released.
Jeanne Socrates: Around the world at 77 years old 
Jeanne Socrates is a British woman with many achievements to brag about, as she despite her age, decided to sail around the world alone. After two failed attempts in 2009 and 2012, her dream came true in 2013. And was then repeated in 2018!
Jeanne and her husband found their passion for sailing in 1997. After her husband died in 2003, Socrates decided to continue sailing alone. Despite her many setbacks during her various voyages such as cyclones that destroyed the boat, she did not let herself be stopped and instead continued to discover the world on board her boat.
According to the BBC, Socrates tried to break her own record again in 2017, but in preparation for departure she fell off the boat and broke both her neck as well as several ribs. However, this did not stop her as she went on to break her own record in 2019. She was then the world's oldest sailor to complete a solo sailing around the world. At the time she was 77 years old and landed in Victoria, Canada, after a full 320 days alone on board her sailboat S / V Nereida. She managed the whole race without a break and without help.
Her record has since been surpassed by Bill Hatfield in 2020. However, Socrates remains the oldest woman to have sailed around the world, as well as the first woman to sail non-stop and without assistance around the globe, in a journey that began in North America. A true achievement considering more women have been in space than have sailed around the world solo. 
Laura Dekker, the world's youngest round-the-world sailor
From oldest to youngest, Laura Dekker is the daughter of a shipbuilder who had dreamed of sailing around the world alone since the age of 10 years old. When she wanted to start sailing at the age of 13, the Dutch court put a stop to her plans as they considered that she was too young and inexperienced to cope with the difficult journey.
She had previously proven to her father at the age of 12 years old that she would be more than capable after sailing the English Channel alone. However, this journey led the English authorities to put her in a foster home so that her father would not let her sail alone. 
Laura Dekker never gave up and after a year of discussion with the Dutch authorities, in 2010 she began her solo round-the-world journey aboard her sailboat "Guppy". When she arrived in St. Maarten on January 21, 2012, she had traveled the world in 518 days. She was then 16 years old and had set a new world record as the world's youngest sailor to sail around the world.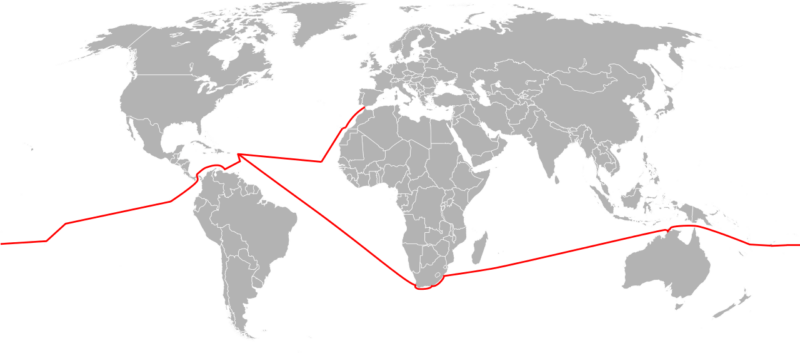 She currently runs The Laura Dekker World Sailing Foundation, which is aimed at those aged 9 to 17 years old who want to develop their sailing skills. A program dedicated to spreading sailing as a skill as well as lifestyle. 
A Fight for Women in Sailing 
Female sailors and researchers continue to improve the world on board SV Traveledge. This non-profit organization eXXpedition organizes research trips around the world to create a better understanding of the damage that plastic has to our marine life.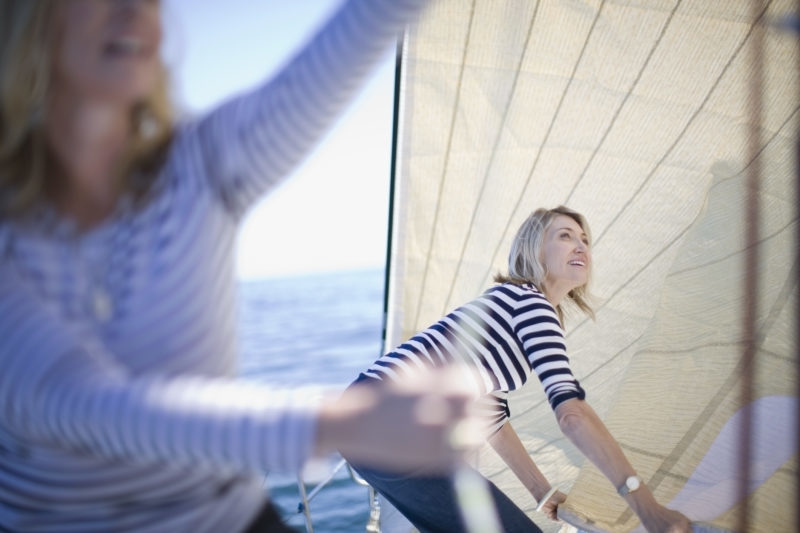 What makes the initiative unique? The crew consists entirely of women and works for equality in STEM professions as well as the sailing world and the boat industry. Those who make up the crew of the two-masted ship come from varied backgrounds, including scientists, engineers, journalists, professional sailors and doctors. For each research expedition, the crew consists of approximately 10 women who investigate the presence of plastic pollutants both on land and in the oceans. 
The aim is to better understand the causes and effects of plastic and toxic pollutants and thereby develop effective solutions to the problems together with other players in the industries. According to eXXpedition, the idea behind having only women on board comes from the under-representation that exists among science, technology and engineering professions as well as mathematics. This has also led to an under-representation in studies of how women are affected by environmental degradation, as most research is based on men. Even though women's reproductive organs may be affected more easily than men's. It has also led to the diseases and problems specifically associated with women being overlooked in much research.
The very first voyage took place in 2014. The expedition started on Lanzarote and they sailed across the Atlantic to Martinique in the Caribbean. They have currently paused their expeditions, but will resume their project when circumstances allow. As for now, environmental sustainability and adaptation to climate change continues to be crucial if we want to enjoy our fantastic seas and marine environments. 
---
Do you also feel inspired by this group of women in sailing's passion for sailing and sea life? Good news, you can find a sailboat that suits you at the destination you want to discover!