Share the post "Florida Boat Owner Story: Meet Brad Barker"
As Click&Boat gains popularity in the United States, we think it is important to highlight our American boat owners who have been working with us for a while now. Our platform is home to both professional and private boat owners who have registered their boats with us. So, meet Brad Barker, this sailing aficionado has been a member of the Click&Boat community since March 2019. Brad is the owner of Restless Native Charter and proud boat owner of a beautiful one-of-a-kind Lagoon 420 catamaran named Aria. Located in Key West Bight Marina in Key West, Florida, sailing with a catamaran rental is a no-brainer if you want to enjoy the tropical Florida Keys in a unique and thrilling way.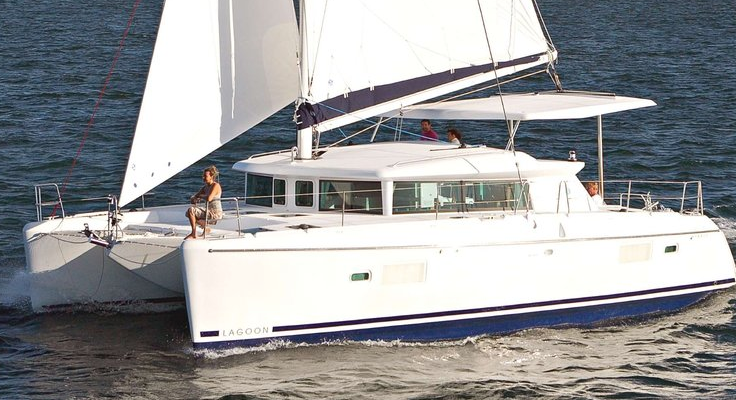 Brad has been renting out his catamaran Aria since 2011. His rental includes a full-time skipper and crew service to ensure that renters' time out on the water goes smoothly, and of course to show them Key West's hidden gems. Click&Boat made its appearance in the US market in 2017, and has since acquired over 1,600 boats in the last three years. When we asked Brad why he decided to register his boat in 2019 on the Click&Boat platform, he responded, "I went sailing with Mathilde and Cassandre (from the Click&Boat prospection team) in Key West and I learned about Click&Boat from them in great detail. I found both of them to be bright, enjoyable to be around, and really sharp as far as entrepreneurship. When building a partner relationship, these are the kind of people I want to be around when building my own business!"
Working with Click&Boat has its advantages, especially for US boat owners. For Brad, the biggest benefit of renting through Click&Boat is the idea that, "… it gave access to a whole new international market that I had yet to discover." Renters on Click&Boat have the choice to rent among 35,000 boats in over 50 countries worldwide. In the US alone, international renters have the possibility to rent a boat in more than 70 destinations with Click&Boat. This increases US boat owners' opportunities in renting out their vessels to a wider market. Owners can be sure to expect quick results with Click&Boat.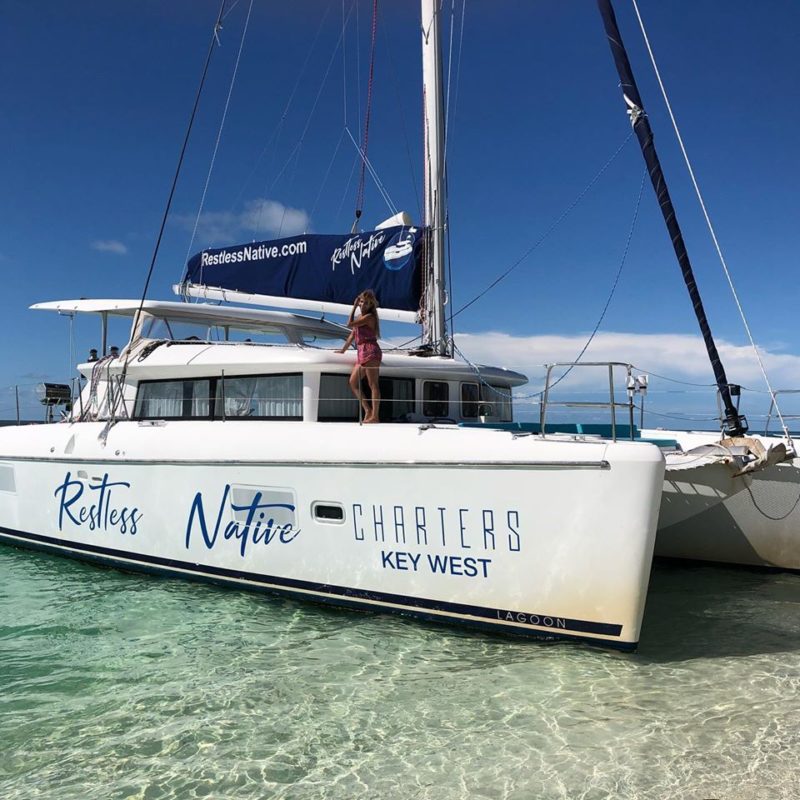 When it comes to catamaran rentals, you are sure to enjoy more stability and increased space out on the water when compared to a classical mono hull. Brad's catamaran Aria has been customized to perfectly cater six people for day charters or two couples for overnight rentals. What makes Aria so special is her large interior salon equipped with a sound system and an extensive exterior, perfect for renters who are looking for space to lounge and entertain. With two dining areas, one inside and one outside, renters also receive a personalized experience when it comes to enjoying their meals. And for those looking to enjoy a night on board, Aria has two private bedroom suites, each with their own bathroom and shower.
If you are interested in sailing Key West, Brad is your expert navigator, and renting his catamaran is a great option if you are looking for an unforgettable experience sailing the Florida Keys. As a Key West native, Brad raves that the area's most attractive features have to be the famous mangrove islands, and turquoise blue waters. For entertainment, look no further than the waters of Key West. Described as a big playground for dolphins, you can be sure to spot some swimming and playing alongside the boat. Brad puts it perfectly in saying that the major appeal of Key West is that, "It's sailing in the Caribbean without needing a passport!"
As we sail into the 2020 summer season, Brad says he plans to expand his fleet- meaning many more sailing adventures to come in the Florida Keys. If you too are a professional boat owner consider working with Click&Boat, and register your boat online for free!