Share the post "Dream Cruise Routes for Foodies 2023/24"
We've all seen the magazine covers of celebrities on their yachts, cruising around the med having breakfast in Monaco and lunch in Rome.
It looks like a dream holiday – maybe even a fantasy.
What if we told you it's more realistic than you think to rent a boat and set sail and enjoy the tastes of the world…
We dug deep into researching the best sailing routes for food lovers. Each stop on our maps features a handpicked selection of the best restaurants, where you can indulge in the most delectable dishes the region has to offer.
These routes aren't exclusively for boat owners; they are accessible to everyone. For example, you can explore the boat rental options offered by Click&Boat and check the infographics below to see what vessel fits each route perfectly.
About the author: These itineraries, written by a Click&Boat Content Team Member, have been drawn up thanks to the expertise of Click&Boat's dedicated cruise advisors, who personalize our customers' sailing plans and multiply exploratory trips to perfect their knowledge of the best places to sail.
Bon appétit and may your journey be filled with unforgettable gastronomic delights!
Culinary Routes and Itineraries
Croatian Coastal Gastronomy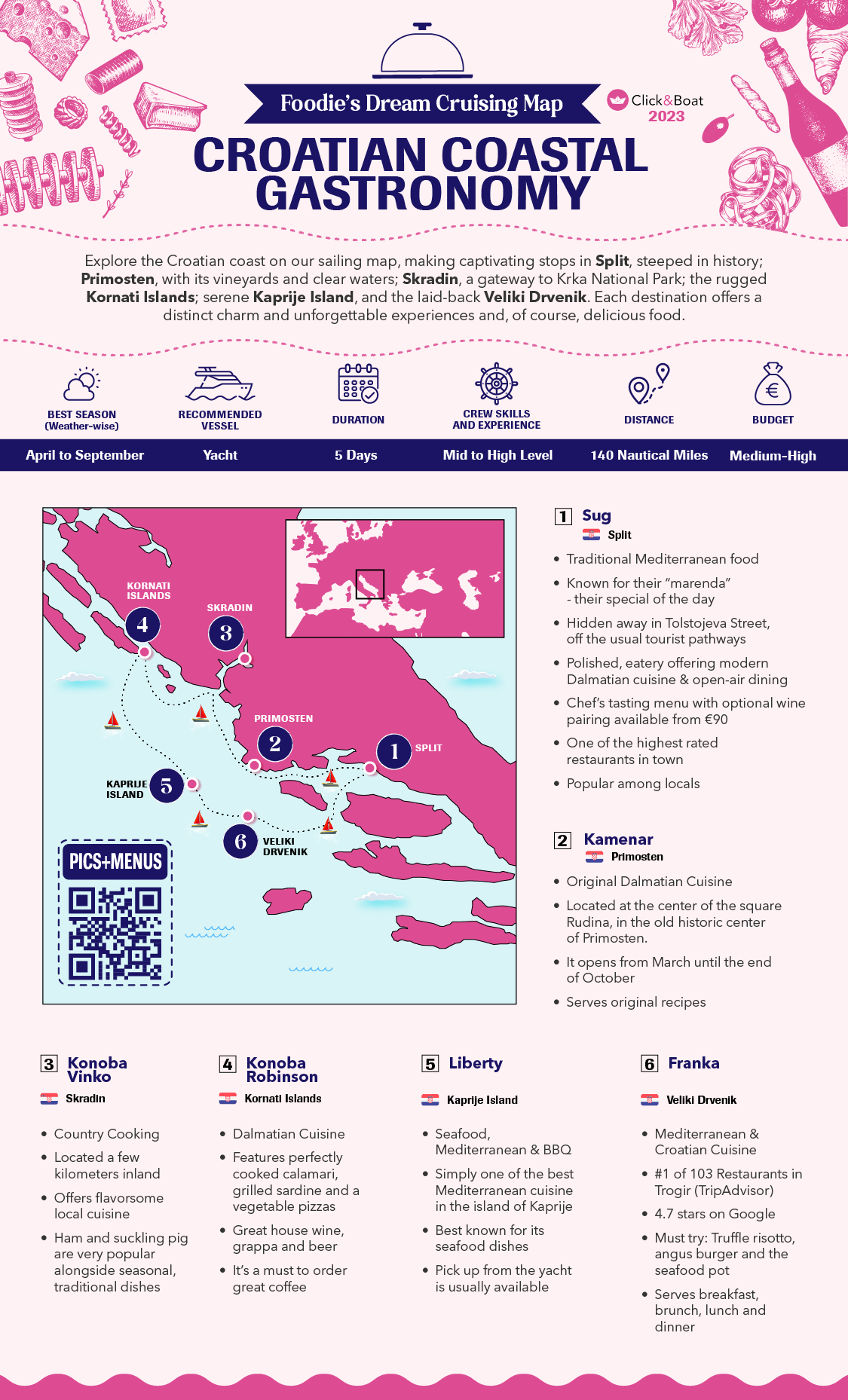 Departure: Split

Climb aboard for a mesmerizing journey along the Croatian coast, where each port of call unfolds a unique chapter in the story of Mediterranean and Dalmatian cuisine.
Set out on a captivating voyage along the Croatian coast, where each port of call reveals a distinct chapter in the tale of Mediterranean and Dalmatian flavours during a magical six-day adventure.
Departing from historic Split, you'll be introduced to Sug's regional fare, setting the stage for your seafaring adventure.
Continue to charming Primosten, where original Dalmatian flavours beckon, followed by heartwarming country cooking in Skradin. The journey leads to the Kornati Islands, an archipelago where authentic Dalmatian cuisine thrives amidst breathtaking landscapes.
Kaprije Island offers a fusion of seafood, Mediterranean influences, and barbecue delights.
Lastly, Veliki Drvenik offers a harmonious blend of Mediterranean and Croatian traditional cuisine.
Flavours of España: From Palma to Paradise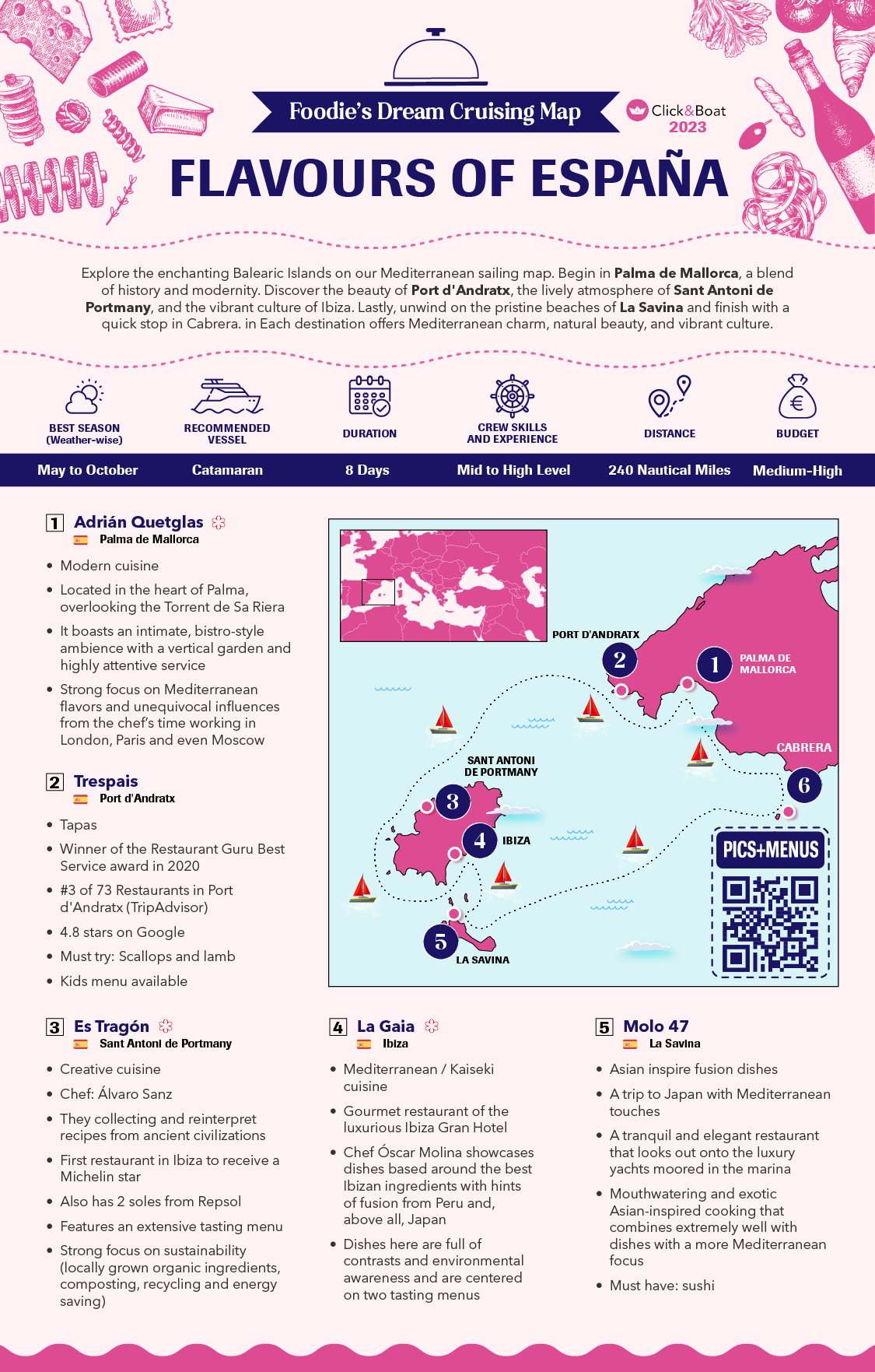 Departure: Palma de Mallorca
Set out on an epic eight-day adventure aboard a catamaran, and immerse yourself in the world of Michelin-starred cuisine from Palma to Paradise.
Palma de Mallorca welcomes you with modern flavours at Adrián Quetglas, while Trespais in Port d'Andratx invites you to savour tapas.
Discover the creative dishes at Es Tragón in Sant Antoni de Portmany, boasting 1 Michelin star, and experience the art of Mediterranean-Kaiseki cuisine at Ibiza's La Gaia, another 1 Michelin star gem.
Your tasty travels continue in La Savina, where Molo 47 offers a fusion of Asian flavours, and on the pristine shores of Cabrera, Cantina Cabrera delivers an exclusive beachfront dining experience you won't soon forget.
Caribbean Culinary Cruise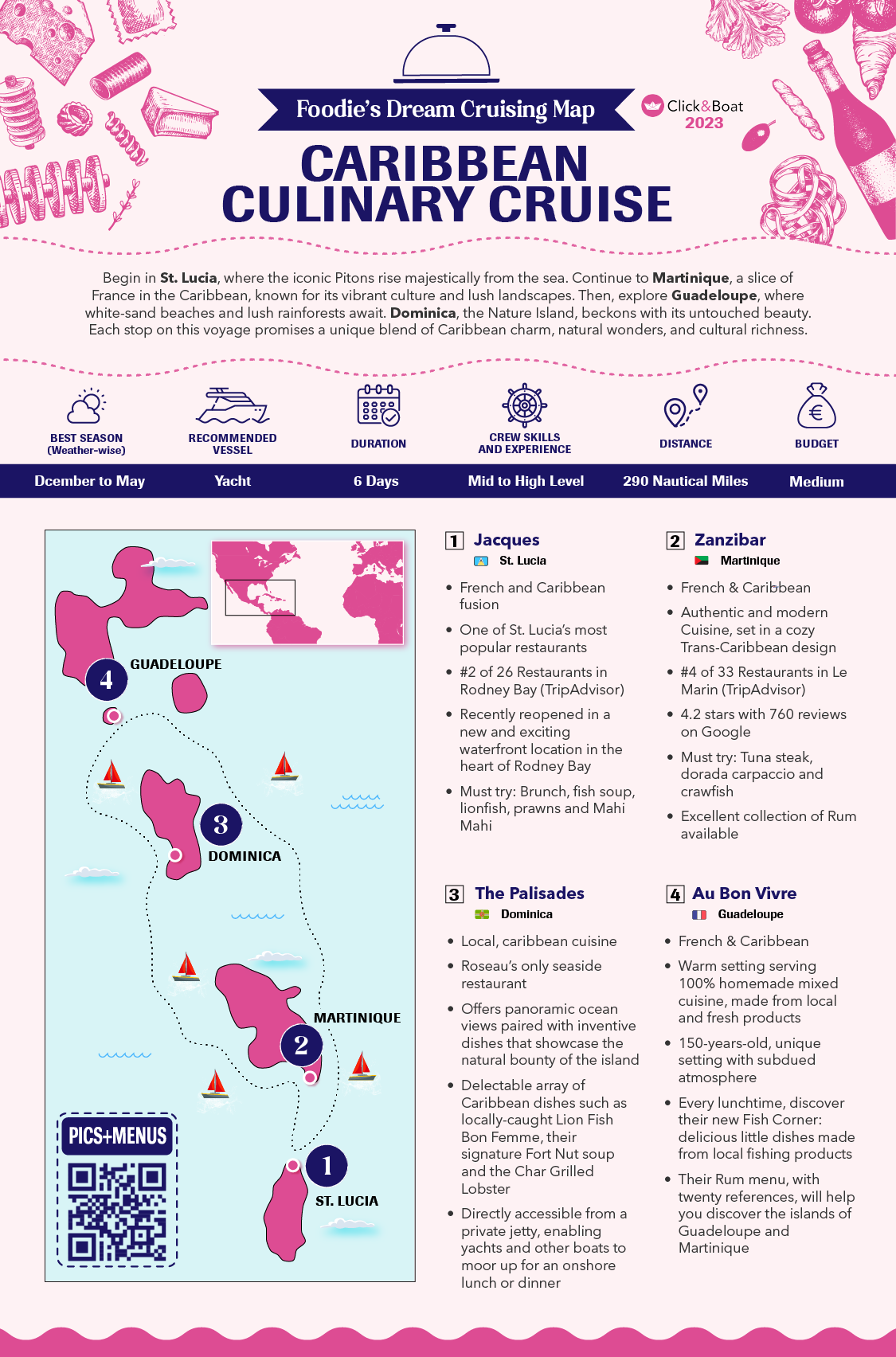 Departure: Saint Lucia
Set sail on a Caribbean delicacy voyage, where the azure seas dance beneath a warm Caribbean sun from December through May.
Your journey spans a blissful six days, offering a high-budget escape into a realm of flavour. As you sail, each port of call unveils an enchanting tapestry of tastes.
In St. Lucia, Martinique, and Guadeloupe, the fusion of French and Caribbean flavours awaits, while Dominica orchestrates a sensory symphony of local Caribbean delights. Prepare to chart a course through this vibrant world of Caribbean cuisine, where each destination is a delectable masterpiece waiting to be discovered.
French Riviera Gourmet Odyssey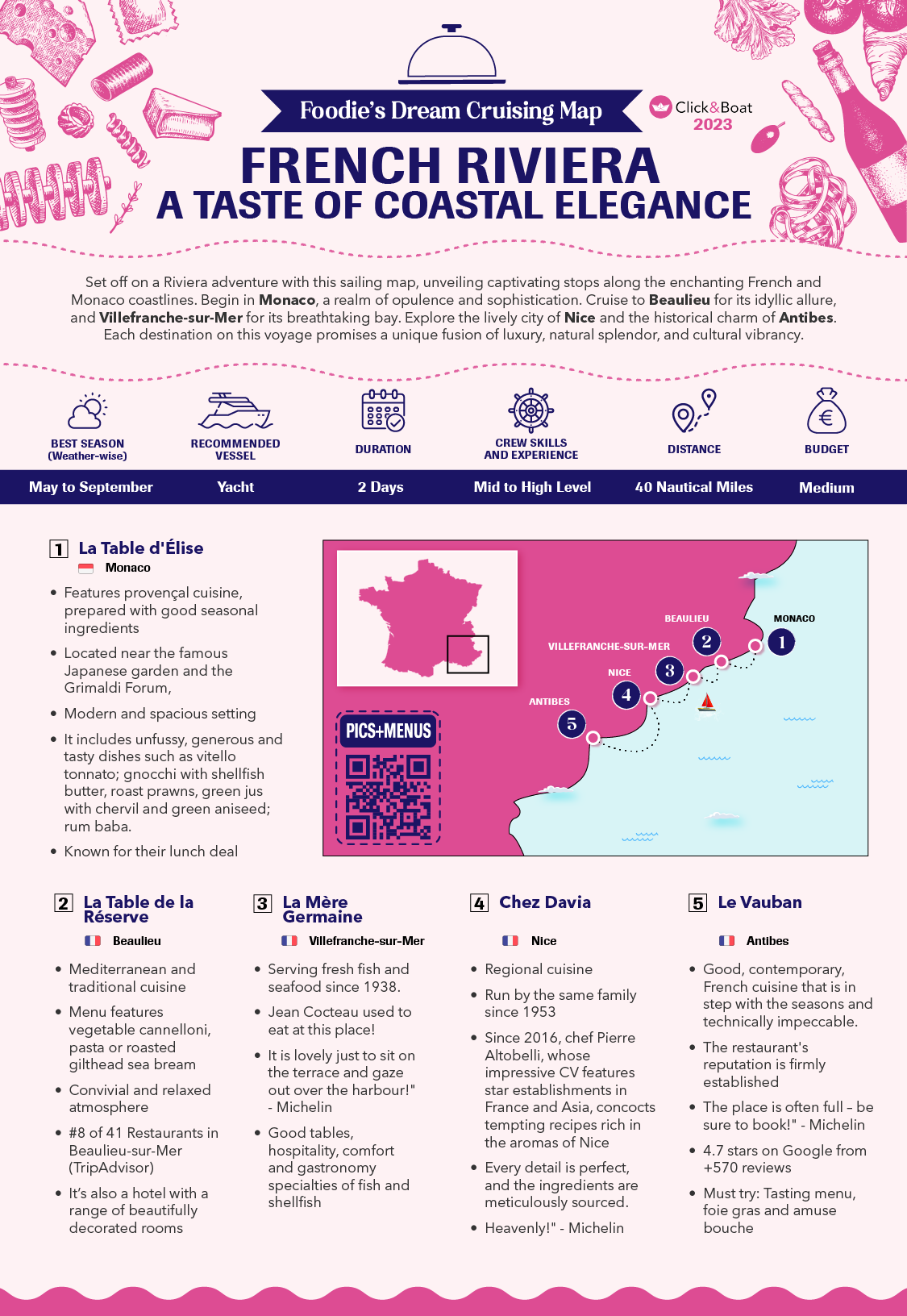 Departure: Monaco
Sail away on a delectable journey through the South of France, where delicious dishes await at every port.
Beginning in Monaco, you'll experience the innovation of modern cuisine and continue to Beaulieu for more contemporary delights.
Villefranche-sur-Mer will immerse you in Mediterranean flavours, while Nice offers a creative twist on French classics.
As you venture to Antibes, you'll discover modern cuisine elevated to Michelin-star perfection, with some restaurants proudly sporting three Michelin stars.
Join us on this French Riviera Gourmet Odyssey, where each destination is a culinary masterpiece waiting to be savoured.
Barcelona Bites Voyage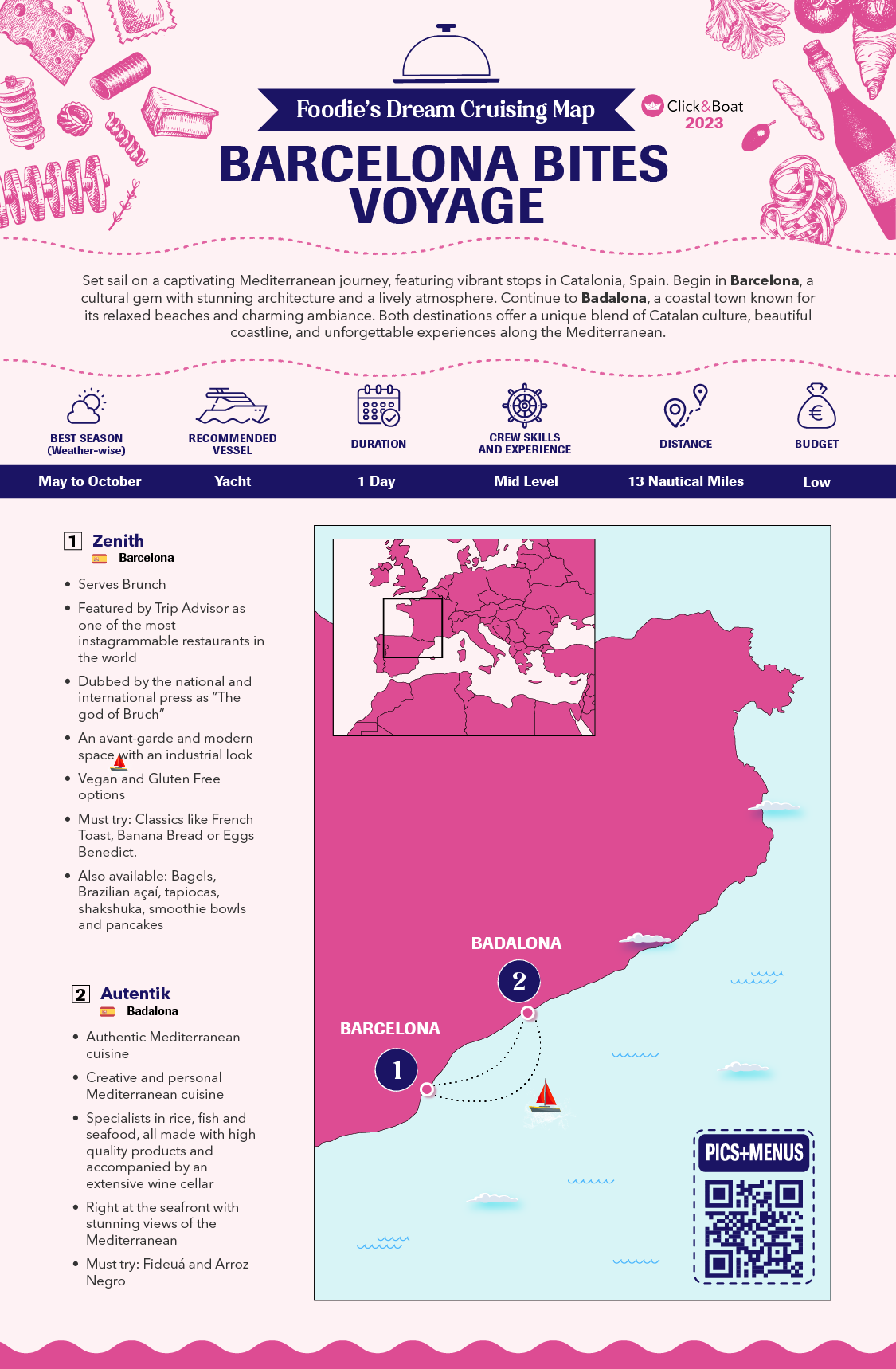 Departure: Barcelona
Finishing our recommendations is a more pocket-friendly gastronomic voyage through the heart of Catalonia in Barcelona, where a delightful one-day excursion awaits.
Spanning just 13 nautical miles this trip is every foodie's must-do. Your journey kicks off with a breathtaking breakfast at Zenith, a cherished brunch haven, where you can relish the morning's flavours.
As the sun gracefully sets, set sail on a brief yet enchanting sail to Badalona, where Restaurant Autentik awaits, ready to indulge your senses with authentic Mediterranean cuisine.
It's a day of effortless transitions, allowing you to cruise seamlessly from one exquisite dining experience to the next, all while immersed in the vibrant tapestry of Catalonia.
Mediterranean Michelin Voyage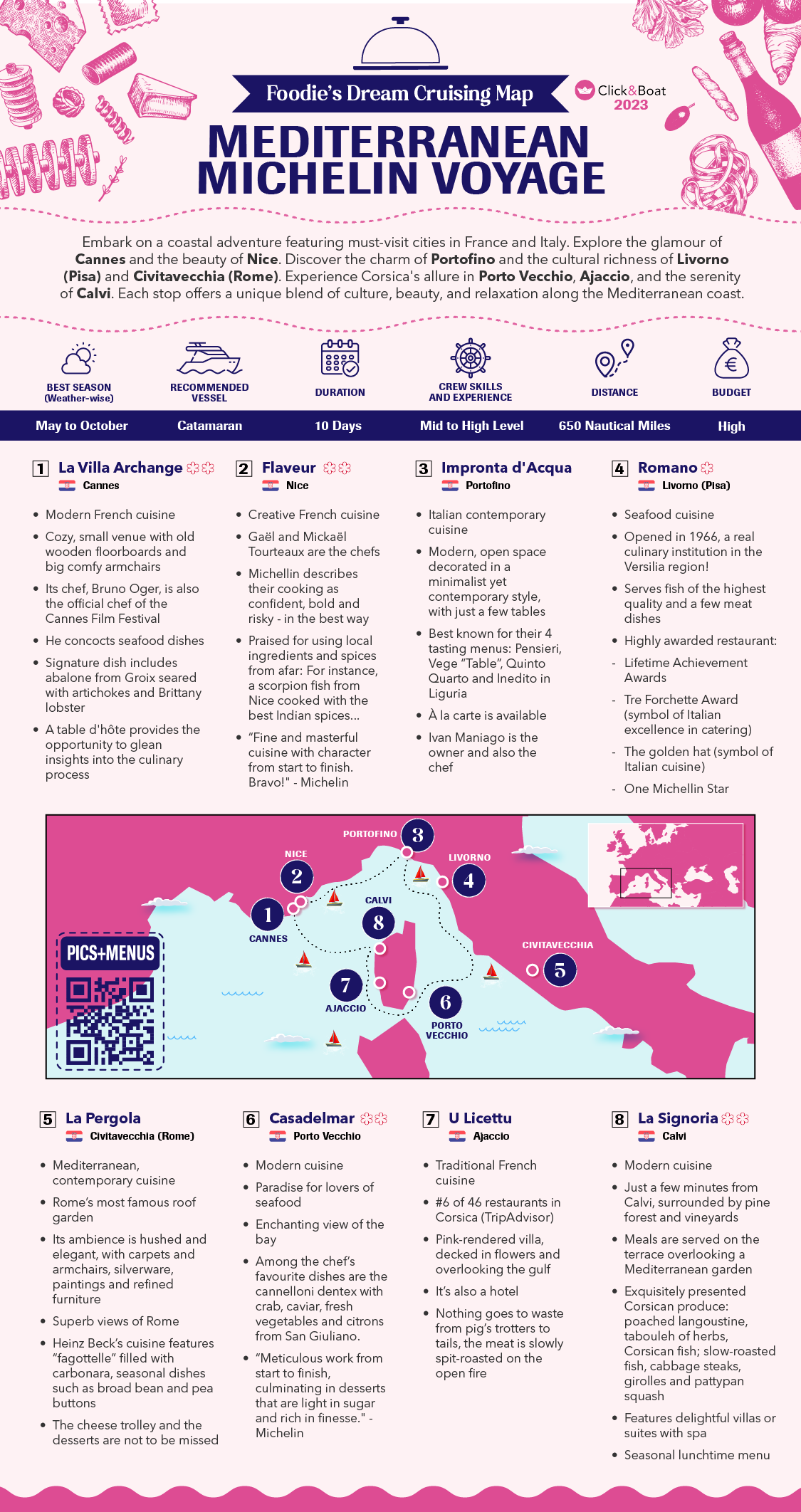 Departure: Cannes
Embark on a captivating Mediterranean odyssey, encompassing eight enchanting stops along the way.
As you sail from Cannes and Nice to Livorno, and from Civitavecchia to the picturesque Ajaccio, each destination offers an appetizing journey like no other.
Indulge in modern French and creative cuisine, inventive Italian dishes, and the artful fusion of Mediterranean flavours, all while navigating the azure waters.
Along this remarkable route, you'll encounter a constellation of Michelin-starred restaurants, from one to three stars, ready to elevate your gastronomic adventure.


About our research
Here's the breakdown of our three main areas of focus:

When it comes to dining, we didn't leave a single crumb.
We scoured the area for the top-notch restaurants and even broke them down by budget. Our restaurant selection process involved a bit of everything – we consulted renowned guides like the Michelin guide, read through Google reviews and Tripadvisor ratings, watched food and travel YouTubers' videos, checked out travel influencers on Instagram, and even peeked at the restaurants' official social media accounts and websites.
We considered everything from menus and prices to the variety of dishes, chefs, and customer reviews. We generally leaned towards local flavours but occasionally picked some international cuisine gems for their exceptional reputation.
Crafting these routes is where our boat and sailing expertise shines. Our Click&Boat experts carefully examined each route's feasibility and recommended the ideal vessel for each journey. We took into account factors like the region's geography, number of stops, total distance, the space between stops, the best times to visit, budget considerations, and boat availability in the area.
You'll find selections to accommodate both same-day excursions and more extensive 10-day adventures, with a range of options in between, providing flexibility for your preferences.
Whether you're a budget-conscious traveller seeking affordable indulgence, a mid-range explorer in pursuit of diverse cuisines, or a connoisseur with high-end tastes, we have a gastronomic odyssey tailored just for you.
Renting a boat can provide a wonderful experience without breaking the bank. Consider group rental as an excellent option, for example, where you and your friends contribute together to cover the rental costs, making it an accessible choice for everyone to enjoy a memorable trip.
Think of our curated maps and routes as your gourmet compass, offering flexibility rather than rigid instructions. Tailor your voyages to your individual preferences. Also, our advisors at Click&Boat are available to help you build a route that works for you. Get in touch with us and we will be happy to provide you with the most current information on sailing routes.
Hunger for more options? There are over 50,000 boats and more than 150 destinations on our platform. Anticipation is always key to finding the best option according to your project, so check all the options for boat rental all over the world today.