Share the post "Click&Boat's selection of mooring spots and marinas in Australia"
With a coastline stretching over 22,000 miles (the 6th longest in the world), more than 8,200 islands and innumerable bays and coves to explore, Australia is a boating paradise. Some moorings in Australia stand out for their beauty, modern facilities and sheer convenience for a yachting adventure.
Our favourite moorings in Australia
Here is a short list of our some of the best spots to moor when boating down under.
Thomson Bay,  Rottnest Island 
Rootnest Island, a small paradise just a few miles from Perth, is one of the most popular boating destinations in Western Australia, attracting over 300,000 visitors every year. It's home to the southern-most coral reef in Australia, as well as a rich marine life that includes dolphins, crayfish, sea lions and whales. 
One the best mooring spots here is Thomson Bay on the northeast of the island, offering you a majestic view of the Perth skyline. Naturally protected by reef, it is the ideal spot to moor and swim, snorkel or dive in the island's crystal clear waters. You will find here fuel and all modern amenities, but you will have to pay a fee to use one of the swing moorings. The island itself is a marvel to explore – highlights include the picturesque Wadjemup lighthouse and the West End, a rugged coastline and marine wildlife site on the west side.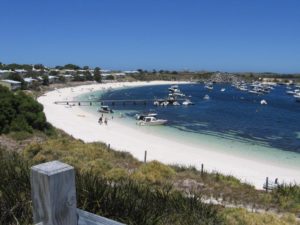 Butterfly Bay, Hook Island (Whitsunday Islands)
The Whitsunday Islands, off the northeastern coast of Australia, stand out for their proximity to the Great Barrier Reef, the world's largest coral system, stretching 344,400 km2. Uninhabited and blessed with lush vegetation, rainforests, and sandy beaches, the islands make an ideal destination for a weekend in paradise with a yacht charter from Airlie Beach, Queensland.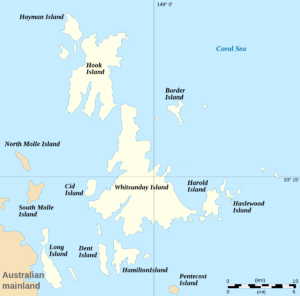 On the northern coast of Hook Island is located the stunning Butterfly Bay, a tropical heaven where you will find a number of public moorings – it may even remind you one of Thailand's exotic beaches. You have to be particularly careful when navigating its waters, as the the sea surface is covered with large stretches of coral rubble and the bay is the natural habitat of several reef fish species. Public moorings are demarcated by coloured buoys.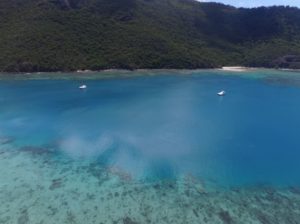 Fenwicks Marina, Sydney
Away from the hustle and bustle of the busy Sydney harbour is located Fenwicks Marina, a small, tranquil marina in Brooklyn, just an hour from Sydney. With 58 berths, it is an ideal mooring spot if you charter a small motorboat or sailboat in Sydney to enjoy the unique sight of the famous Sydney Opera from the sea.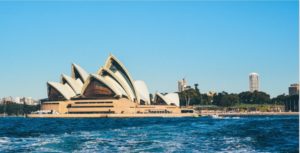 Queensland Cruising Yacht Club, Shorncliffe
Further north in Brisbane, you will find Queensland Cruising Yacht Club (QCYC) in the picturesque village of Shorncliffe, a popular meeting point for all boating lovers in the area. The atmosphere is tranquil and the view to Cabbage Tree Creek magnificent, while the marina is a great starting point to explore the Boondall Wetlands, Brisbane's largest wetlands, boasting an attractive combination of lush mangroves, salt marshes and forests, as well as a rich marine life. You can also explore another popular boating destination, Moreton Island, home to stunning beaches, dunes and diving sites.