Share the post "Escape the Cold: Top 4 Destinations for a Caribbean Winter"
Have you started to feel the days getting shorter? The mornings and nights a little cooler? Are you dreaming about white sand beaches, beautiful shorelines, and having fun in the sun? As autumn falls upon us, winter is not far behind. Get ahead of the cold and plan your Caribbean winter getaway! Here are our top 4 picks for this winter.
About a 3.5-hour flight away from Miami and 4 hours from New York, the islands of Antigua and Barbuda have a combined coastline of 95 miles. The country is home to various off-shore islands including Redonda, Great Bird Island, Guiana Island, Hells Gate, amongst others. Known for their lively food and drinks scene, these Caribbean Islands are definitely worth exploring!
The island of Antigua measures just about 13 miles across and is known for its white and pink beaches. This low-lying island is a perfect place for those seeking to sunbathe or go for a dip in the clear waters. For those seeking a unique deep-diving or scuba diving experience, Barbuda is just about a 90-minute boat ride away! Surrounded by protective reefs, Barbuda also boasts a large lagoon, nearly deserted beaches, and rich marine life.
Dickenson Bay

– when the last ray of sun disappears, Dickenson Bay is where you want to be! If you love the vibrant and lively nightlife, don't miss out on this spot!

Hawksbill

– here you will find four crescent-shaped beaches, one of which is perfect for those looking to have a nude sunbathing experience.

Rendezvous Bay and Doigs Beach – both located on the southern coast, these beaches are known for being quiet and provide a relaxing atmosphere to any beach-goer.

Half Moon Bay

– located on the east coast of Antigua, Half Moon Bay was voted one of the world's ultimate beaches and is now a national park.
With so much to do, we decided to shortlist a few locations we thought you'd find irresistible:
When searching for islands to visit, Turks and Caicos should be at the top of your list! This Tropical Atlantic archipelago, located 575 miles southeast of Miami, Florida, has one of the lowest annual rainfall averages in the Caribbean, and consequently a high number of sunny days and great weather. The environment of the Turks and Caicos is exceptional for water sports such as paddleboarding, kayaking, and kiteboarding. Also acclaimed for its exceptional scuba diving, Turks and Caicos has one of the best wall dive sites in the world! Take the plunge and be awed by the gorgeous coral reefs.
Once you're all paddled out, pack your beach towel and favorite book, and make your way to South Caicos! Here you will find stunning limestone beaches and turquoise water. Known as a low-key tropical destination, you are guaranteed to spend a memorable afternoon surrounded by white sand and the relaxing sound of palm fronds blowing in the breeze.
Located in the West Indies in the eastern Caribbean Sea and crowned by the twin volcanic peaks of the Pitons, Saint Lucia is known for its crescent-shaped beaches, rainforests, small fishing villages, waterfalls, geothermal attractions, and lush mountains.
The island attracts many different types of visitors:
Music lovers for the

St. Lucia Jazz & Arts Festival

.

Climbing enthusiasts who love testing their limits on the

Pitons

volcanic plugs.

Adrenaline junkies who go to zipline in the

Chassin

region's rainforest.

Hikers who are in search of the spectacular views the

Tet Paul Nature trail

has to offer. The highlight of this 45-minute hike is the "stairway to heaven", a set of steep stairs leading up to a 360-degree panoramic view.

Sunbathers looking to relax on the chalky white beaches and healing hot springs. A secret spot for the best relaxing beach moment is

Marigot Bay;

arguably the most beautiful bay on the island of St. Lucia.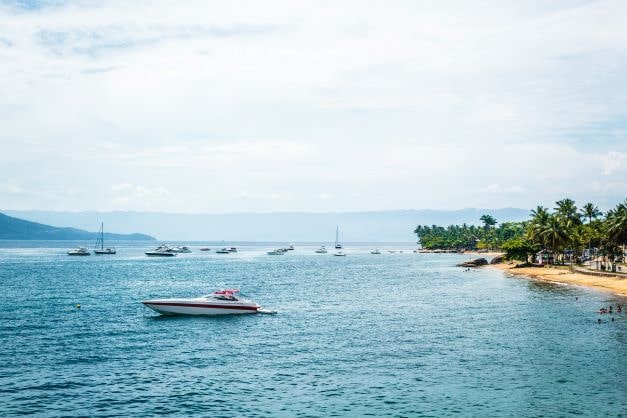 A winter destinations guide would not be complete without the addition of Puerto Rico! A small island off the coast of Florida, this unincorporated U.S. territory is known for its tropical rainforest, El Yunque, the landscape of mountains, waterfalls, rich culture, and all-around natural beauty.
For those looking to surf during their winter getaway, the west region of the island is known as the undisputed surfing capital of Puerto Rico, and the Caribbean. You can also find the best sunsets on this island's side! Grab your surfboards and head west!
On the opposite side of the island, to the northeast, you'll find three of the five known bioluminescent bays in the world. An incredible and rare phenomenon, where the water glows a stunning blue when agitated.
Our Caribbean fleets await you! Which Caribbean island will be your winter getaway?