Share the post "Sailing Through History: Exploring Greek Monuments by Sea"
So you've got your sights set on Greece for your next vacation? You are looking to sail the blue seas and go island hopping, but you also want to uncover its historical sites! Greece can provide both simultaneously and effortlessly with many Greek monuments accessible.
Unlike other locations, Greece offers a distinct advantage when it comes to visiting historical sites. The unique combination of rich history and accessible locations invites visitors from around the world annually. Check out our sailing itinerary here to see some of the best Greek monuments while also soaking up the Mediterranean sun!
Summertime in Greece
Greece has many different islands and bodies of water to explore on your boat rental. Greece is surrounded by three major bodies of water: the Mediterranean Sea, the Ionian Sea, and the Aegean Sea. With over 6,000 islands and islets, visiting Greece during its peak season has so much to offer.
Sailing in Greece comes with many different locations and perks. The weather in the summertime can range from a comfortable 75°F to a scorching 95°F. Visiting these Greek monuments from a boat is ideal, as the streets can be packed and very hot. While on your boat charter, there's always time to take a dip in the water and enjoy history.
Acropolis of Athens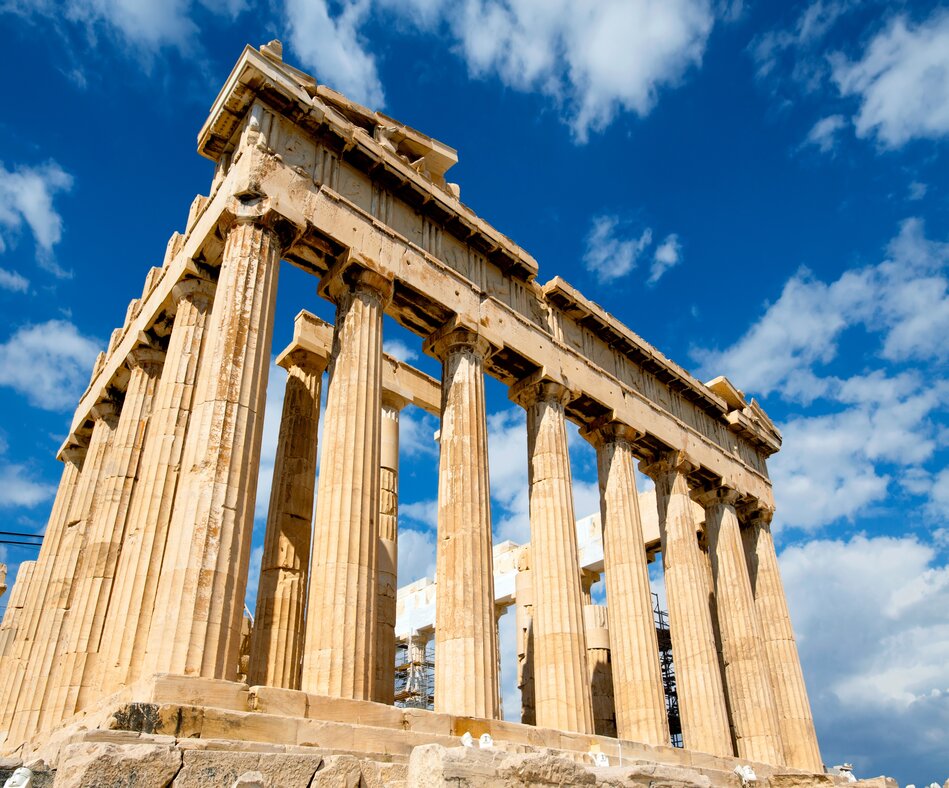 Your trip will begin in Athens, the capital of Greece, which is a boat rental paradise that offers a variety of vessels tailored to you. Choose your perfect boat, whether it's a sleek speedboat or a power-driven yacht, and get ready to sail into history.
In Athens lies the Acropolis, which is an iconic Parthenon, and holds a rich part of ancient Greek history. This magnificent monument dominates the city's skyline as it sits atop a hill. From your boat, you can catch a glimpse of the iconic Acropolis and admire the ancient marble pillars which still stand today.
No worries about the crowds; you can admire this ancient wonder right from the water. And when you're ready for a closer encounter, simply dock your boat and step ashore to explore the historical treasure trove. As you walk closer to the monument, take in the architecture and the stories etched into the stones around you.
Temple of Poseidon
The next destination from Athens is the southernmost tip of the Attica peninsula where Cape Sounion holds the famous Temple of Poseidon. This ancient temple is perched on top of Cape Sounion. What is most fitting is it pays tribute to the God of the Sea. Approaching this massive monument, you can truly sense the power it has had for centuries.
You can see the Temple of Poseidon while relaxing on Asimakis Beach. You also have the opportunity to get off your boat and get up close and personal. Or do you want to stay on your boat? Enjoy a swim with a historical scenic background as you feel the weight of history wash over you!
Delos Archaeological Site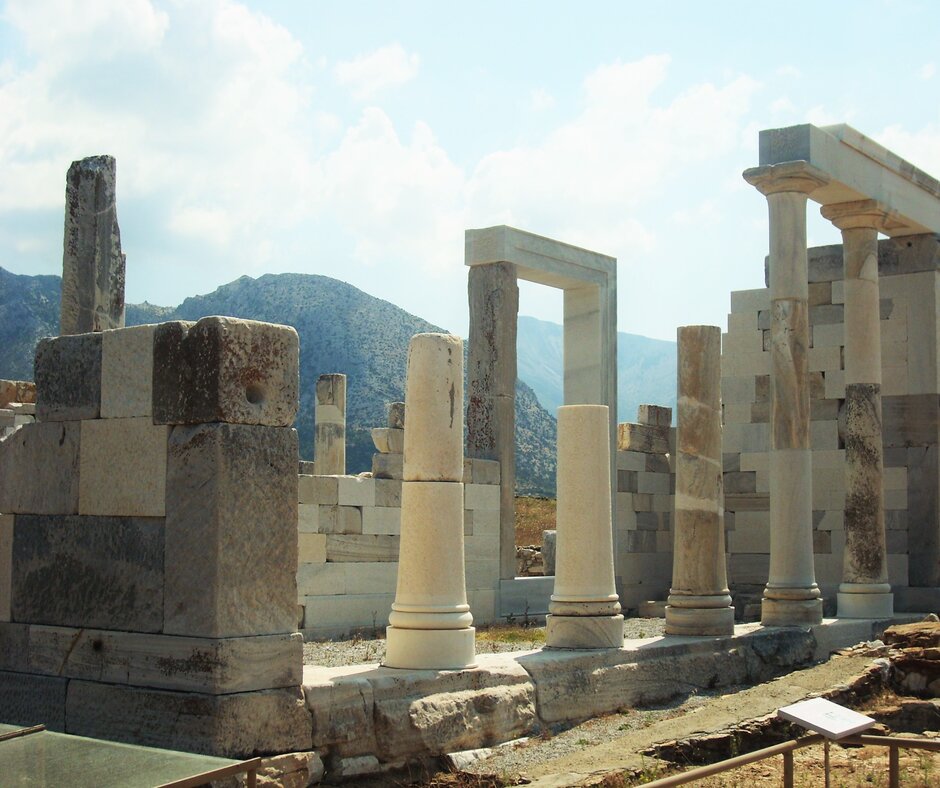 In the Aegean Sea, just southwest of Mykonos, lies Delos Island where the Delos Archaeological Site rests to this day. The extraordinary collection of ruins is a UNESCO World Heritage site, once the beating heart of ancient Greek culture and mythology.
Halved statues in the shape of animals guarding the secrets, fragments of history scattered about, and a theater that once echoed with the cheers of ancient audiences. Take a moment and imagine hundreds of people in attendance a couple of centuries ago in this same location. Breath in the history and be touched by this trip through the past.
Swim in the crystal-clear waters and admire this site from your boat, or dock and get a better look up close! Explore the ruins and let your imagination run wild as you wander through the remains of a civilization.
Rhodes Island Medieval City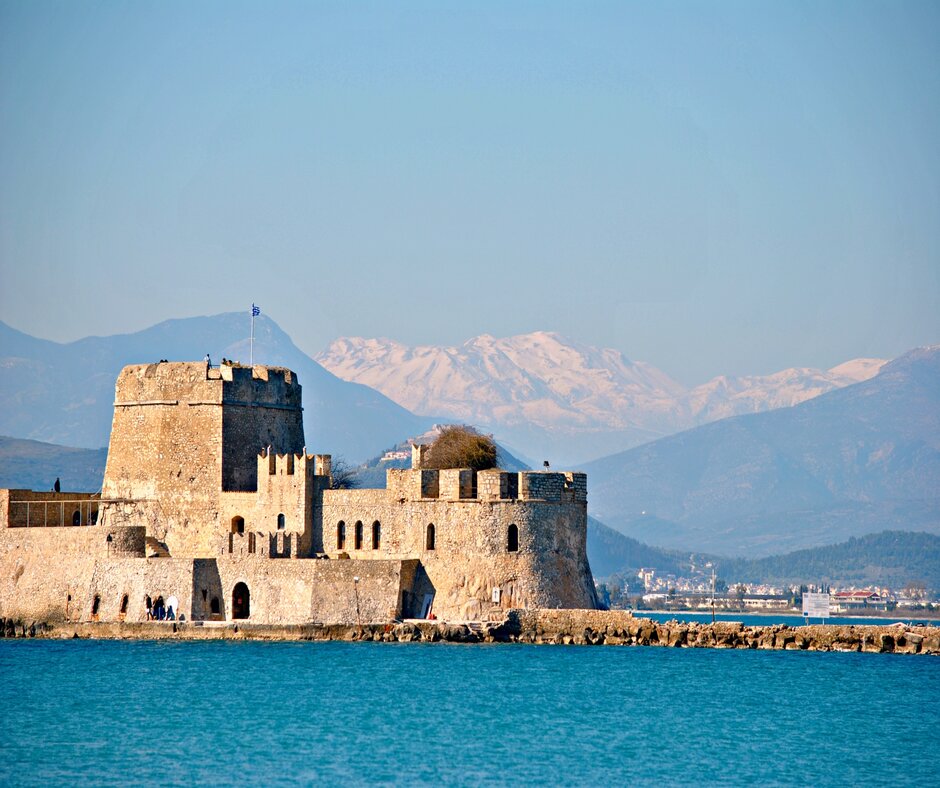 Hold on tight because our next stop is in the southeastern part of the Aegean Sea, where the Medieval City of Rhodes Island stands. Step into the medieval era and get lost in this well-preserved UNESCO World Heritage site. As you roam through the narrow streets, you can almost feel the people who use to live here and their whispers.
Dock your boat and wander through cobblestone streets, surrounded by centuries-old walls that hold ancient secrets. The big walls of this city tower above those who visit it, so we recommended docking your boat to fully explore this city. Behold the castles that still stand today, small alleyways, charming courtyards, and many other hidden gems await on this island!
Knossos Palace
The final Greek monument on our list is Heraklion in the southern part of the Aegean Sea, where the Knossos Palace remains. Heraklion is a lively city with a blend of history and modern flair, which proudly wears the title of Europe's oldest city. This destination takes us back to the Minoan civilization leaving behind labyrinthine hallways, courtyards, and ancient murals.
While here, enjoy Cretan cuisine, which is notorious for its famous cheese and traditional dishes. Knossos Palace is not so easy to see from your vessel, so this is another reason to explore the city a bit and drift from exhibits to historical spots to some of the best foods. Or, stay embarked on your boat rental and enjoy the city from the water as you pass by this historical gem.
Ready, Set, Sail into the past
From the iconic Acropolis to the ancient ruins of Delos and the captivating Medieval City of Rhodes, we've immersed ourselves in Greek history and culture. For a complete experience, find the time to pass each of these Greek monuments and relish in their beauty. Make more of your boat rental and follow this guide for a complete Greek boat experience. Let the echoes of history and the melody of the sea inspire you for your next vacation!