Share the post "5 Tips for a Carefree Sailing Trip with a Yacht Charter"
Summer is nearly here, and you are thinking of sunny places, sandy beaches and cocktails by the sea. For seasoned sailing enthusiasts, it's not difficult to pick their next destination. But if you are a bit wet behind the ears when it comes to the basics of sailing and you opt for a yacht charter, you might need some advice. Don't worry, we are here to offer you a helping hand. So here's a short checklist of things to do before setting sail.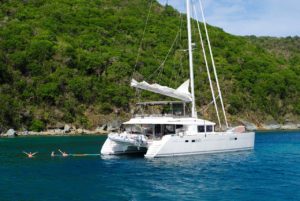 1. Pick your boat carefully
First and foremost, pick a boat that suits your needs. Catamarans for example are state-of-the-art and fast vessels with ample space for a big family. They are also ideal for long journeys, a week or longer, since they are built to withstand all kinds of weather. Yes, they are pricier than most other types of boats, with the exception of superyachts. But you can find bargains if you book one in advance, ideally not in high season, and in a destination that is not massively popular. P2p boating is 30% cheaper than traditional yacht charter, offering you the change to sail on the boat of your dreams. For shorter trips at the weekend, a motorboat or a sailboat would do. Just make sure that the boat you hired has enough space for you and your friends and has also been well maintained.
2. Find a modern marina
Pick a destination with modern docking infrastructure. The Mediterranean is full of wonderful places for a sailing holiday in the summer, but not all of them have marinas that can host your boat. Greece for example has hundreds of lovely islands, but only a few of them have big marinas that can host a catamaran or a big yacht. If you want to do an island hopping trip in Croatia's archipelago or the Cyclades Islands, make sure that you know in advance your route, particularly the marinas where you will be able to dock your boat. In some cases you may have to notify the local authorities in advance and book a place, so do your research before setting sail.
3. Make the trip easy for your best friend
Pets can be good company onboard. However, they have their needs too. Dogs have to be walked regularly and therefore have to get off the boat. If you set on a sailing journey abroad, you will also need to deal with the inevitable red tape for animal import. In the EU you can travel with your pet hassle-free if you get a European pet passport. To acquire it, you need to make sure that your dog has taken the relevant vaccines and antibiotics, and has gone through tests by certified vets (for more information check with specialist advisers). It's also useful to have it equiped with a microchip tracking its health and store heartworm and  tapeworm medication. If you opt for a yacht charter, make sure that the boat owner and the skipper are comfortable with the presence of your pet on the boat. Onboard, make sure that your dog wears a harness to avoid any accidents, and when the weather is rough a lifejacket too. Last but not least, don't forget to have some pet toys handy so that your dog or cat doesn't get bored. You don't want them messing with your boat's sails!
4. Get local currency early
If you are travelling to a destination in the Med from a country out of the Eurozone, make sure you get some local currency in advance. In case you need to exchange pounds or dollars to euros, avoid at all costs bureaus de change at airports and popular tourist areas – they will charge you a hefty (and often hidden) commission and offer an extortionate exchange rate too. Check with your bank and compare prices with your local post office, which in most cases will offer you the best exchange rate. If you are tech savvy and have bank accounts in more than one countries, you can try p2p money transfer websites such as Transferwise and Currencyfair. Online banks such as Revolut and N26 also offer you the choice of setting up an international bank account without any substantial charge, including a bank card that you can use to withdraw money in most European countries.
5. Pick the right skipper
Safety comes first. If your sailing skills are not advanced yet, make sure that you book a boat that comes with a licensed skipper. Many countries require skippers to have a type of nautical CV that explains in details their skills and experience with specific types of boats. When you book a yacht charter on a p2p platform you can easily check reviews of a vessel and its skipper and make your choice accordingly.
Enjoy your trip sailor!