Share the post "An unforgettable sailing adventure in Brittany"
As its name implies, Click&Boat is all about…boats! So what's better for our team-building weekend than a yacht charter and an epic boating trip to a place of renowned sailors, like Brittany?
The plan was to visit sunny Hyères in Southern France, but the weather didn't agree with us. Plan B was equally exciting though: Brittany, the land of breathtaking landscapes and awesome beer. So we hired five beautiful sail boats and a semi-rigid in Crouesty and set sail for a unique adventure that included sailing, fun and just a bit of alcohol – but not too much.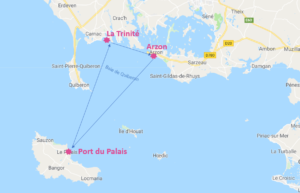 Friday: Departure to Crouesty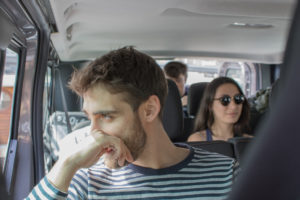 The sun was shining when we left Paris, so the team left its coats behind and drove to the port of Crouesty, a gateway to the bay of Quiberon and the perfect place for a yacht charter if you are in Brittany. Upon arrival, we had a fun Friday out and about at a local club to decompress from a busy week at the office. On the dance floor, the Click & Boat team really rocks – the boat and everything else!
Saturday: Arzon-Belle Île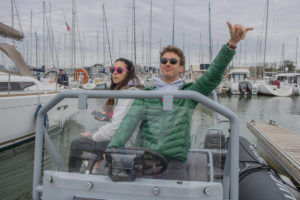 The club was amazing, but early in the morning everyone was on deck to enjoy our boats and set sail for pastures new. For this nautical excursion in Brittany, our fleet, booked through a yacht charter, included exclusively sailboats: Bavaria 50, Oceanis 40, Dufour 410 Grand Large, Sun Odyssey 449 and Sun Odyssey 389, all ready to sail to Belle-Île. There was music and all, and the steady hand of our seasoned captains at the helm. They were all happy to explain the basics of sailing to the neophytes of the team and even pass them the helm in some cases. In just four hours we reached Belle-Ile (the 'beutiful island'), a paradise on earth that definitely deserves its name! As for food, the dinner (cakes and cider, because…Brittany) was more than delicious.
A sailing trip without a wifi connection can be a challenge for a bunch of millennial digital natives who can't live without their smartphones. But we managed to stay connected during our adventure in Brittany courtesy of CC Crane, a US crane manufacturer. We used a CC Crane vector long range wifi repeater system antenna, an 8dbi vertical outdoor wifi antenna and a super USB wifi antenna 3 to stay connected – they were all easy to use and ideal for long range reception in the harsh weather of Brittany!
Sunday: Belle Île – La Trinité-sur-Mer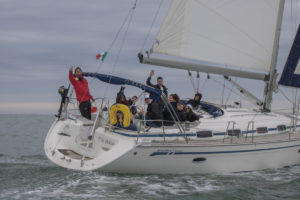 A good night's sleep and off we went to Trinité-sur-Mer. Our drone captured an aerial view of the boats – a valuable souvenir for the future. Well, the weather didn't play along, but which sailor says no to the challenge of taming troubled waters? Not us, obviously. But it was time for a bit of edge. The boats lined up and a mini regatta made us all feel a bit competitive, with mastery of the genoa sail being the key to victory. Onboard, all languages were spoken: un po Italiano, troszkę Polish, un poquito Spanish, ein bisschen German, ligo Greek, the inevitable dose of English and of course Francais: we are a company of all stripes and colours after all. Near the end of the day we approached the port of Trinity, where Thomas Coville's maxi-trimaran looks like a king on his throne – real eye candy for sailing lovers, but unfortunately not available for a yacht charter! There we landed on the sacred ground of Brittany for another evening full of fun. The party was in full swing when our co-founders Edouard and Jérémy took the opportunity to remind us how happy they are to work with such an inspiring team.
Monday: La Trinité-sur-Mer – Arzon – return to Boulogne-Billancourt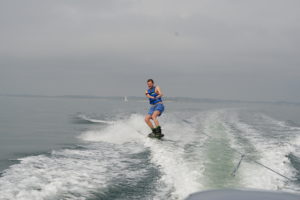 Well, unfortunately we had to waive goodbye to Trinite and return to Arzon for the last leg of this long weekend. But not without a quick fishing competition. And you know who won? The fish! None of us was able to catch a single mackerel…At least we tried our hand at water sports – paddling for Thomas, wakeboarding for Aymeric. And that was it. We refueled (our friend Alex likes his engines a bit too much), cleaned up the boats and met for a last picture before heading home.
It was a refreshing weekend, so we are now ready for an amazing high season.
Until next time!