Share the post "Hervé, a Sunbrella Marine Partner: "Everything starts with the boat!""
The human element first. Behind global expertise, there are always fascinating characters. This is the case of Hervé Ondedieu, whose heart beats with passion for his native town, La Ciotat, France. As a  member of the Sunbrella Marine Partner (SMP) network, he uses all of his knowledge to satisfy boat owners looking for complete refits, simple improvements to the upholstery, and much more.
Here is Hervé's interview with Click&Boat. 
Hervé, have you always had a connection with the boating industry?
I am a former marine mechanic. In particular, I worked in a Yamaha outboard motorboat dealership in La Ciotat, one of the first dealerships at the time in the Bouches-du-Rhône.
In 1999, I took over the business with my wife and we are still on board at the La Ciotat marina. I've known about Sunbrella all my life, the products were always well distributed and it still continues to evolve in the right direction. At the same time, I am also working in the Tourism Office, so yes, we're well on board (laughs).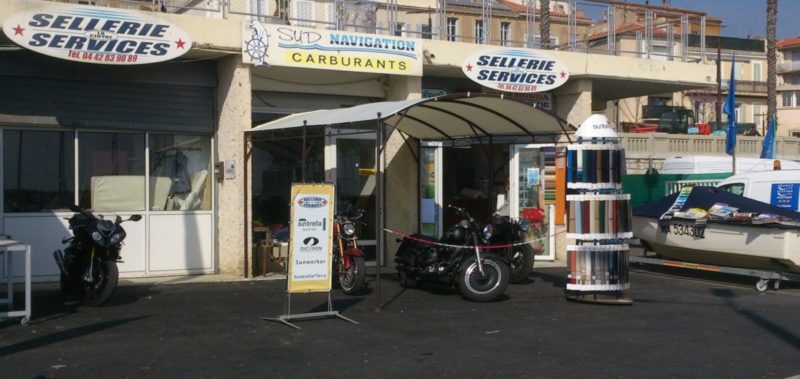 What are the main motivations for a boat owner to come and see you?
The reasons range from boat maintenance to home improvements. Boats need to be well protected– whether it be with a winter cover, a console cover or something else. UV rays are becoming more and more aggressive, especially in the south. Accelerated wear and tear needs to be avoided. 
We work on a lot of different things. We make pergolas, covers, sun awnings, different ranges of outdoor linings and much more. Using Sunbrella reassures our customers, guaranteeing them that we are using high quality matierals. 
This season we have introduced the Sunbrella Horizon, a new synthetic leather that has been attracting many new faces. We work as much on small boats in Marseille as on a large yachts. Often, many of the clients who are satisfied with our work, ask us for services for their homes, cars, or related to their professional activities.
Everything starts with the boat!
Behind the SMP, "all about manpower"
How does Sunbrella ensure customer satisfaction through the SMP network?
Behind the entire Sunbrella Marine Partner organization is a huge workforce. Our goal is to ensure that our fabrics last for years and guarantee the best possible performance in terms of strength and durability.
The main point is therefore we have a peace of mind about the raw materials we are using. And a double peace of mind: ours and the customer's
In the past before using Sunbrella materials, I would have clients come back to me upset because the materials used in refits or other projects were not durable- after only two years! The underlying idea is that our clients rather invest more money in the beginning on quality materials with the reassurance that it will last.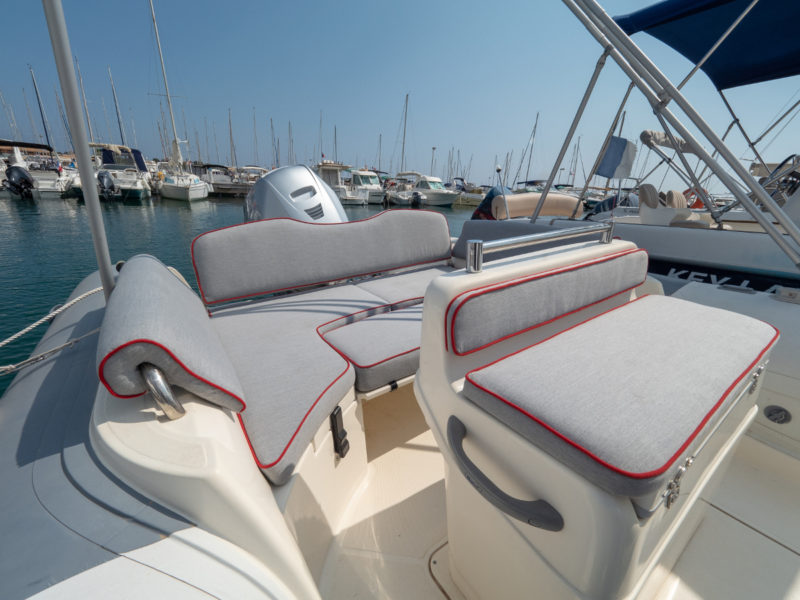 What are the advantages for those who join the Sunbrella Marine Partner network?
Sunbrella team members are attentive and responsive. A good example of this is the continuous collaboration guaranteed even in a moment of crisis like the one we are experiencing due to the Covid-19. My workshop has been moved to my home, and they were able to directly send me all the products necessary so I can continue to keep working.
In order to meet the needs of the owners, we are receiving numerous brochures, samples and even explanatory films on the materials. While the network meets once a year to catch-up and discuss the different sectors we work in, we remain constantly in contact to share important news and information. 
As a native of La Ciotat, do you have any recommendations for Click&Boat boaters?
Recently, La Ciotat was voted one of the most beautiful bays in the world. However, this is no coincidence as the gulf is simply magnificent. I won't reveal my favourite fishing spots (laughs), but if I had to recommend an anchorage, it would have to be at The Green Island. It is a little spot sheltered from the wind, and very peaceful, and has a nice little restaurant! It's perfect.