Share the post "On holiday with children, aboard a catamaran!"
Do you think it is too complicated to plan a holiday with children? Click&Boat offers you a simple and original solution: how about spending your next trip aboard a catamaran? Safe and stable, this boat is a great way to spend a few days in a unique way and have fun with the family!
Whether the departure is scheduled in summer or winter, there is nothing better than a few relaxing days on board with loved ones. Of course, traveling with children requires a little more organization, but the rewards will be worth all the effort.  
To better understand and organize a week (or more) of catamaran sailing with your family, Click&Boat has prepared a list of useful tips.
Ready to discover it? 😉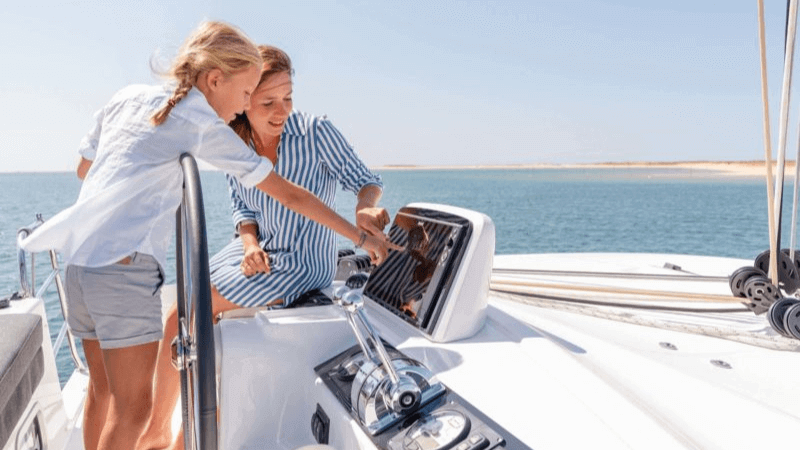 On holiday with children: so much to enjoy on board a catamaran!
Why organize a family catamaran trip? 
What better solution than a boat to get away from the noise of the city and let yourself go to the rhythm of the wind? If you are looking for a unique way to spend a holiday with children, all you have to do is come on board!
Forgetting the daily routine and giving way to new habits will be an adventure that will involve the whole family, creating the perfect opportunity to have fun together : a few dives in the sea, cooking on board, playing on the bow nets or relaxing in a sunny bay, are daily actions that will improve everyone's mood!
Renting a catamaran is also ideal for nature lovers : you will live in permanent contact with the sea, wild coasts, schools of fish and dolphins… Furthermore, when you feel like it, you can take a nice refreshing dip together and enjoy precious moments together.
Due to its dual-hull design, the catamaran is able to accommodate up to 12 people on board, therefore designed for comfortable family navigation. This boat is also designed for outdoor living, thanks to the numerous sunbathing areas, the bow nets, and the many spaces ideal for stowing surf / windsurf boards, paddle boards, kayaks and much more.
Are you looking for some inspirational destinations to discover aboard a catamaran? Check out the Click&Boat's guide to some of the best beaches in Europe for catamaran charter.
What is the most suitable type of navigation?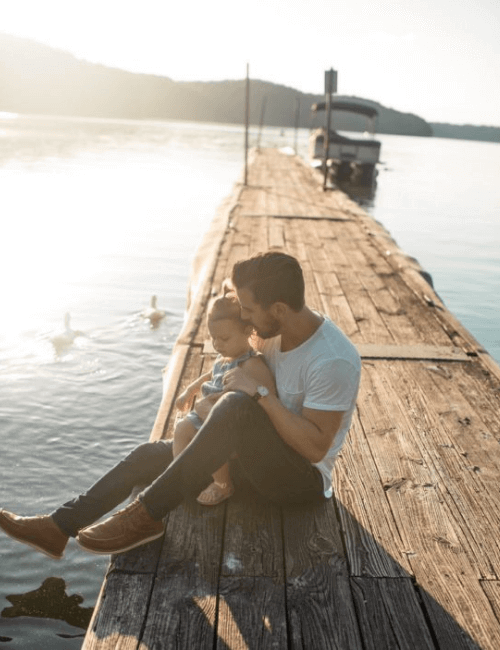 Among those who do not yet know how to swim, those who suffer from seasickness and the true sailors of the family, the catamaran is once again the best choice to come on board in with total serenity. The great stability and safety, as well as the large indoor and outdoor spaces, are the joy for parents, who can offer children a real floating playground for the duration of the trip.
However, depending on the age of the children, you will have to adapt the speed and the navigation plan. With the little ones, it is advisable not to undertake long trips , but to prefer short trips of a maximum of 2 or 3 hours a day. 
The ideal choice? Sail along the coast to destinations where the climate is mild and the water temperature is pleasant, such as Sicily or Sardinia , or Tuscany , where you can moor in peace and take a stroll on the mainland.


What is the typical day of a catamaran holiday with children? 
Everyone has their own ritual to start the day well. There are those who, on a catamaran, cannot get off to a good start without a quick dip when they wake up before having breakfast in the first rays of the sun. This can be followed by a short sailing, during which the children can learn to become real sailors.
Why not some days head back to the mainland for a walk or a picnic on the beach . And the afternoon program? (after a nap for young and old) Swimming, snorkeling, bike rides or a bit of relaxation on the sofas of the boat… Finally, the parents' favorite moment arrives, the evening drinks and the family dinner!
Here are some activity ideas to keep children entertained aboard a boat:  
Inflatable floats
Diving competition
Logbook to be filled in every day
Card games
Coloring pages 
Practicing origami: paper boats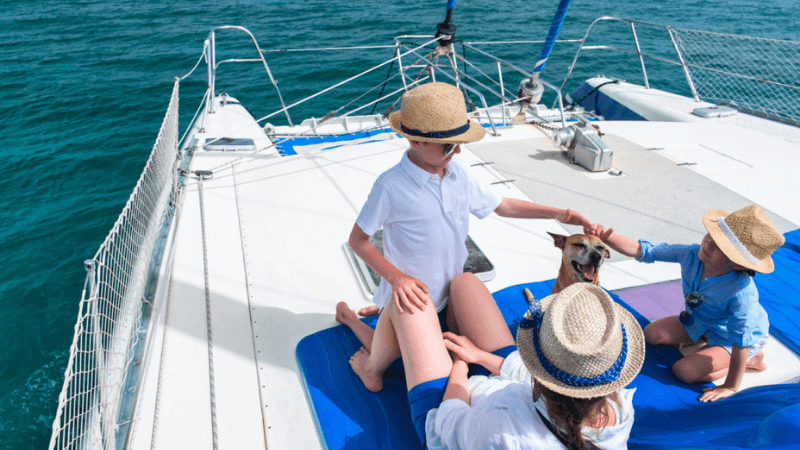 Don't have a boating license or sailing experience? 
No problem! You can choose to rent a catamaran with a skipper, and let an expert not only guide you safely during all your holidays, but transmit passion and knowledge about the sea and navigation! 
The option of sailing with a skipper is also the ideal option if you want to organize a carefree holiday and make the most of every family moment.
Why don't you take a look at the fleet available on Click&Boat? A new family adventure awaits you behind the next click! ⛵