When you think of Egypt you're probably more inclined to think about deserts or pyramids than beaches, but Egypt is a fantastic destination for a beach holiday. One of the most up-and-coming destinations in Egypt is the stunning coastal city of Hurghada, a former fishing village turned thriving travel hub. Hurghada is nestled between the celebrated Red Sea and sprawling desert sand dunes, creating a striking natural juxtaposition and fascinating landscape. If you're looking for a unique place to discover on your next sailing holiday, visit Hurghada! Cruise through the Gulf of Suez to see the iconic pyramids in Cairo, swim with dolphins in the natural park of Giftun Island and visit the impeccable Hurghada beaches.
Why is Hurghada famous?
Hurghada is well known for its stunning beaches that straddle the Red Sea and are some of the best beaches in Egypt. It's also popular with scuba diving enthusiasts as it's home to some of the world's finest dive sites, abundant with marine life and coral. Combine this with Hurghada's warm and sunny weather and it's no wonder why it has become one of the top destinations for a beach holiday.
What is the best month to visit Hurghada?
Part of the reason Hurghada is so popular for beach dwellers is the weather! It is warm and sunny year-round, with an average temperature of 27°C, perfect for cooling off in the sparkling, Red Sea. The best time to visit Hurghada beaches is from March to May and September to November. At this time you can expect warm weather and little rain but it won't be scorching hot like in the summer months!
Are there free beaches in Hurghada?
There are no free beaches in Hurghada. Even though some Hurghada beaches are considered "public", there is always a fee to enter the beach. Depending on the beach, the fee can range from 20 to over 200 Egyptian pounds, around one to ten euros.
What are the best beaches in Hurghada?
Hurghada beaches are some of the best beaches in Egypt, with crystal clear water that is rich with marine life. There are more than fifteen beaches in Hurghada. Some beaches are public and others are private or part of a lavish resort. The public beaches are very popular with Hurghada locals and can be quite crowded, especially during public holidays. Although private beaches are more expensive to enter, they tend to be less crowded. They also have many amenities for hire to make for an unforgettable beach day! Here are some of the best Hurghada beaches to visit while on a sailing holiday in Egypt. 
Sahl Hasheesh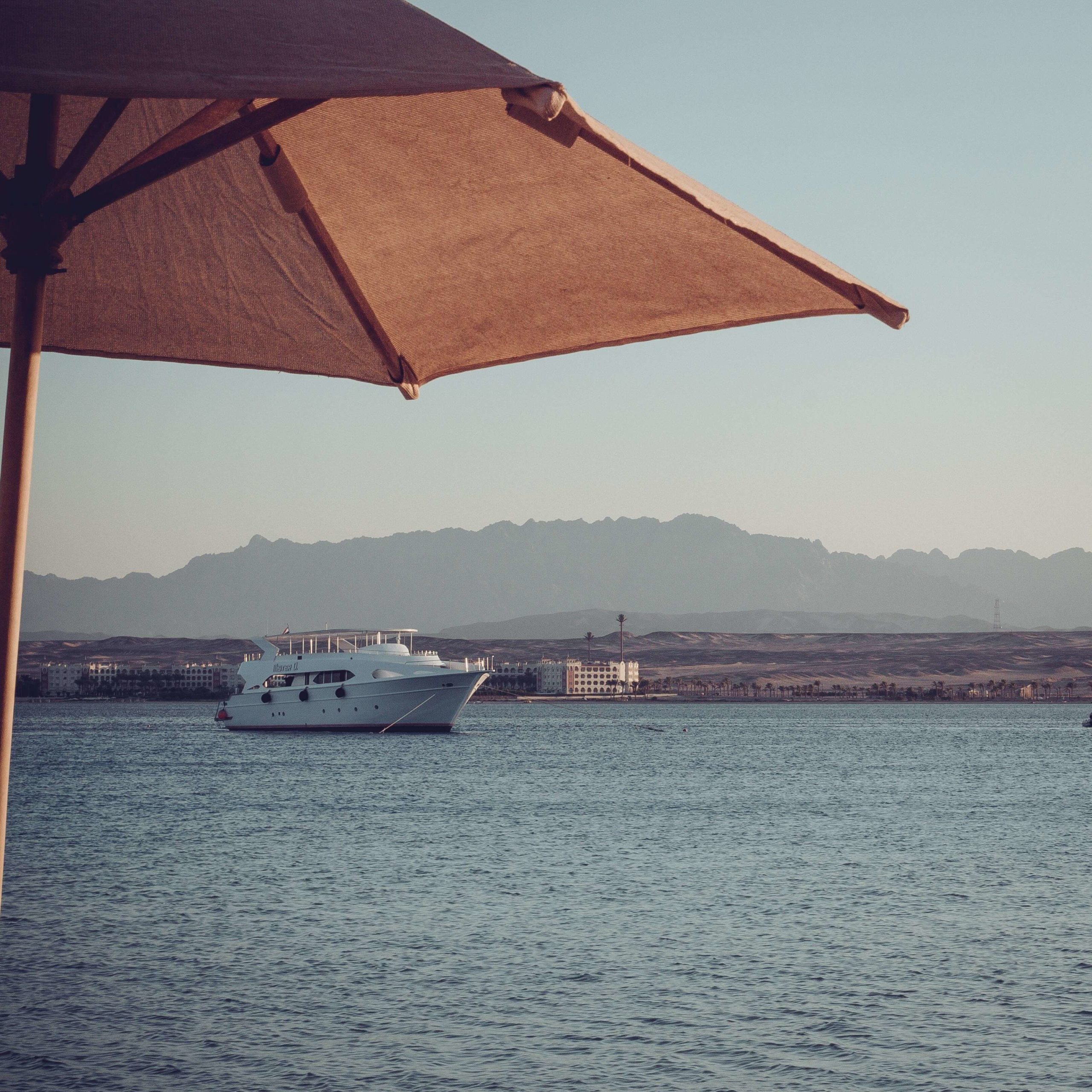 There's a reason why Sahl Hasheesh Beach is often regarded as Hurghada's most spectacular destination on the Red Sea. Not only is it pristine, but it's also full of various amenities and activities to enjoy. This tropical beach is perfect for swimming since it remains relatively shallow for a long distance offshore.
Along its 12.5 kilometres of coastline, you'll find a curving pier that is popular with anglers. This is the setting for the most exciting competition on the Red Sea: the Annual Sahl Hasheesh fishing tournament. This beach also serves as the centre stage for other live entertainment events. Some events include motor festivals, equestrian championships, art expositions and buzzing boardwalk beach parties with live DJs. 
If that's not enough to keep you entertained, Sahl Hasheesh is the best of the Hurghada beaches for water sports enthusiasts. The combination of good visibility and calm water currents make it an ideal place to practise water activities. You can find people windsurfing, kitesurfing and parasailing on the water. But without a doubt, one of the best things to do in Sahl Hasheesh is to dive to The Sunken City. Conveniently located next to the pier sits a partially submerged replica of the Temple of Horus. This is a perfect spot for shallow-water diving and snorkelling. 
One thing is for sure—you'll never be bored at Sahl Hasheesh Beach!
Makadi Bay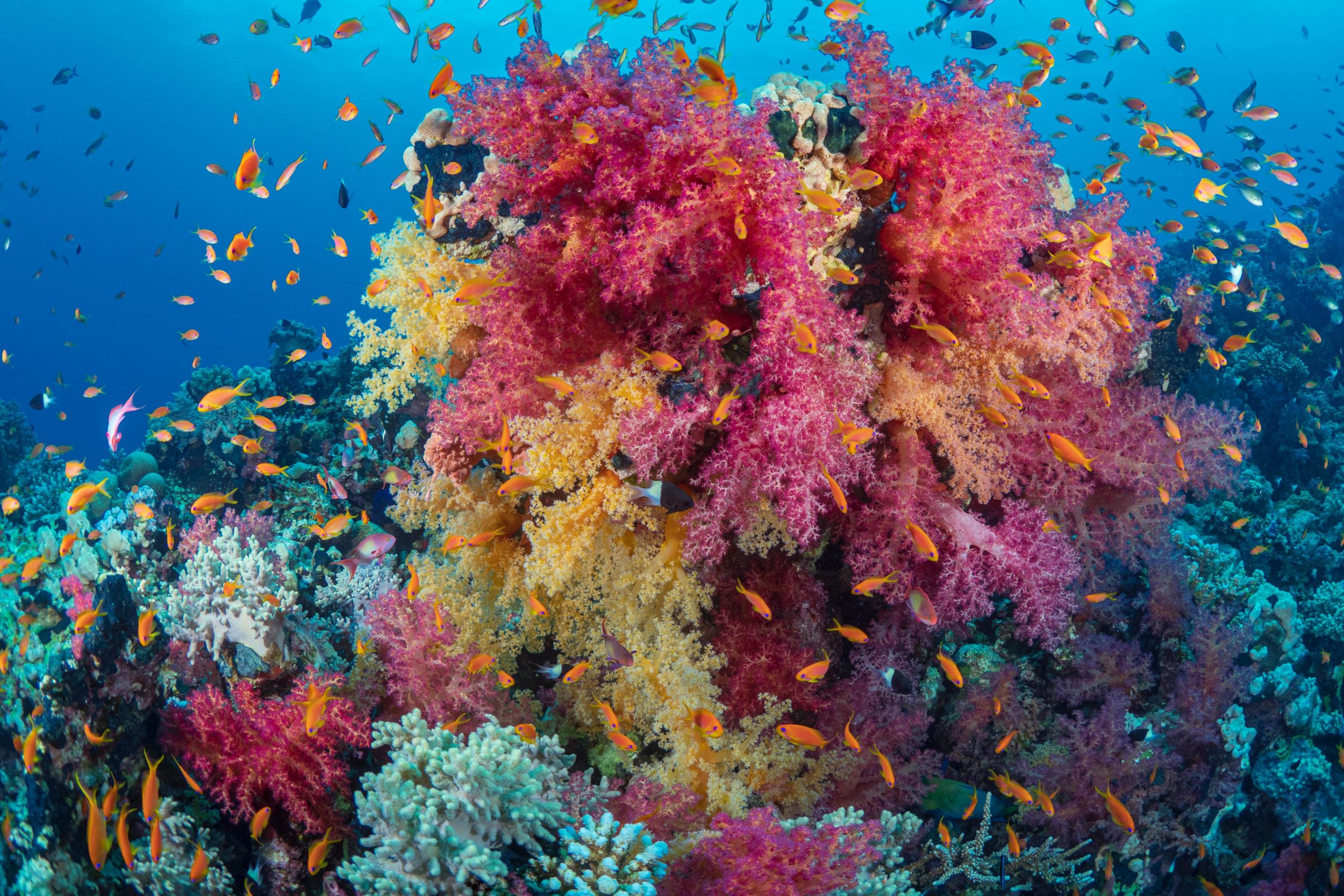 Just south of Sahl Hasheesh sits Makadi Beach, located in a neighbourhood of Hurghada known as Makadi Bay. This modern seaside resort hugs the Red Sea Riviera and is famous for its soft, white sand and exquisite reefs. Makadi Beach has a much more relaxed atmosphere than other Hurghada beaches and is great for sunbathing and going for a dip.
Makadi is one of the best beaches in Egypt for scuba diving due to its extensive fringing house reef which stretches the length of the bay. Divers from around the globe come to Hurghada to sample the dive sites in Makadi Bay. Abu Hashish or "Father of Grass" is a diving spot for all levels. Novice divers can explore the sandy seagrass lagoon while more experienced divers can plunge off of one of the drop-offs sprinkled with underwater caves. While swimming through these intricate rock formations you're likely to encounter pelagic creatures such as the mysterious eagle ray.  
Another popular dive site is Gota Abu Ramada, otherwise known by its nickname "the Aquarium." Plunge to the depths of this oval reef and bear witness to the impressive coral garden which is rife with marine life. While swimming, you'll begin to understand why this site is called "the Aquarium". See schools of fish such as the barracuda, butterfly fish, tuna, blue spotted rays and even sharks!
If you're not keen on diving there are still many things to do in Makadi Bay. Sail, or stroll around Griftun Island National park.  For more adventure, go for a camel ride along the sand dunes! Finally, you can swim and snorkel in the clear water to search for dolphins in their natural habitat.
Mahmya

Also located on Griftun Island, Mahmya Beach is known as one of the prettiest Hurghada beaches. It's actually so pretty that it's a protected area. If you're looking for a beach holiday with a Caribbean feel, this is the closest you'll get. Mahmya is characterised by its immaculate white sands and crystal-clear water. Although Mahmya is a public beach, it is often referred to as VIP Beach, since it has been known to attract top-class visitors and it can feel quite exclusive since it is only accessible by boat.
There's so much to do in Mahmya. Swim in the virgin blue water and snorkel to see colourful fish and reefs. While in the water keep your eye out for playful pods of dolphins that are often wading in the wake. If you fancy a bit of exercise on land, you can play beach volleyball or sand football. You can also sail around the island to observe its various islets and coves, many of which are unspoilt and secluded. Enjoy the simplicity of untouched nature at Mahmya, the best of the Hurghada beaches for relaxing by the seaside!