Renting a boat for a day trip or for a week-long sailing vacation can be fun, but saying goodbye and leaving your pet at home can be hard. So why not bring them on board? Boating with pets is a fun and unique way to bond with your loved ones. Bringing your dog or cat on the boat can make for a perfect day on the water!
If you decide to go boating with pets, it's essential to pay attention to pet safety tips. Even if your pet enjoys boating and is a star swimmer, it is important to always be prepared. Follow these seven tips to ensure that you and your fur babies have a safe and fun time on board.
1. Make sure they are comfortable with the water
Before sailing off on your boat adventure, it is important to ensure your pet is comfortable around water. Bring your pet around a pool, the beach, or any form of water to ensure they enjoy it.
It's also vital that your pet becomes comfortable with the boat before leaving the harbor. While the boat is docked, let your fur baby explore the boat and get used to its surroundings. Also, make sure to take your pet on a short boat ride not too far away from the harbor to allow them to get used to the noise of the engine and the motion of the boat. The last thing you want is an anxious pet while away from the harbor, whether it be from the water or the boat.
2. Buy a life vest
No matter if your pet is an expert swimmer or not, it's important that you have a dog life jacket or pet flotation device. When out at sea, the tides can get strong and it can become difficult to stay afloat if they fall overboard, even for a strong swimmer.
Make sure that the life vest fits your pet properly and is not too tight or too loose. You can find these at your local pet store, at online pet stores, or on Amazon. Have your pet wear a life jacket if they are not a strong swimmer or if the conditions become rough. A floating leash can also be a helpful item to add to your cart.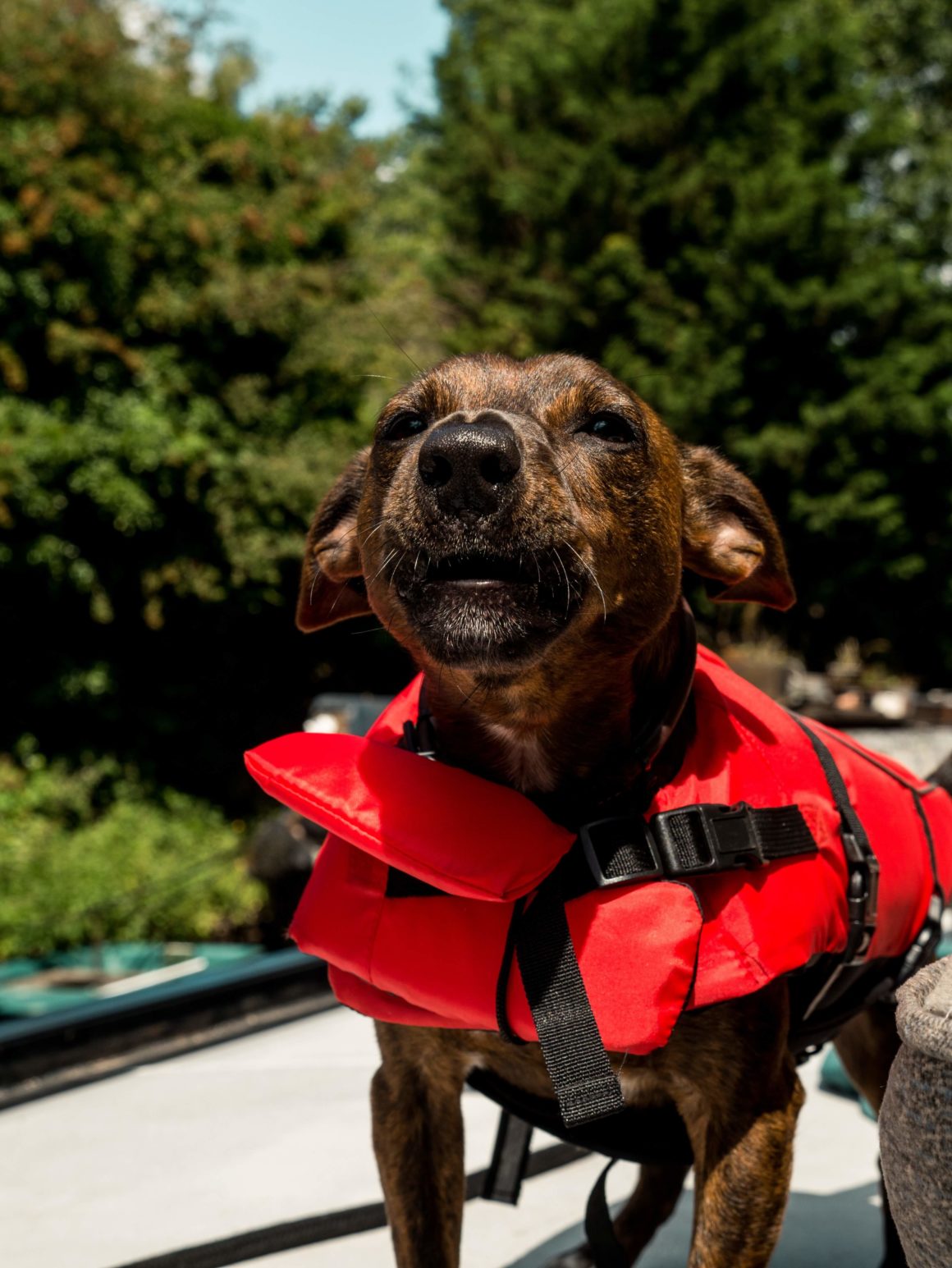 3. Bring lots of water
When boating with pets, do not forget to bring plenty of fresh water for you and them. Even if you are sailing on a lake or river, they can have bacteria that might be harmful to your pet. Make sure that they have access to clean water and snacks throughout the day.
4. Pay attention to the deck temperature
During the summer months when temperatures rise, it is essential that you keep an eye on the temperature of the deck. Your pet's paws can burn if the deck gets too hot. This can be avoided by ensuring that they have access to shade on a hot day or by having them wear shoes. Shoes can also protect them from any sharp rocks, coral, or debris. A general rule is that if it is too hot for you to be barefoot, then it is too hot for your pet.
5. Plan potty breaks or bring waste supplies
If you are planning to be on the water for an extended period of time, it is important to create a plan to allow your pet to relieve themself.
The first option is the bring waste supplies to avoid a mess. You can use plastic bags, puppy pads, or newspapers to allow space for your pet to do their business.
The second option is to plan stops so that your pet can have potty breaks on land. It is still important to bring bags to clean up after your pet.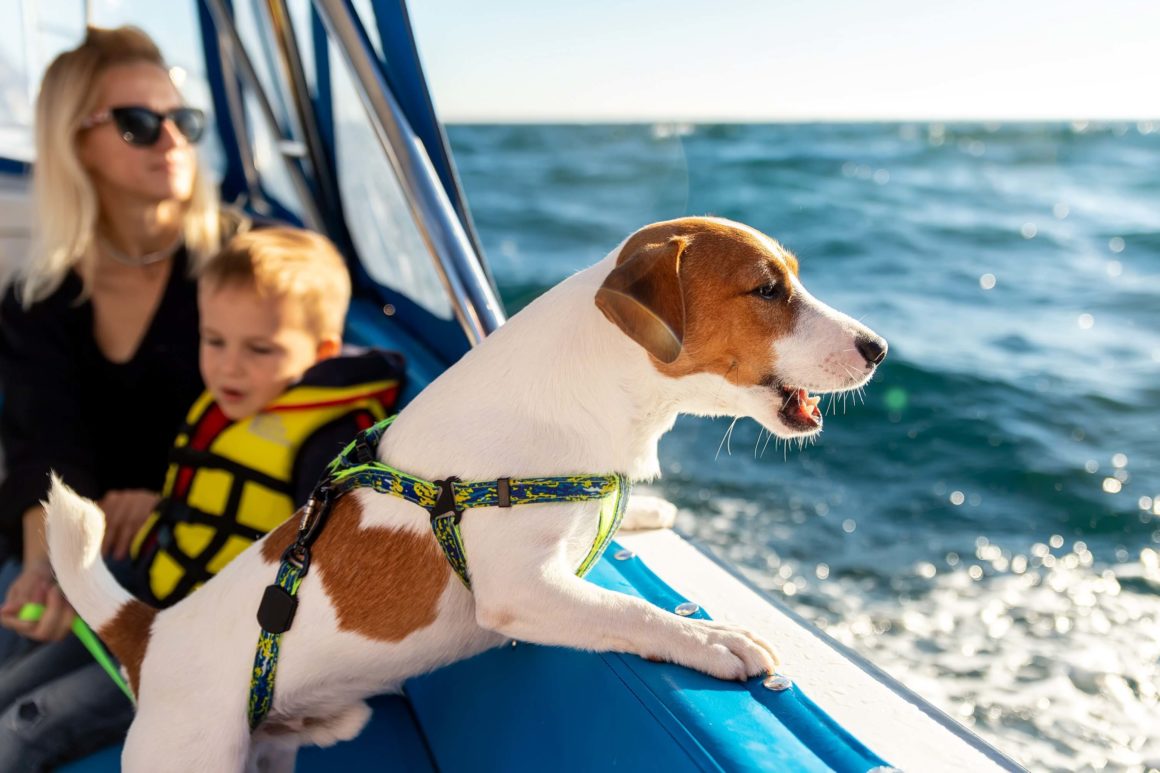 6. Bring a leash or harness
Having a leash or harness can be helpful to ensure the safety of your pet. Your pet might happen to see a fish or go for a spontaneous swim and having a leash or harness can prevent them from going overboard when you are not prepared.
It is also advisable to pay attention to the local laws as some countries require that your pet has a leash on at all times when on a boat. As mentioned before, it is possible to find a floating leash for extra convenience and safety.
7. Have an emergency plan
Finally but potentially most importantly, create an emergency plan. Make a plan for what you will do if your pet falls overboard, the conditions get rough and they get anxious, they get sick or hurt, and more.
Remember to not jump in the water if your pet does fall overboard. This is where having a life vest or leash is extremely helpful. Additionally, having a pet first aid kit on board can help with any injuries or sickness.
Take a boating vacation with your pet
If your pet loves boating, swimming, and being surrounded by water, then there is no better way to enjoy your sailing vacation than bringing them along with you! It is a good idea to follow these tips to keep your pet safe to ensure the best time possible when boating with pets. So get ready to create lasting memories with your furry friend as you set sail to your dream destinations.