Share the post "How to improve your boat listing and revenues with Click&Boat"
We can agree that 2020 was a special year for all of us but to end it with nice energy and positive thoughts for 2021 at the beginning of December for the first time in history, Click&Boat has organized its webinar to help our owners to perform better on the platform, boost their revenues for season 2021 and improve their boat listing and if December was a busy month for you because of closing this turbulent and special year, writing new year's resolutions, thinking about the Christmas lunch menu or you were just in the middle of something else there is no problem, scroll down and get more detailed information.
Tips and tricks for a better boat listing in your account
Your profile is the first thing clients see meaning, "Your profile is your "exposition" and in order to give them the best first impression, there are several tricks you can use to give a more friendly approach. Insert a real photo of you as a profile picture in order to inspire trust, so clients can see with who are they exchanging messages and from who will they eventually rent a boat. Another thing you can do is to write a short profile description about yourself or your company: How many years you've been in the business? Where are you located? Which languages do you speak?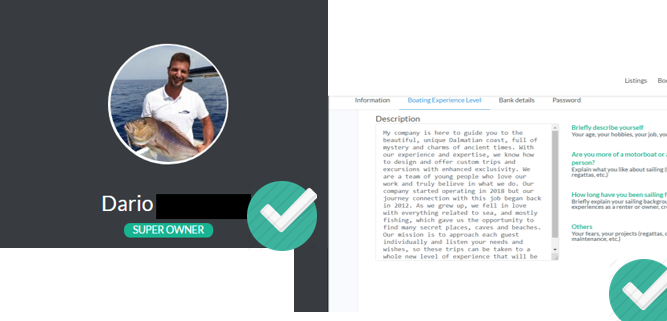 Your pictures are your "vitrine" and it is always better to have original vs. catalogue pictures: never chose a catalogue picture. According to our research, we noticed that ads with original pictures receive on average +30% of requests. Once you upload original photos be sure about the quality and order of pictures. The first picture should show the outside of the boat while in navigation, always in a horizontal format.

Your description is "your novel" and it should be unique for each ad in your fleet. We suggest a minimum of 150 words per ad. When you are starting writing the description always focus on the title: Chose a title that contains boat brand, model + sailing destination ("Welcome on this Bavaria 40 in sunny Hvar" "Rent brand new Merry Fisher in Paros"). Tell us a story about your boat: How many people can fit onboard? How are the cabins distributed? Describe your sailing destination like Greece: where is your boat located? Which sailing itineraries do you recommend? Have all this in mind by using words connected to the nautical industry for better positioning on Google.
The equipment of your boat is really important for renting a boat over a platform. You want to be sure you are giving correct information about your fleet so be as precise as possible when filling up the equipment list. In the ad creation you can choose within a very exhaustive equipment list, so don't be shy to use it!

In the meantime keep safe and we keep you updated with all new information!