Share the post "How to make your boat listing stand out on the Click&Boat platform"
You are a private or professional owner of a boat and have just created your first boat listing on Click&Boat. Now it's time to ensure that your boat listing looks perfect so that your boat stands above the competition and you get as many requests as possible to fill up your calendar. The great thing about Click&Boat is that you have complete control over how your listing looks. You can choose the price, photos, dates, description and much more so that visitors to the Click&Boat platform can quickly and easily get all of the information they need about your boat.
How to make the photos of your boat stand out above the rest.
The quality and order of your photos are arguably the most important part of your boat listing. They are the first thing that a renter will see and they are the first thing to grab a renters attention.
The first photo is the most important. You need to ensure that the first photo of your boat is a clear photo of the exterior of your boat. It is really important that the renter knows exactly what they are getting. Photos of boats in open water, in good lighting and in beautiful settings are the ones that work best.
Some suggestions for getting the perfect photo could be to use a drone whilst you are out on the water if you have access to one. If not, have a friend take a high-quality photo from another boat or even just from the marina as you pull in.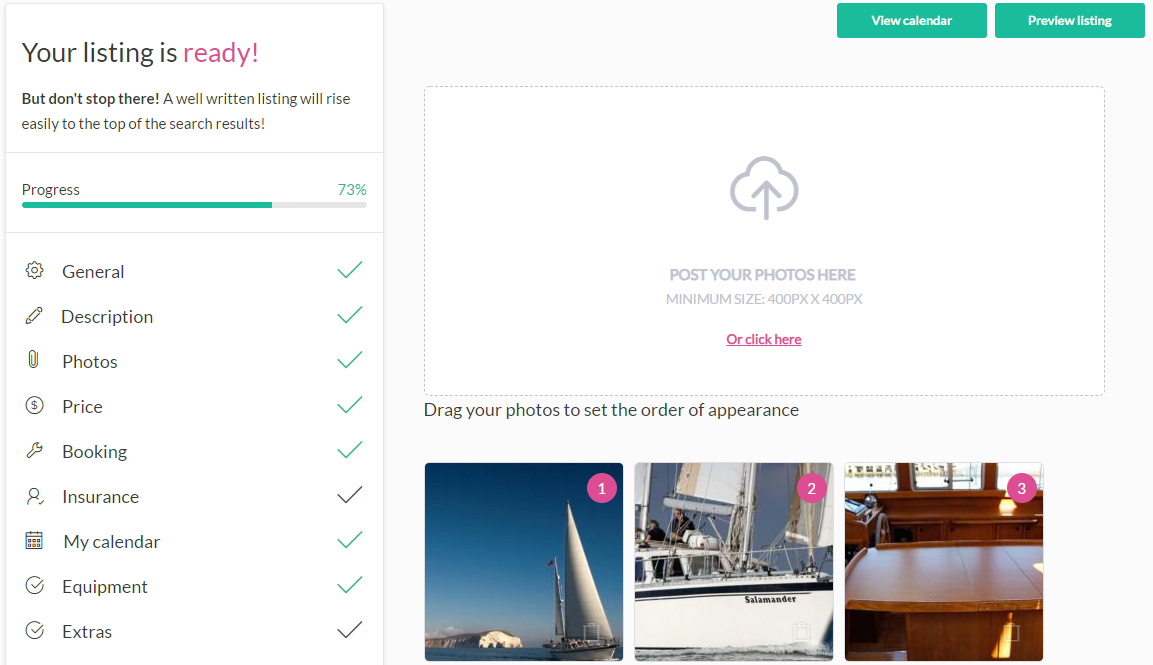 The more photos the better. Perhaps as well as your first external photo you could add a photo of your lounging area on the bow of your boat or a photo of the cockpit from the stern. Then we need to make sure that the interior photos of your boat are right.
Perhaps as well as your first external photo you could add a photo of your lounging area on the bow of your boat or a photo of the cockpit from the stern. Then we need to make sure that the interior photos of your boat are right.
After your external photos, add a photo of the living area next. Try to get as much of the space into the photo to give a good idea of the size and make sure you get clear photos of the key features. If you have a cooking area and a dining area make sure these are clearly visible – they are great selling points for your boat where renters can spend time in the cooler evenings or to escape from the sun in the day. After the living area let's get some photos of where your renters will be sleeping. Make sure the bed's are made and the rooms are tidy. It's also really important to make sure there is enough light in the room to get a nice and bright photo and again focus on making sure you give a good representation of the space.
Let's take a look at why this is important on the search page.

In the photo above we are searching for a boat to rent in Greece above 400€. Which one stands out to you? The boat on the left has a beautiful photo, they have used their title to show they are implementing disinfections between charters and they also have 3 reviews. The middle boat has a review, shows as having a discount offer available but the photo doesn't give a clear view of the size and shape of the boat. The boat on the right has it all. The photo depicts the boat beautifully on the open water, it shows that the boat has 4 reviews and it also has a discount offer available.
Everytime you have a booking, encourage your renter to leave a review if they have enjoyed themselves. This will help the renter to trust you as an owner. Offering discounts is a major factor in attracting bookings too. If you have just listed your boat then we encourage you to offer a discount for the first person to book your boat. Perhaps you can offer a small discount to the first 3 bookings? This gives you the opportunity of getting 3 positive reviews and improving your rankings on the platform.
There are a few rules about uploading photos of your boat to Click&Boat. We don't allow photos that include company names, logos or contact details of the boat owner. Avoid adding these to your photos – if there are company details in the photos then they will be edited or deleted by the Click&Boat team. Of course we also ask that you do not include nudity or images of an explicit nature.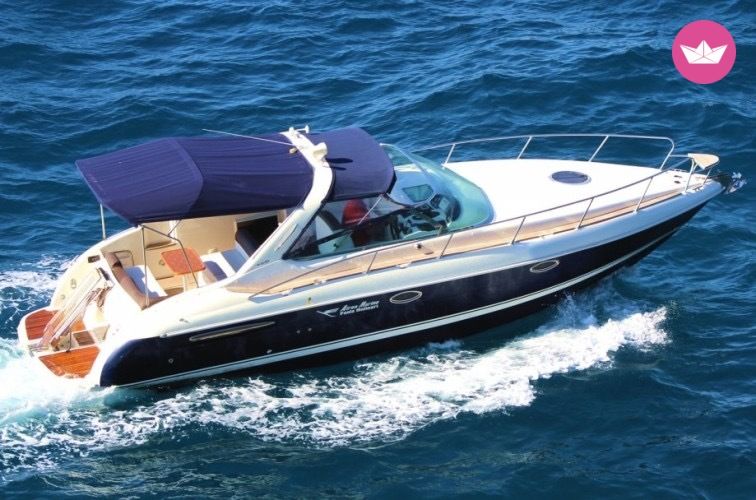 Writing the catchiest description for your boat.
The description is where you can really tell the viewers about yourself, the boat and its story and what they can do when they charter your boat. It is where you can add all of the little details that you need to and give the viewer a good impression of the boat that they are renting. It's always a good idea to make them personal as well if you are a private owner. How long have you been a sailing and how long have you owned the boat? Is there a cool story behind the history of the boat or do you have an inspiring story to tell about previous voyages with this boat? Include them!
Include things like what model your boat is and how old it is. Talk about the type of trips that you do and tell the reader exactly what their options on when they rent your boat. It's a good idea to make clear any offers that you have in your description. Importantly, you should always end your description by encouraging the reader to message you to find out about prices and availability – once they have messaged you you will be able to send them a personalised offer which they are much more likely to accept.
Being responsive.
When a user sends you a request via the Click&Boat platform. You will have 3 days to accept or reject the booking. The user may even have messaged a few different boat owners at the same time. Because of this it is super important to be responsive. You will receive notifications about the message via email but it is a good idea to download the Click&Boat app so that you can receive push notifications directly to your mobile. This way, you can reply immediately and begin to build a good relationship with your renters.
Following these tips will help you to make your boat listing stand out above the rest and to hopefully increase the number of booking requests you get. As always, don't hesitate to reach out to the Click&Boat team at contact@clickandboat.com if you have any questions about your boat listing.