Share the post "Sailing With Kids Through the South of France"
Sailing with the kids in the South of France is the perfect opportunity to make unforgettable memories!
Read on to find out the best tips, tricks, and practices when sailing with kids.
When it comes to family vacations, there's nothing better than sailing with your kids in the South of France. The stunning scenery, gentle breeze, and warm Mediterranean sun make for the perfect setting for a relaxing getaway. And when you add in the joy of sailing, it's the perfect recipe for a remarkable holiday.
Along with exploring the beautiful locations along the French Riviera, there are many fun activities you can do while sailing. From fishing and swimming to snorkeling and diving, you can be sure that everyone will have a blast! And when the sun goes down, the whole family can enjoy stargazing together on the deck.
When sailing with kids, there are a few things you should keep in mind. Before setting sail, you should make sure you choose a boat that's suitable for families. And most importantly, suitable for your family and the activities you have planned. You should also take time to prep your kids by sharing vacation details with them; like showing them pictures of the boat and giving them fun facts about sailing. We also heavily encourage families to bring board games and snacks with them. You should also prepare some fun activities for the kids to do onboard, like coloring pages.
And finally, don't forget to take lots of photos, this is sure to be a holiday memory your kids will cherish forever.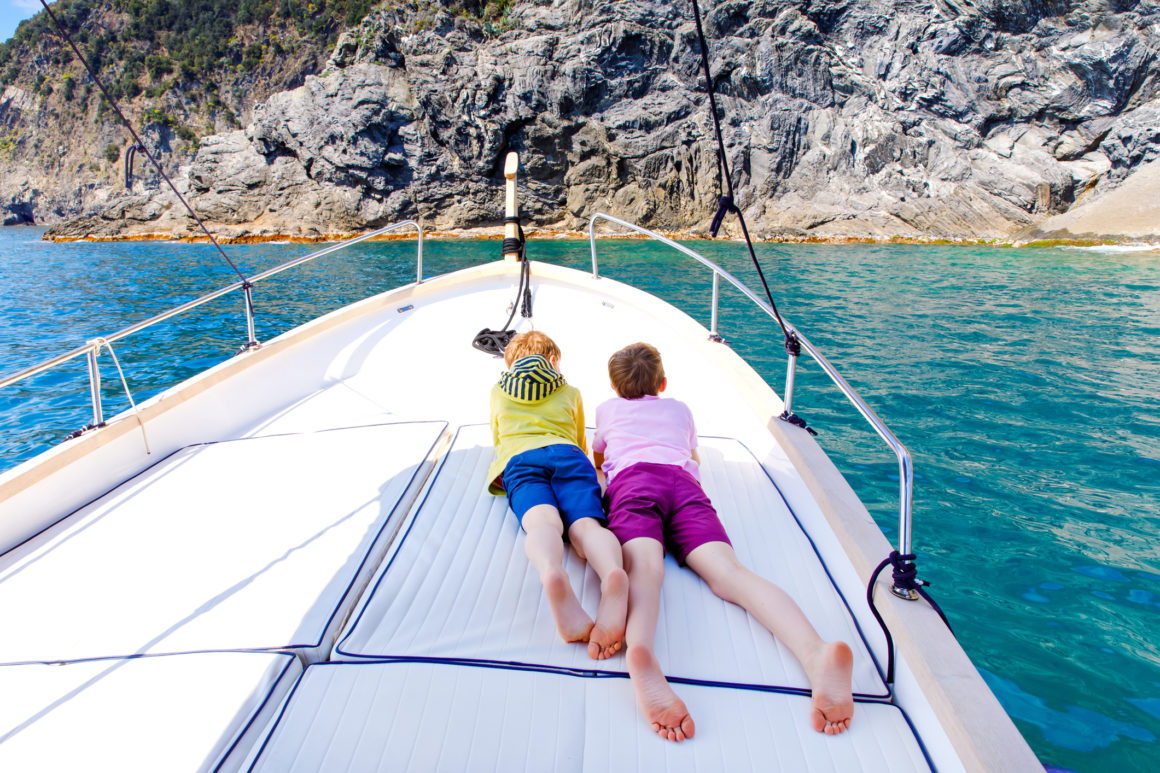 Choosing the right vessel 🚢
When it comes to planning your sailing vacation, one of the most important decisions you will make is choosing the right boat. A yacht charter in the South of France can provide you with an unbeatable adventure, but it's important to consider several factors before choosing your boat rental.
Firstly, you should consider the size and type of boat that will meet your needs. If you are traveling with a large group or want plenty of space for lounging and entertaining, a catamaran luxury yacht or motor yacht may be the perfect option. Catamarans are particularly great when traveling with kids as there is plenty of deck space for them to play or enjoy the views without being too close to the edges.
Remember to anticipate what kind of activities you want to do on your charter. Depending on these activities, one type of vessel will be more appropriate than another. For example, if your kids are older, and you want to go exploring the caves of Southern France, then you may want to look into motorboats.
Chartering in the South of France gives you access to some of the best sailing spots in Europe – from romantic islands off Marseille to secluded coves near St Tropez – so make sure to research your options beforehand in order to get the most out of your experience. With careful consideration and planning, there's no doubt that your yacht charter in the South of France will be an unforgettable adventure!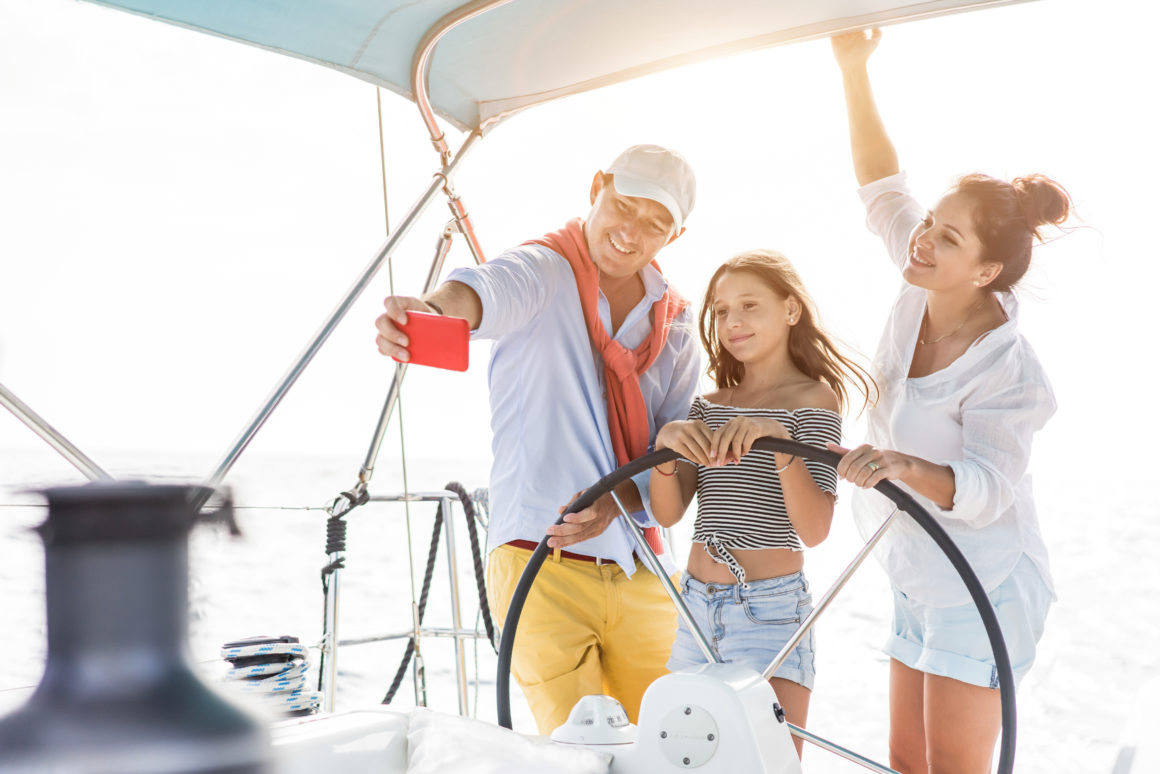 Share information & travel details 🗺️
One of the best tips for ensuring a successful and enjoyable charter experience is to share information with your kids. They'll be more engaged in the experience if they know what it entails, so invite them to help out with the navigation and teach them about local culture and customs. Talk to them about boats, and exciting activities you can do together. Prepare them for being onboard so they know what to expect.
Another great tip is to plan ahead. Have a plan of activities that you can all enjoy while on board, such as visiting nearby beaches or swimming in secluded coves. Tell your kids about them beforehand so they can get excited! Make sure that all safety instructions are clear so everyone knows how to respond in case of an emergency. Finally, make sure that everyone is comfortable on board and has enough space, food and drinks for the duration of your sailing trip.
Sailing with kids is an amazing opportunity for family bonding and creating special memories that will last a lifetime. With proper preparation and communication between family members, your charter experience will be even more enjoyable!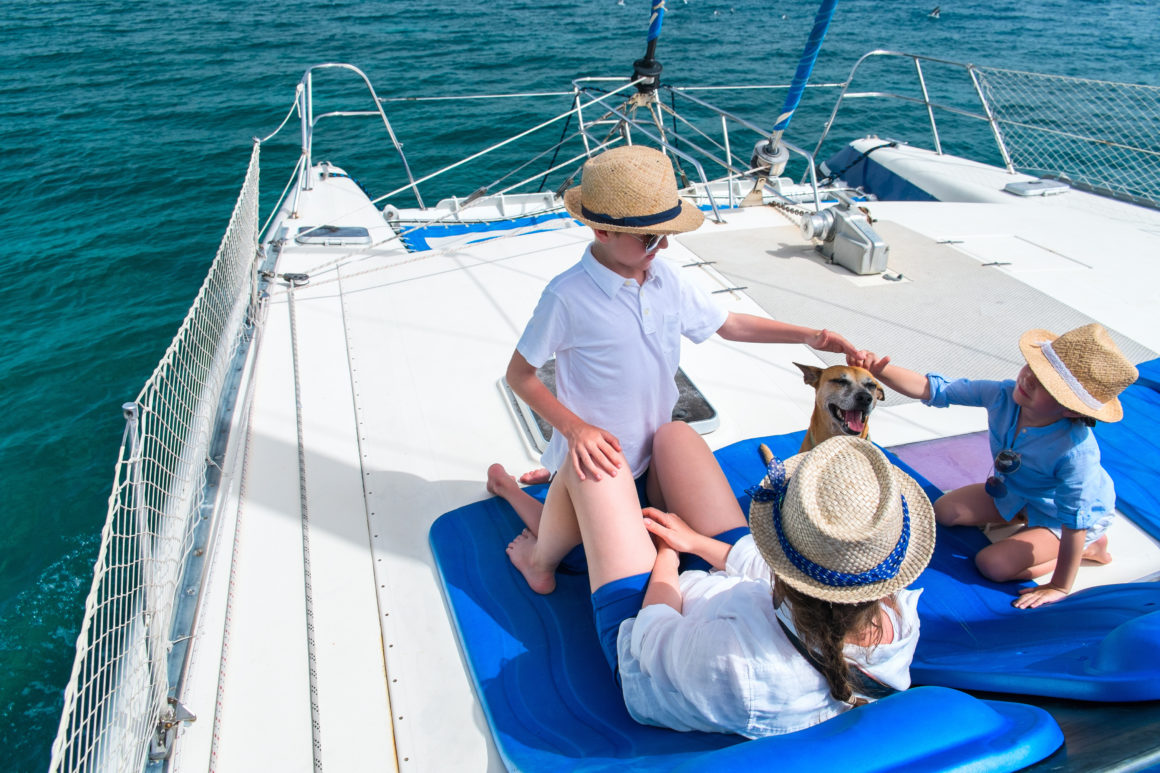 Entertainment 🃏
When planning your yacht travel for a family vacation, it's important to think about what activities and amenities you'll need. One of the best tips for ensuring the best charter experience possible is to have activities, games, and snacks. This way, you can ensure that they stay busy and entertained throughout the day, so you can relax and enjoy yourself too. It's also a great way to spend some fun family time during the evenings when you're not sailing.
Having activities available will ensure that your kids are entertained and occupied during the entire trip. Board games such as checkers, chess, or even card games like Uno or Go Fish can keep them busy during the journey. Make sure to bring along enough for everyone so that no one feels left out. And don't forget about snacks! Pack some healthy snacks like apples, oranges, nuts, and granola bars so that your kids won't get hungry in between meals.
These simple steps will help guarantee a smooth-sailing experience for everyone onboard. Not only will it make life easier for you as a parent but it will also give your kids something to look forward to during the journey.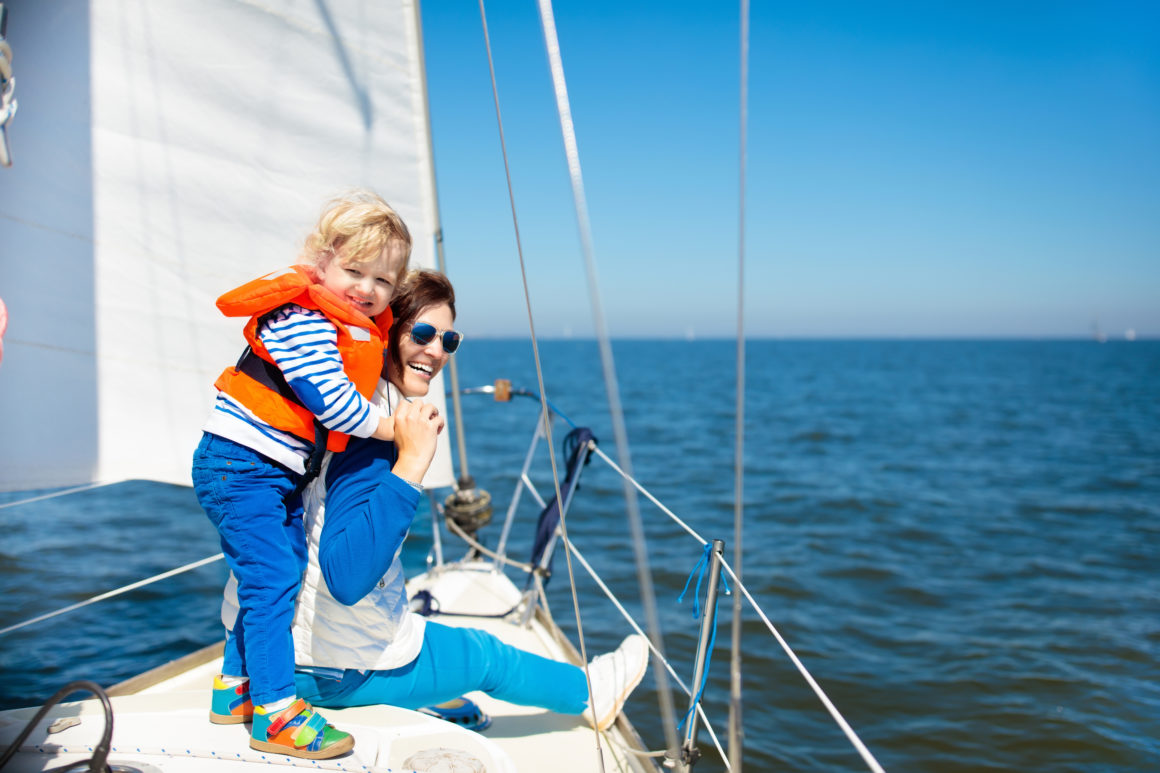 Safety 🦺
When it comes to sailing with kids, most parents feel a bit of hesitation. After all, the ocean is an unpredictable environment, and it is important to ensure that everyone on board stays safe. Luckily, there are plenty of safety measures you can take when sailing with kids. From life jackets to setting precise boundaries for everyone on board, there are many ways to ensure smooth sailing.
But let's not forget about the perks that come with going on a family charter in the South of France! You can create unforgettable memories as a family while exploring beautiful islands and discovering new cultures. It's also a great opportunity to bond and spend quality time together away from everyday life.
One option you may want to consider when taking your family on a sailing trip is hiring a skipper. A skipper ensures that everyone follows safety protocols and keeps the boat in good shape during your journey. They will also have plenty of local information about places worth visiting, as well as restaurants and other attractions ashore.
Sailing with kids in the South of France is an amazing experience that your family will never forget. With great weather and stunning scenery, it's the perfect place to spend quality time together. So what are you waiting for? Rent a boat, get packing, and head to the South of France for an unforgettable sailing adventure with your kids!