Share the post "What to know about getting married on a boat"
It's time to start planning your big day and what is a more memorable experience than getting married on a boat! Whether you're dreaming of a small and intimate ceremony or a grand celebration with all your loved ones, a wedding on the water offers a unique and romantic setting that will leave your guests amazed.
Saying "I do" while surrounded by the breathtaking beauty of the open sea is a one-of-a-kind experience that will make your special day truly unforgettable. With a private wedding boat rental, you can create an intimate and extraordinary celebration that will be talked about for years to come!
Can you legally get married on a boat?
Short answer: yes, you can! However, it is not very straightforward. The ship's captain is not legally allowed to officiate your marriage ceremony in most countries. Many cruise lines have found a way around this and offer all-inclusive marriage packages.
However, for those who want a private boat charter, so they don't have to share their venue with strangers, there is still a possibility of legally getting married at sea. You can have a US notary public or an international non-denominational officiant perform your wedding aboard.
It may be required that the boat is docked, but depending on the country, this also differs. It's important to check the laws in the country that you wish to get married to ensure that you are still legally married when you got off the boat.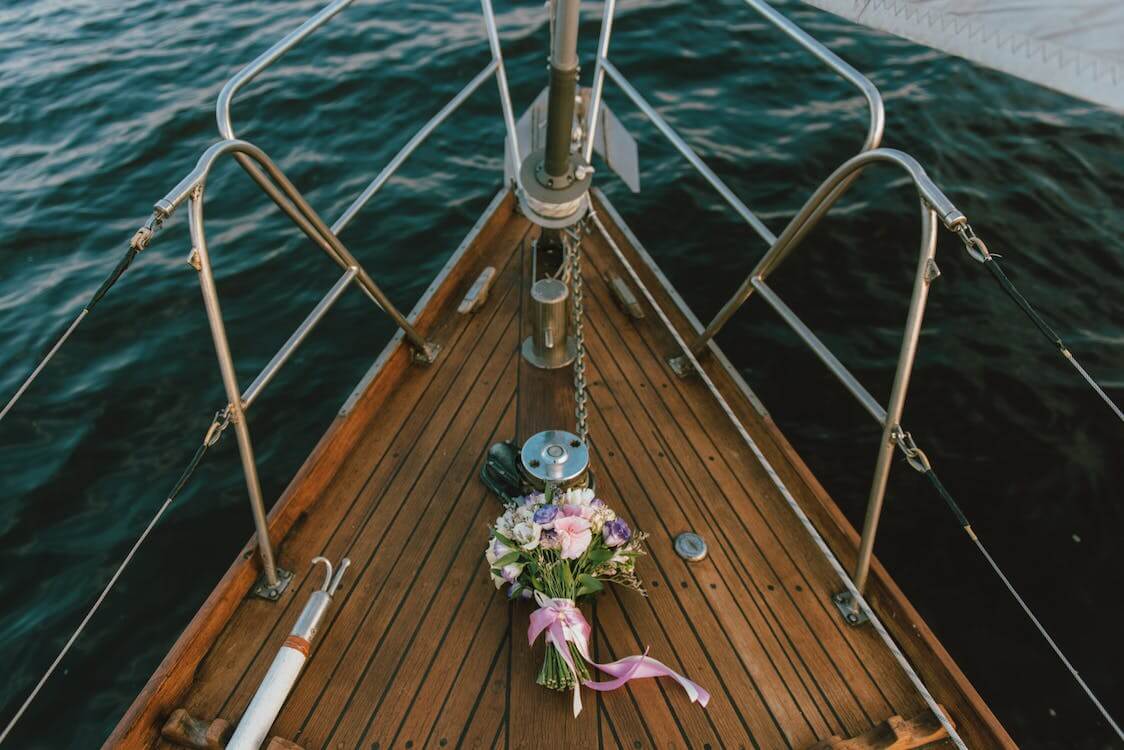 What type of boat is the best?
As with most things for a wedding, the best boat for your wedding at sea depends. The number of guests, the location, and the experience and ambiance you wish to create will change which type of boat is best for you. Here are a few ideas:
Yacht wedding
Everything about getting married on a yacht says luxury. If you are hoping to be surrounded by beautiful scenery and built-in entertainment, a luxury yacht is a great option for your boat wedding. Plus, these vessels are great for intimate or large wedding celebrations, with anywhere from ten to 150 or more people.
Yachts can be rented with a crew, such as a chef, servers, bartenders, a DJ, and more. They can also come equipped with everything to entertain, such as a kitchen, sound systems, dance floors, and more.
Catamaran wedding
Catamarans are perfect if you want an extra unique wedding. Additionally, due to being multi-hulled, catamarans offer smoother sailing, which is ideal if you have seasick-prone guests.
Catamarans can also host weddings of various sizes, from small boat weddings of eight people to parties with a guest list of 140 or more. They also are often available with a crew, bars, dance floors, and more.
Catamarans are able to easily access beaches in case you do not want to spend the whole night on the boat. Or this can make your wedding day even more special if you choose to have your ceremony on a secluded beach and reception on your catamaran!
Sailboat wedding
For sailing enthusiasts, a sailboat is an obvious choice for which type of boat to choose. Sailboats usually can accommodate six to 20 people, which makes them perfect for an intimate ceremony.
Sailboats offer a romantic and peaceful setting for you to tie the knot. And this is an eco-friendly option as sailboats do not require fuel (which means no hidden fuel fees for you.)
Houseboat wedding
A houseboat is the best option for an intimate and one-of-a-kind wedding. This is equivalent to a backyard wedding– but on the water!
There are several types and styles of houseboats, so you can find the perfect one to match your wedding aesthetic. Additionally, you'll have all the comforts of a home, making it easy to get ready. And you and your guests won't have to book a hotel, which makes this a more affordable option.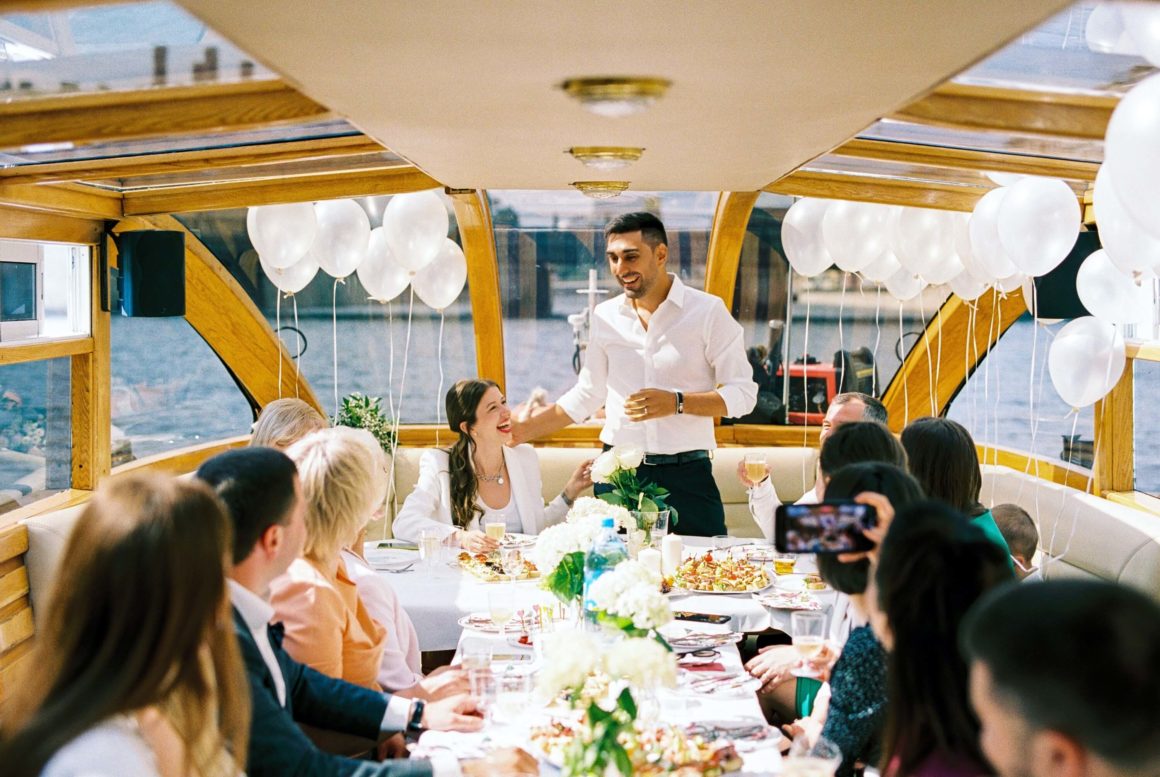 What to consider for your wedding on a boat
So you've decided what type of boat you'd like to rent and have figured out the laws and legalities, now it's time to start wedding planning! Here are a few aspects to consider:
Weather conditions
Weather conditions can play a big role in the success of your boat wedding. Make sure to check the forecast for the day of your wedding and choose a boat that can handle any potential weather changes. Consider renting a boat with both indoor and outdoor spaces to accommodate any changes in weather.
Strict agenda
If you plan to have the boat leave the harbor, make sure the guests know exactly what time it disembarks. With a boat wedding, fashionably late guests will quite literally miss the boat. It may also be helpful to have water taxis in case a guest needs to leave early.
Ceremony, reception, and rehearsal dinner
Another important aspect to plan is the logistics of your wedding ceremony, reception, and rehearsal dinner. Will they all take place on the boat?
You may want to consider a wedding ceremony on land and a reception on the water to avoid tricky marriage legality laws. Inquire ahead of time if you can host your rehearsal dinner on your boat rental.
Accessibility
Not all boat rentals are accessible for certain disabilities and attire. Some may not have wheelchair or disability accommodations. On the other hand, others might have steep stairs that make wearing heels difficult. It is important to discuss all the details of your boat rental with the owner before your special day.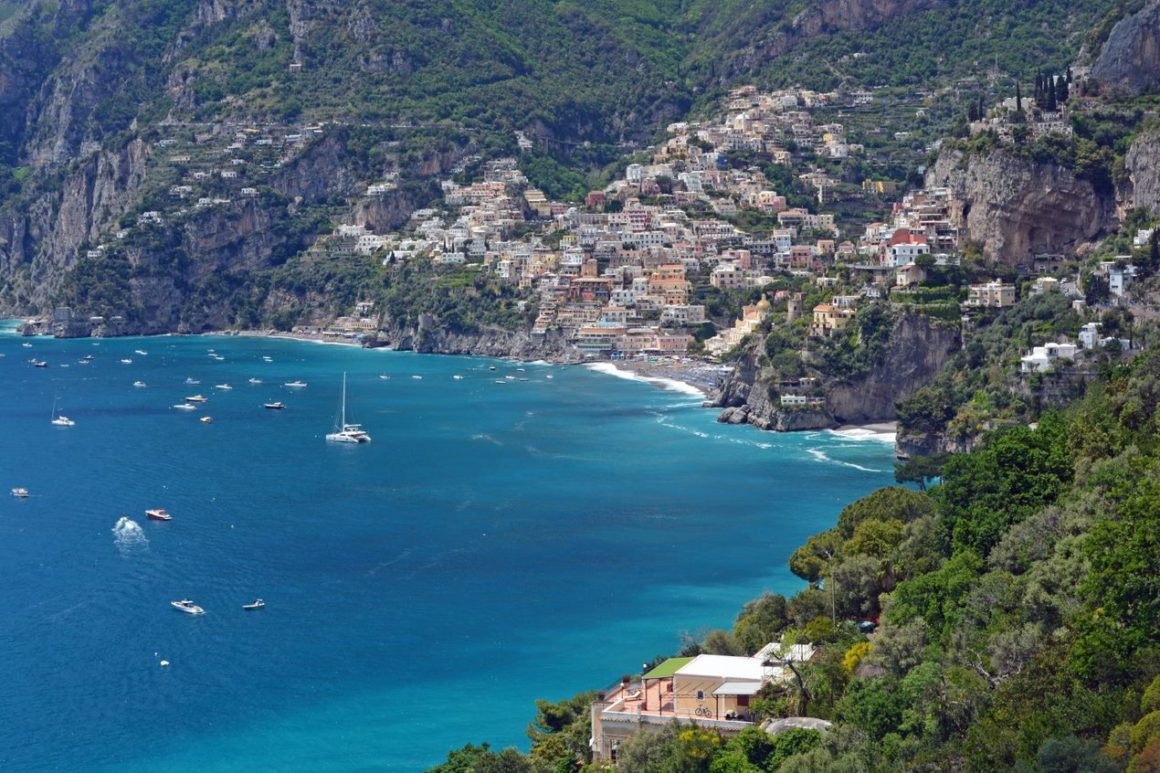 Best boat wedding venues for a destination wedding
The best part of deciding to get married on a boat is that the possibilities of venues are endless. To really make your day unforgettable for you and your guests, you can have a destination boat wedding!
Amalfi Coast, Italy
Italy is a dream location for a destination wedding, but when you say your vows on the sea off of the Amalfi Coast, it will be a one-of-a-kind experience. Nothing makes a better background for your wedding than a coastal village on the Italian cliffs.
Caribbean
There are so many beautiful destinations in the Caribbean, from Cancun to the Bahamas and the British Virgin Islands to Grenada. The best part of getting married on a boat in the Caribbean is the honeymoon options. You have countless great tropical destinations for your honeymoon at your fingertips!
Paris, France
We have all seen pictures of gorgeous weddings with the Eiffel Tower as the background, but you can escape the crowds by getting married on a boat in the Seine! In one of the most romantic cities in the world, getting married on a boat while taking a city cruise of Paris is the perfect venue for a wedding.
Set sail on your dream boat wedding
Whether you choose a sailboat wedding in Italy, a catamaran wedding in the Caribbean, or a yacht wedding in Paris, a boat wedding is sure to make your special event the best day of your life. Rent a private charter for a beautiful and unforgettable way to celebrate your love and commitment to your partner.